Princess Diana Struggling With 'Handful' Prince Harry Resurfaces—Old Clip
A video clip of Princess Diana correcting the behavior of a 6-year-old Prince Harry on the balcony of Buckingham Palace in London has gone viral after being uploaded to TikTok.
The footage was captured by news cameras as Queen Elizabeth II and members of the royal family watched a Royal Air Force flypast from the palace balcony. It marked the 50th anniversary of World War II's Battle of Britain.
The day, September 15, 1990, was doubly special for Harry, since it was his sixth birthday. The young royal was honored with a prime position next to his grandmother, the queen, on the balcony for part of the event.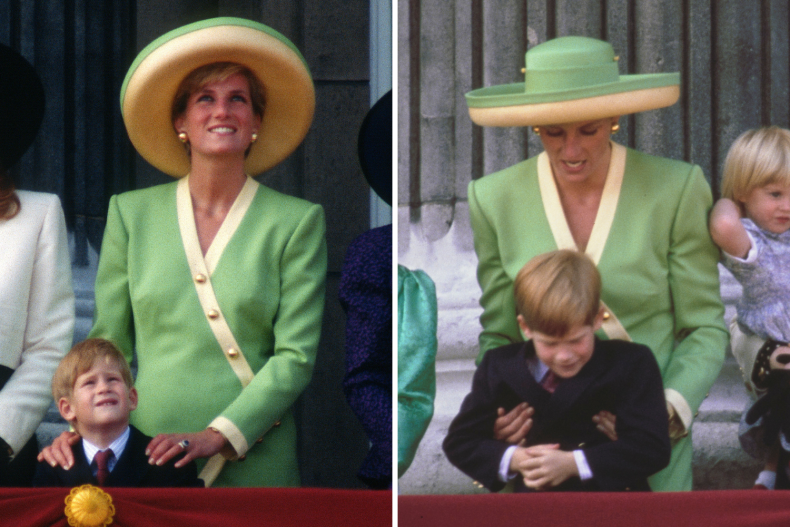 In the video, Diana is seen attempting to keep Harry from playing with his young cousin Princess Beatrice, the elder daughter of Prince Andrew and Sarah "Fergie" Ferguson.
The clip, captioned "Diana vs. Harry" and uploaded by user remembering.diana, has been viewed more than 700,000 times in under 24 hours. It has received over 33,000 likes and 300 comments.
A number of commenters have praised the princess's loving parenting style. She walked the fine line between letting her sons grow up like normal children, while preparing them for royal life.
"I love how she reacted like a real mum would do when their kids start acting up in public. Nothing fake about her at all," wrote one TikTok viewer.
"She looks torn between letting kids be kids and knowing she would get in trouble for letting them be kids," posted another, with a third user adding: "She looked at Fergie like 'Girl, don't laugh and encourage him'."
The friendship between Diana and Fergie was the subject of another recent viral video. It showed the two royals play-fighting on the ski slopes of Switzerland. The pair had been friends before their marriages to sons of Queen Elizabeth II.
Fergie credited Diana with being one of her main supports through the breakdown of her marriage to Prince Andrew, with the duchess saying that she did the same for her friend. Both divorced in 1996 and navigated their post-royal lives together.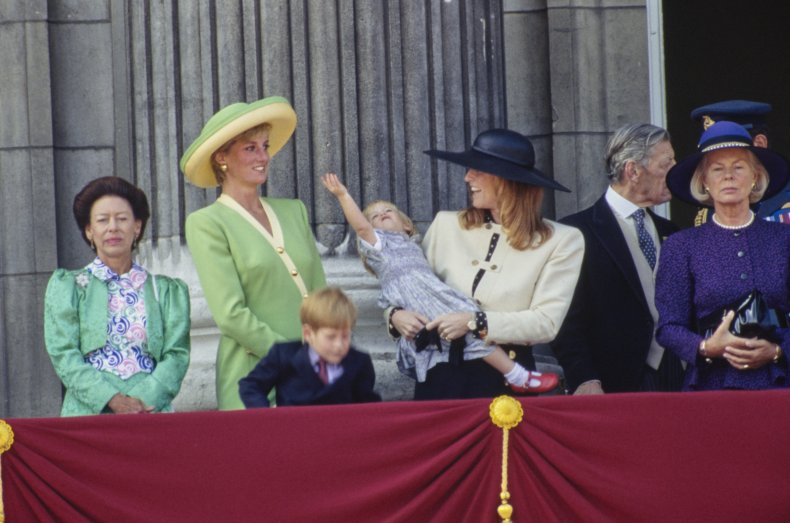 Fergie has since said publicly that the pair fell out shortly after this, and were not on speaking terms when Diana died in August 1997 in a high-speed Paris car-crash.
The duchess was invited to Prince Harry's wedding to Meghan Markle in 2018, and her daughters, Princesses Beatrice and Eugenie, are close to both Harry and Prince William.
One TikTok commenter wrote on the viral video how similar the cheeky antics of the prince are to those of his nephew Prince Louis. "Louie is just like his uncle," posted one. "He was always such a cheeky handful," wrote another.
Louis' balcony behavior has been turned into a number of viral memes and videos on social media since his debut in 2019 at the Trooping the Colour celebrations in London.
In 2022, Louis' candid reaction to hearing the loud roar of the planes during a special jubilee Trooping of the Colour for the queen saw the 4-year-old steal the front pages.
James Crawford-Smith is Newsweek's royal reporter based in London. You can find him on Twitter at @jrcrawfordsmith and read his stories on Newsweek's The Royals Facebook page.
Do you have a question about King Charles III, William and Kate, Meghan and Harry, or their family that you would like our experienced royal correspondents to answer? Email royals@newsweek.com. We'd love to hear from you.