Why Princess Eugenie Wanted Her Wedding Dress to Show Off Her Back
There was an important reason behind the cut and style of Princess Eugenie's wedding dress.
Princess Eugenie wore a gown designed by British fashion label Peter Pilotto when she walked down the aisle on Friday. The dress, made of white silk, featured personal embroidery, a low-cut back and a full-length train.
While the symbols embroidered into the fabric of the dress—a thistle, a shamrock, a York rose and ivy—all referred to Eugenie's family and life with her new husband, the cut of the gown's bodice, which included a sleek cutout back design, was particularly special to the bride.
"I had an operation when I was 12 on my back, and you'll see on Friday [at the wedding], but it's a lovely way to honor the people who looked after me and a way of standing up for young people who also go through this," Eugenie revealed during an interview on ITV's This Morning on Thursday. "I think you can change the way beauty is, and you can show people your scars, and I think it's really special to stand up for that."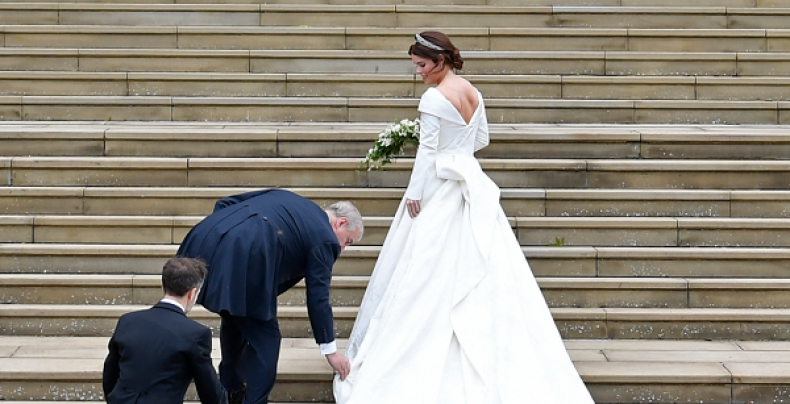 Eugenie had scoliosis as a child and underwent corrective surgery when she was 12 years old.
The 28-year-old has long been vocal about her plight with the condition, which causes the spine to bend to one side, resulting in a curved or rounded back. She recently shared X-ray images of her spine post-treatment on Instagram in honor of International Scoliosis Awareness Day. She also appeared in a video for the Royal National Orthopedic Hospital, recalling what "a scary prospect" the surgery was at such a young age. "I can still vividly remember how nervous I felt," she said.
"During my operation, which took eight hours, my surgeons inserted eight-inch titanium rods into each side of my spine, and one-and-a-half inch screws at the top of my neck. After three days in intensive care, I spent a week on a ward and six days in a wheelchair, but I was walking again after that," Eugenie, who is also a patron of the Royal National Orthopedic Hospital NHS Trust's charity, said.
In addition to recognizing the importance of showing people her scars through the design of her wedding dress, Eugenie invited several staffers from the hospital and charity organization to her wedding.