Spain's King Reminded by Young Daughter to Wear Mask During Ceremony For Coronavirus Victims
During a Thursday ceremony to honor the more than 28,400 people who died of the coronavirus in Spain, King Felipe VI needed a little help from his 14-year-old daughter Princess Leonor when it came to complying with the nation's mandatory mask regulations.
Joined at the Royal Palace in Madrid by the family members mourning those lost to COVID-19, including the brother of Spanish journalist Jose Maria Calleja, Felipe VI gave a speech in honor of the dead before laying white roses and leading a minute's silence. But after removing his mask to speak, Felipe VI forgot to replace the mask on his face, a flub his daughter pointed out after retaking their seats. After a tap on the arm and a few discreet words passed from daughter to father, Felipe VI replaced his face mask.
The ceremony included socially-distanced chairs arrayed around a memorial flame. Felipe VI greeted attendees—including first responders and other public servants, in addition to EU and World Health Organization officials—with elbow pumps.
"This act cannot heal the pain felt by so many families at not being at the side of their loved ones in their final hours," the kind said during the memorial ceremony. "The moral debt and a civic duty bind us all. Let us work together, using all our will, our capacity, our knowledge, all our effort and the strength to be able to look to the future with confidence and hope. And let's do it with respect and understanding."
The tribute ended with the reading of a poem, followed by a minute of silence.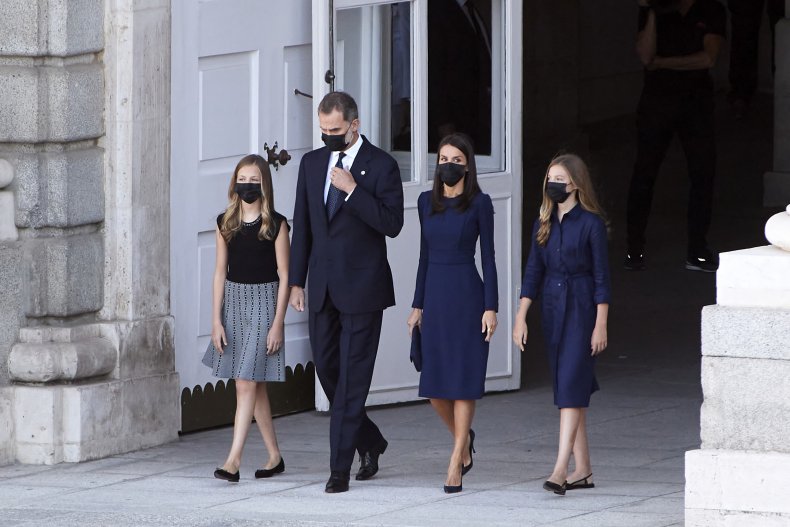 Spain ended its state of emergency—a nationwide lockdown begun in mid-March—on June 21, as the seven-day average for new coronavirus cases within the country dropped to fewer than 400. People could previously only leave their homes to walk dogs or shop for groceries. The country suffered from more than 258,000 recorded cases of COVID-19, with as many as 1,198 deaths in a single day reported at the peak of their outbreak in April. The pandemic was especially devastating to healthcare workers in the country, who made up almost 20 percent of confirmed cases.
On Thursday, the country reported only two deaths from the coronavirus, according to the New York Times, though the nation has also experienced a slight uptick in new cases with a most recent seven-day average of 828 new cases per day. Ongoing outbreaks have led to some discord between national and local officials, including a courtroom showdown over a local lockdown order put in place by the regional Catalan government, which was knocked down by a court, who ruled lockdowns could only be enforced by national authorities.
Felipe VI and his wife Letizia Ortiz Rocasolano, Queen of Spain, have visited communities around the country in an effort to promote easing restrictions on tourism and other economic activities. Felipe VI became king in June 2014, after the abdication of his father, Juan Carlos I. The Spanish monarchy is primarily a ceremonial role, with largely symbolic powers outlined in the Spanish Constitution of 1978.
Face masks continue to be mandatory in the country, with everyone over the age of six required to wear them in all public spaces.