Princess Michael Has Coronavirus—Queen Elizabeth II's Cousin by Marriage 'Over the Worst'
Princess Michael of Kent—who made headlines for wearing a Blackamoor brooch to an event with Meghan Markle—has "suffered extreme fatigue" after catching coronavirus.
Her spokesman confirmed she contracted the virus three weeks ago, but said "she's getting better" and is "over the worst."
Princess Michael, 75, is married to Queen Elizabeth II's first cousin, Prince Michael of Kent, who isolated for two weeks and tested negative.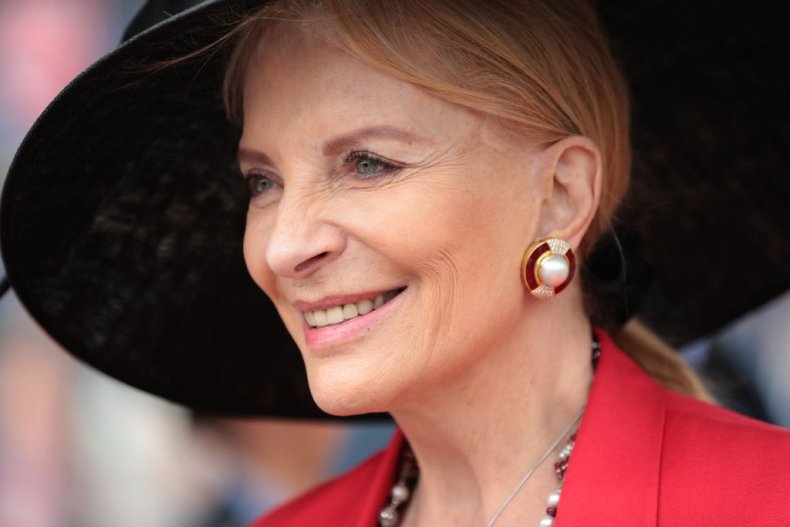 Her spokesperson, Simon Astaire, told PA news agency: "The princess is on the mend. She got it three weeks ago but she's getting better. She's over the worst.
"She suffered extreme fatigue and had regular fevers."
He added: "I spoke to her today and she sounded much better."
She is believed to have contracted COVID through her housekeeper, who also tested positive and experienced only mild symptoms.
Princess Michael apologised after she was photographed in a Blackamoor brooch, which critics said was "racist", while arriving for the queen's pre-christmas lunch in 2017.
In a statement released at the time, her spokesperson said: "The brooch was a gift and has been worn many times before.
"Princess Michael is very sorry and distressed that it has caused offence."
Discussing the incident, Finding Freedom, a biography of Meghan and Prince Harry, reads: "When it comes to royal fashion, much thought goes into every detail.
"Princess Michael's choice of brooch could have simply been a mistake, but in the back of Meghan's mind, she wondered if there wasn't a message being sent in the pin of the torso of an African man wearing a gold turban and ornate clothing.
"At the bare minimum, it showed insensitivity to Meghan's African American roots and the racism she had encountered since pairing up with Harry."
Princess Michael was born Baroness Marie Christine von Reibnitz but received the title "princess" on marrying into the British royal family.
However, she cannot style herself Princess Marie because she is not a blood royal.
Instead, she holds the title Princess Michael, to indicate her marriage to Prince Michael.
Meghan and Kate Middleton both hold similar princess titles in their husband's names but choose not to use them.