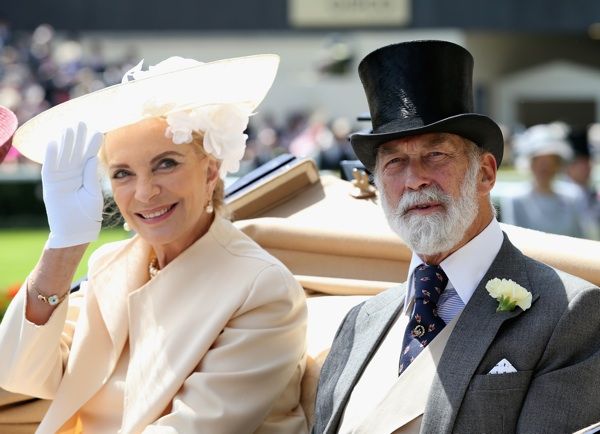 Princess Michael of Kent, the wife of Queen Elizabeth's cousin, wore a controversial blackamoor brooch to a Christmas lunch at Buckingham Palace on Wednesday. The lunch was attended by several members of the royal family, as well as Prince Harry's bride-to-be, Meghan Markle, whose mother is African-American.
Michael's brooch, which depicts a black man in a gold turban, was pinned on the left side of her coat. She was spotted wearing the blackamoor, considered a racist artifact, during her ride to the palace.
Created by Europeans sometime during the 18th century, the figurines are usually made as jewelry or small sculptures and often depict a black male wearing a headdress, representing a servant.
The private event was a first for Markle, whose engagement to Harry was announced in late November. It also marked the first encounter between Markle and Michael.
It's unclear if Michael was still wearing the brooch when she was officially introduced to Markle, but the princess's decision to wear the figurine sparked a wave of criticism on social media.
Markle is the daughter of former lighting director Thomas Markle and Doria Ragland, a black social worker and yoga instructor descended from slaves. The soon-to-be royal has spoken about the extreme racism she suffered throughout childhood and more recently by social media trolls.
In 2016, the Suits star published a moving essay in Elle magazine detailing her experience with whites who would often ask where her real mother was because "they assumed [Ragland] was the nanny." She also revealed how her mixed race has affected her career. "I wasn't black enough for the black roles, and I wasn't white enough for the white ones, leaving me somewhere in the middle as the ethnic chameleon who couldn't book a job."
Many on social media have viewed Markle's engagement to Harry as a moment of change for the United Kingdom. The population of the country is 87.1 percent white and 3 percent black.
Michael, who is married to Prince Michael of Kent, a grandson of King George V (Queen's grandfather), has not offered any comment regarding the brooch. However, she has been accused of racist behavior in the past, specifically of insulting black guests at a restaurant in New York City in 2004. Diners said Michael complained about the level of noise coming from a nearby table and suggested they "go back to the colonies."
She staunchly denied the claims while appearing on a British television show, explaining that she has never had negative encounters with black people and offered her travels in Africa as a defense. "I traveled on African buses. I wanted to be a writer. I wanted experiences from Cape Town to right up in northern Mozambique. I had this adventure with these absolutely adorable, special people and to call me racist—it's a knife through the heart because I really love these people," she said.