'The Princess Switch 3′ Release Time: When Vanessa Hudgens' Christmas Movie Is on Netflix
Fans of Vanessa Hudgens rejoice: she's set to reprise all three of her roles in the latest installment of The Princess Switch franchise.
Hudgens stars as Princess Stacy of Belgravia, Queen Margaret of Montenaro, and Lady Fiona Pembroke in The Princess Switch 3: Romancing the Star.
The first movie followed Stacy, a baker from Chicago who travels to Belgravia to compete in a cooking contest.
While there, she had a chance encounter with the Duchess of Montenaro, Margaret, who happened to look identical to her. They decide to switch places to see how the other lives.
The second movie follows the duo as Margaret prepares to ascend the throne of Montenaro, while unbeknown to her, her lookalike cousin Lady Fiona Pembroke hatches a plan to steal the crown.
Here's when the latest adventure for the trio will arrive on Netflix.
The Princess Switch 3 Release Time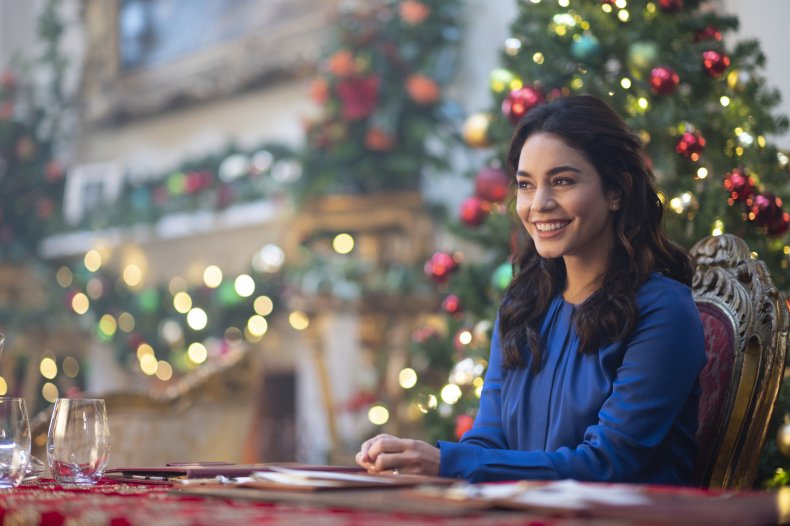 Fans of festive romcoms need not wait long for the latest addition to the franchise.
The Princess Switch 3: Romancing The Star lands on the streaming platform on November 18.
If you need a refresher on all the Christmassy hijinks that have already taken place in the series, the first movie, The Princess Switch, and the second, The Princess Switch: Switched Again, are both already available to watch on Netflix.
What Happens in The Princess Switch 3?
This movie sees the gang of doppelgangers reunited when Stacy and Margaret host a party together.
During the party, a priceless treasure belonging to the Vatican is stolen.
To solve the mystery and get it back, Stacy and Margaret quickly realize they'll need the help of someone who can think like a criminal.
They enlist the assistance of Fiona, who becomes the lead character in this movie, and must stage a heist to retrieve it and prevent a diplomatic crisis.
The second movie ended with Fiona being taken away by police for her crimes, so quite how the royals turn to her for help is unclear.
The Princess Switch 3 Cast
Of course, Hudgens is back to reprise all three of her roles.
She told PopSugar ahead of the trilogy's second movie: "It's very confusing, but I'm always down for a challenge.
"This film definitely pushed me because never have I ever played three characters."
A new love interest for Fiona is on the scene, with Australian actor Remy Hii starring as Peter Maxwell, Fiona's criminal ex-boyfriend who she must turn to for help in this royal heist.
Sam Palladio returns as Prince Edward of Belgravia and Stacy's husband.
Nick Sagar is back too, playing Kevin, Stacy's former business partner and Margaret's husband.