Princeton Urges Congress to Find Permanent Solution to DACA after Supreme Court Agrees to Hear Graduate's Case
Princeton University applauded the U.S. Supreme Court's decision to hear an immigration case involving a graduate of the Ivy League school, and urged Congress to create a permanent, legislative solution for all migrants who are part of the Deferred Action for Childhood Arrivals (DACA) program.
DACA, a program created in 2012 by the administration of President Barack Obama, has allowed for certain undocumented migrants who were brought to the country as children to remain in the U.S. and work legally through a program of deferrals and work permits, though it does not provide a direct path to citizenship.
The program has been the subject of legal challenges, and President Donald Trump has actively taken steps to dismantle DACA since taking office. In 2017, the Department of Justice announced it was ending the program and no new applicants would be accepted. An array of plaintiffs, including Princeton graduate Maria Perales Sanchez, sued the Trump administration, claiming the decision to wind down the program was unlawful.
On Friday, the Supreme Court said it would hear arguments a trio of related disputes — Trump v. NAACP, Department of Homeland Security v. Regents of the University of California, and McAleenan v. Vidal — in the next term, which begins on the first Monday in October.
In addition to being Sanchez's alma mater, Princeton's trustees are a respondent in the ongoing dispute. On Friday, the school defended DACA and touted what it viewed as obvious benefits of the program.
"As we have said before, DACA is a wise and humane policy that benefits this country in multiple ways... Eliminating protections for Dreamers would be a mistake and we continue to urge Congress to enact a permanent legislative solution to protect them," Princeton University Spokesperson Ben Chang said in a statement.
Microsoft also sued the administration alongside Sanchez and Princeton. Microsoft President Brad Smith echoed Chang's sentiments about the need for Congress to resolve the issue.
"Today's decision means the clock is now running, with even more reason for Congress to act," Smith said in a statement.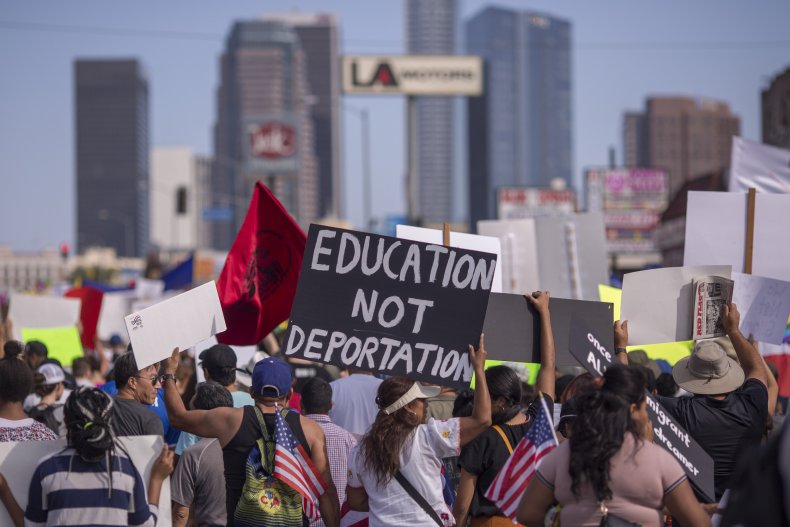 Before the administration announced its intention to end the program, Princeton President Christopher L. Eisgruber penned a letter to Trump urging him to keep DACA in place. He called repealing DACA a "tragic mistake" and outlined several ways it benefited America.
"It has allowed talented and motivated students, who came here as a result of decisions by their parents, to pursue educations and contribute positively to our communities and our country. You have said that DACA students are 'incredible kids,' and I very much agree," Eisgruber said.
He added that he expected Princeton graduates who benefited from DACA to become leaders in the economy and become productive members of society, thereby strengthening the entire country.
To qualify for DACA, a person must have been at least 15 years old when they applied and under the age of 31 as of June 15, 2012. Those eligible for the program are given protection from deportation through renewable deferrals and can also apply for driver's licenses and work permits.