Principal Escorted Off School Grounds After Graduation Speech: 'Successful People Stomp On Each Other'
A Stockton, California high school principal was escorted off of school property by law enforcement officers after his controversial graduation speech, telling the crowd, "Successful people stomp on each other," on Thursday.
Stagg High School Principal Ben Nakamura gave the graduating class of 2021 a lot to think about in his commencement speech Thursday morning. While the school board said they got many complaints saying Nakamura inappropriately used the graduation as an opportunity to complain about personal issues, some community members have said it was unfair that he was removed from the graduation.
In an email to Newsweek, Melinda Meza, a spokesperson for Stockton Unified School District, said they "received several complaints from parents that the principal at Stagg High School used the graduation as a platform for his personal grievances."
In the commencement address, Nakamura, who had only been principal for one year, announced he would not be returning to the high school because the school's board of trustees voted to remove him due to budget cuts.
In a video of the speech that has been circulating on social media, Nakamura can be heard telling students "That's why I came here and why I only lasted one year—why I was kicked out—for one reason, that I truly love you and this community. I was kicked out," he said.
"The Board of Trustees this past Tuesday voted three to four to remove me as your principal and not listen to the community, nor the students, nor the families, nor the staff of Stagg High School."
His speech also told the graduating seniors to study hard and do their best, saying "get every degree you can get." He touched on fighting against neighborhood violence, racial injustice, and even losing his mother to a heroin overdose.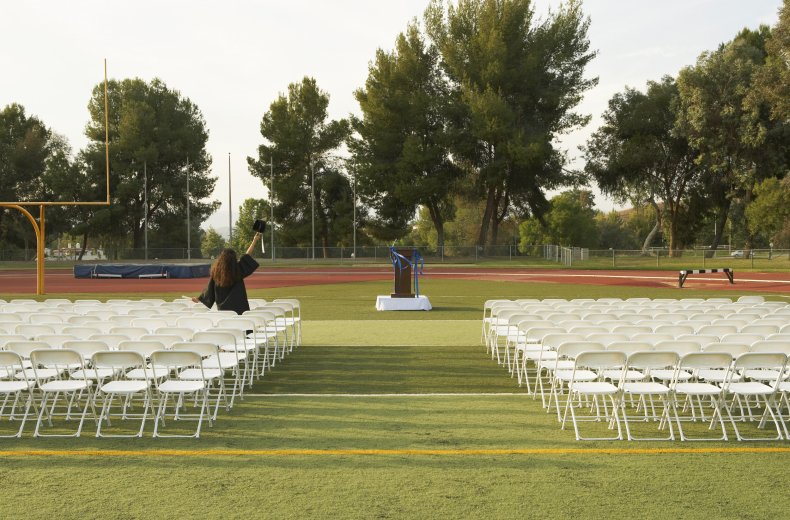 Sofia Colón, a parent in the school district, told KTXL-TV that she found his speech "relatable."
"That speech tells me how honest this principal is with his students. Tell the students, be a mentor to your little brothers and sisters. He told us where he came from, how relatable, how vulnerable. That was my takeaway: Don't be a sellout, tell the truth," she said.
One mother told the school district, "My son worked hard during COVID and wanted this day to be about him and his fellow students. Not some HR stuff and drama," according to Meza.
Meza provided Newsweek with screenshots showing that Nakamura had previously been informed that there would be virtual speeches only that were to be filmed and submitted, but Nakamura broke the rule. Meza said this was due to "COVID protocols" made under guidance from the California Department of Public Health CDPH to "keep events short to minimize potential COVID exposure."
One board trustee for the district, Candelaria Vargas, told KXTV-TV, "I feel really disappointed. I feel that our students deserve a reasoning for why he won't be here next year, and he was just doing justice by them."