Principal Resigns After Secretly Changing Students' Grades for Eight Years
Matt Gilchrist thought he was doing the right thing. In the end, he lost his job and his reputation as an educator took a hit when it was discovered that he altered 51 grades belonging to 31 students dating back to 2014.
Gilchrist is now the former principal at Spring Lake High School, located on the western side of Michigan. An internal investigation was conducted by the school due to allegations he altered the academic records of multiple students, leading to a confession and resignation on February 10.
A timeline of events was iterated to community members detailing Gilchrist's transgressions, notably how he altered the academic records of seven current Spring Lake High students: three seniors, one junior and three sophomores.
No changes impact prospective senior honor students, said Spring Lake Public School Superintendent Dennis Furton in a February 15 correspondence to parents, students and the community at large. Each of the students involved will be addressed, along with their parents, on how to proceed academically.
"While the Spring Lake Public Schools Board of Education accepted Mr. Gilchrist's resignation on February 10, the public release of the report remains critical to providing transparency, clarity and accountability," Furton wrote in his correspondence, which included a timeline as part of an investigative report submitted to the Spring Lake Public Schools Board of Education. "The board and I understand that conduct such as that described in the report serves to undermine public trust. It is my sincere hope that sharing the [investigative report] will be one step toward restoring your faith in our public school system."
Furton added that "the core, fundamental mission" of the school district is to provide equal educational opportunities to all students, saying that the conduct detailed within the report "undermines that mission and public trust."
"Access and influence must never come into play," he said.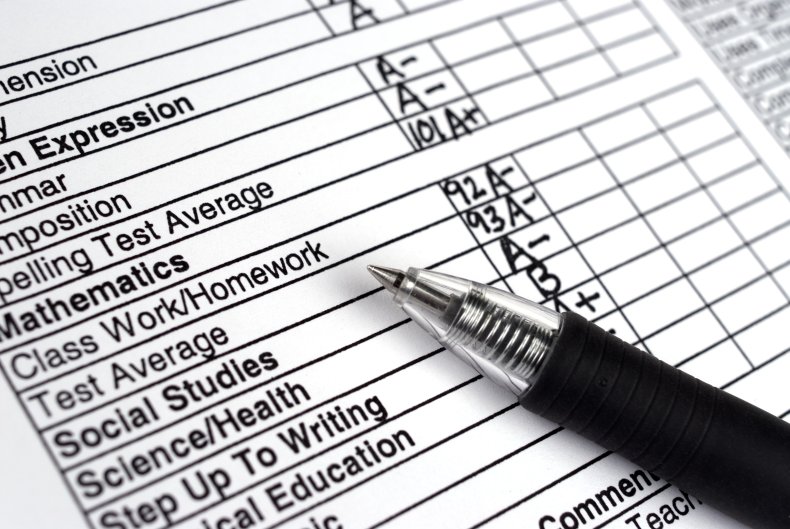 According to the timeline, Furton and the district's curriculum director interviewed the high school registrar and high school media specialist on January 17 of this year, both of whom reportedly uncovered 12 records of grade changes that Furton was first notified of on January 13.
The registrar and media specialist said grade changes are typically initiated by teachers and occur through the registrar, sometimes as many as 20-30 changes per trimester.
The registrar, according to the report, had two conversations with Gilchrist on January 19 and 20. The first conversation involved Gilchrist mentioning a rumor his wife had heard that he was in trouble for changing his youngest daughter's grade, allegedly saying, "I have never changed a grade in my life."
The other conversation involved Gilchrist calling the female registrar to his office the next day for a "confidential conversation," allegedly asking what she would do if she was in his position.
Gilchrist, Furton and another individual met on January 24 to discuss the rumors and allegations. Gilchrist allegedly said the grade-change process was loose and there was "not a good paper trail" on him. He alleged that "some, not all" teachers knew about his grade changes.
When one student's grades in particular were brought up, and Gilchrist was asked if the student's teachers knew of the grade changes, he replied that "75 percent yes and 25 percent no" knew of them.
School officials began noticing inconsistencies in Gilchrist's defense, such as how on January 19 he allegedly said he never changed any grades but on both January 20 and 24 he said he changed certain students' grades for different reasons.
On January 24, after stating he did not know how to change course names, Gilchrist was shown records of him changing course names on multiple occasions.
"I wouldn't believe what I'm telling you," Gilchrist allegedly said that day. "I f—- up. Sorry you guys have to deal with this."
The next day, during a meeting with the same three individuals, Gilchrist fessed up according to the investigative report.
"In regards to our meeting yesterday, I was caught off guard and not completely truthful," Gilchrist said. "I apologize to you both. Please understand that I am scared and was caught off guard."
He went on to say that his answer was "yes" to every question asked, and that he would admit his misdeeds to school staff. If offered the choice between being fired and resigning, he said he would do the latter.
While Gilchrist asked Furton not to interview staff because they played no role in his errors, Furton said the investigation would continue. A total of 16 teachers were ultimately interviewed.
When given one last opportunity to meet with Furton and review the findings of the investigation, Gilchrist declined. Instead, he emailed Furton on February 9—one day before a special board of education meeting to discuss his future and accept or reject his resignation—and again apologized for putting the district through the situation.
Gilchrist also said that "many of the families I worked with had very delicate situations" involving abuse, mental health and other traumatic situations they allegedly did not feel comfortable sharing with anyone else.
Following a discussion in closed session, the school board unanimously voted to accept Gilchrist's resignation. A few parents spoke at the beginning of the meeting, expressing their appreciation for Gilchrist—with some saying he always had the students' best intentions and that was why he originally entered the profession.
School Board Trustee Chris Beck asked February 10 how trust could be regained by teachers regarding the grades they put into the system, to which Furton replied that "it will take some time" to repair.
School Board President Jennifer Nicles told Newsweek that although the board was advised by legal counsel to accept Gilchrist's resignation, it "in no way" condones the former principal's behavior.
"It is important to note that the investigation found that these were the actions of one person," she told Newsweek. "This is not a systemic problem within our district. Public trust has been lost as a result of Mr. Gilchrist's actions. Our students deserve to know that their hard work means something. Our staff need to feel respected and supported. Our district families need to feel confident that their children will be provided with equal educational opportunities. Spring Lake is a strong, proud community and we will work through this."
Furton told Newsweek that Spring Lake High School will finish the current school year with an interim principal, with plans to post the job in the next four to six weeks. The newly hired principal will begin their tenure on July 1, 2022.
"I've said pretty much everything I have to say in the letter and report," Furton said. "There will be more for sure, but that will come later."