Prison Break Attempt Leaves Several Dead as Armed Gang Blows Up Wall
Inmates at the Santa Izabel prison complex in the Brazilian city of Belem attempted a mass prison break on Tuesday (April 10) with the external help of an armed gang, according to local media reports.
The gang used explosives to destroy a prison wall of the complex's Penitentiary Recovery Center and engaged in a gun battle with prison guards early in the afternoon, killing at least 21 people and injuring several others, Brazilian newspaper O Globo reported. A video recorded outside the prison shows several bodies laying within or just outside the complex.
The authorities confirmed an initial number of casualties but did not immediately disclosed their identities or whether any inmate successfully escaped. According to O Globo, at least 19 inmates and one prison guard had died and the death toll is expected to rise.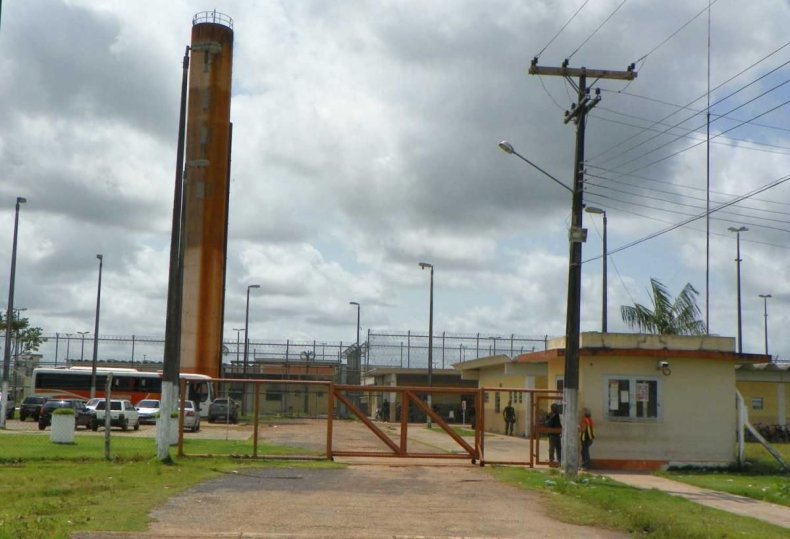 The prison break attempt is currently under investigation. Authorities seized a number of weapons, including two rifles, three pistols and two revolvers, that belonged to the gang who attacked the prison.
The Penitentiary Recovery Center is a building within the larger prison complex that houses some of the most dangerous inmates. According to figures from the country's National Justice Council quoted in local media, it is also seriously overcrowded. It houses 659 inmates—nearly 50 percent more than the 432 for which it was built. The entire complex counts around 3,400 prisoners.
Brazil, Latin America's largest country, has the world's third-largest prison population, just behind the U.S. and China, according to figures from the country's Ministry of Justice.
The number of inmates, most of whom are imprisoned on drug trafficking charges, increased by 17 percent between December 2014 and June 2016, but there has not been a corresponding increase in prison facilities.
According to a report by Human Rights Watch, 40 percent of the prison population in June 2016 had yet to face trial. The dire conditions and overcrowding also makes it "impossible" for prison guards to maintain control, the human rights NGO said. This assessment is backed by a number of violent prison breaks or riots that have made worldwide headlines.
Dozens of inmates were killed during an outbreak of drug gang-related violence in the Amazonian city of Manaus in January 2017 in one of the deadliest prison riots in years.