Prison Company Sues Activist for Writing About Family Separation
In August 2017, Maria Solis, a 28-year-old Mexican mother of three who was pregnant with her fourth, left her home in Oceanside, California to go to work.
She never returned.
Waiting outside her apartment was an officer of the United States Immigration and Customs Enforcement (ICE). The young undocumented mother soon found herself processed and detained at the Otay Mesa Detention Center, a government-contracted facility in San Diego run by the private prison company CoreCivic, formerly known as Corrections Corporation of America.
Separated from her three daughters and facing a high-risk prison pregnancy owing to a difficult history with child-bearing, she experienced what her sister, Izabel, described to Newsweek as a level of despair that left her despondent at the time and traumatized to this day.
"Being separated from my daughters is unbearably painful," Maria would say, as recounted by Izabel, a social worker and immigrant rights advocate. "If I sleep I don't have to think about anything and time goes by faster."
But her torment wasn't only psychological. Maria began to undergo excruciating physical pain that made her worry for her well-being and that of her unborn child. She requested medical attention, but her family said she was instead given Tylenol and forced to deep-clean her cell, a task that required her to move heavy objects. She was told by staff there was nothing they could do, even if she were to miscarry on the spot, her sister said.
Two and a half years later and 2,000 miles away, Tobias Garrido sat in a similar facility in Lumpkin, Georgia, a remote rural town of 2,700 people. That figure does not include the roughly 1,700 people imprisoned at CoreCivic's bustling Stewart Detention Center.
Garrido, 30, is originally from Venezuela. He has been married to his wife, a U.S. citizen, for two and a half years, and the couple live together with their four children in Florida while he awaits the final completion of his green card process.
In January of this year, while living in Georgia, Garrido was picked up by the Atlanta police on a disturbance complaint. No charges were filed. Yet the police turned him over to ICE, who sent him to what he described to Newsweek as "an extremely sad place."
"There are so many people who are unjustly held and that are separated from their children and their grandchildren, people of all ages," Garrido told Newsweek.
He said the Stewart Detention Center has a heavily restricted and crowded atmosphere in which detainees have little or no freedom of time, movement or communication with the outside world. It was unsanitary, particularly in these times of COVID-19, with detainees expected to use a 350-milliliter bottle of solution to sanitize living quarters housing up to 200 people, he said.
These facilities are the product of a curious and controversial meeting of corporation and state that leaves detainees like Solis and Garrido feeling dehumanized and disenfranchised.
"It's the government that contracts with a private business, and that business puts a price on all of us,, the food they're supposed to be feeding us, supposedly medical care, etc.," Garrido told Newsweek. "And that means that they are motivated to have as many people in the center incarcerated as possible."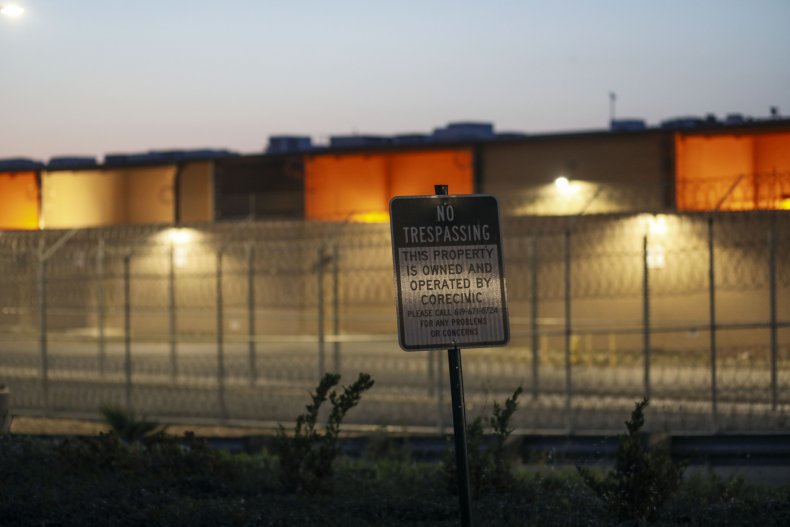 But taking on a company as large and powerful as CoreCivic is far beyond the means of the majority of whose lives are directly affected by the private prison industry. Even seasoned, well-connected advocates have struggled to put a dent in a booming market for detaining immigrants who lack the proper paperwork.
Some, however, have found a way to hit CoreCivic where it hurts: in the wallet.
Morgan Simon deals in what's known as impact investment, a hybrid form of finance and social justice—a mix that's proven capable of countering the blend of public and private intrigue involved in the business of detaining undocumented immigrants. She is a founding partner of Candide Group, LLC, an investment advising firm that "directs capital away from an extractive global economy towards investments dedicated to social justice and sustainability," according to its mission statement.
The group helps its clients to select socially conscious investments, supporting ventures deemed to have a positive impact and routing out those—like CoreCivic—whose business is considered damaging.
"I'm not telling anyone they need to invest a certain way," Simon told Newsweek. "I'm telling them that other options exist, and that is what most people are not aware of."
That awareness has real-world effects. Simon said that over the course of a career that spans two decades, she has influenced more than $150 billion from various institutions on a variety of issues including climate change, job quality and redlining among at-risk communities.
In addition to advising wealthy clients, her job also includes actively campaigning on behalf of the causes she supports, including prison and immigration reform. Simon described one of her group's biggest actions on Valentine's Day in 2019, when Candide Group joined up with community organizers from around the country to call out big banks Wells Fargo and JPMorgan Chase for their ties to private prisons.
Both banks would ultimately divest from that industry in the following months.
In fact, throughout 2019, some 87.4% of financing available to GEO Group and CoreCivic, the two top private prison corporations, dried up, according to Gin Armstrong, a research analyst at the Public Accountability Initiative.
Armstrong described the trend to Newsweek as a "mass exodus."
This flight was chronicled by Simon in yet another capacity in which she operates. As a contributor to Forbes, she penned three articles over a year-long span beginning in September 2018 that detailed the plight of those affected by the private prison industry, and how investors were cutting loose from the likes of GEO Group and CoreCivic.
Feeling the effects, CoreCivic went after Simon directly.
They alleged that her use of the term "family separation" to describe the company practice of keeping parents like Maria Solis and Tobias Garrido away from their children was libelous because it insinuated that their children were also being held against their will. CoreCivic sought to distance itself from the family separation policies of President Donald Trump's administration, which has detained both children and parents in separate facilities after they are caught trying to cross the southern border.
"CoreCivic does not and has never operated immigrant detention facilities for children separated from their parents at the border," Steven Owen, the company's vice president in communication, said in a statement sent to Newsweek, "nor did it lobby for the Trump Administration's family separation policy or harsher immigration or sentencing laws."
In March of this year, CoreCivic took Simon to court on the matter, and she stuck to her line on what family separation meant. The court agreed, as evidenced by a transcript of the proceedings obtained by Newsweek detailing an exchange between Judge William Haskell Alsup of the United States District Court for the Northern District of California and attorney Elizabeth M. Locke representing CoreCivic's legal team.
THE COURT: I want to talk to CoreCivic for a minute. Now, you told me that CoreCivic did not house children separated from their parents. But did CoreCivic house parents who had been separated from their children?
MS. LOCKE: Your Honor, CoreCivic does operate immigrant detention facilities for adults.
THE COURT: Well, I want to tell you something. A minute ago, about an hour ago, you told me that CoreCivic only housed the families together with the children. Mom, Dad, the children, all in one unit. Now I'm learning for the first time after an hour and a half that, no, after the children had been ripped from their arms, you housed the parents. Is that true?
Locke then went to lengths to argue how Simon's articles may give off the false impression that children were being locked up away from their parents with its use of illustration and terminology such as "family separation."
The judge was swayed by Simon's argument.
"But you were housing the families that had been separated, part of them, the parents part, the adults part," Judge Alsup said.
The court dismissed the case in a motion granted last month.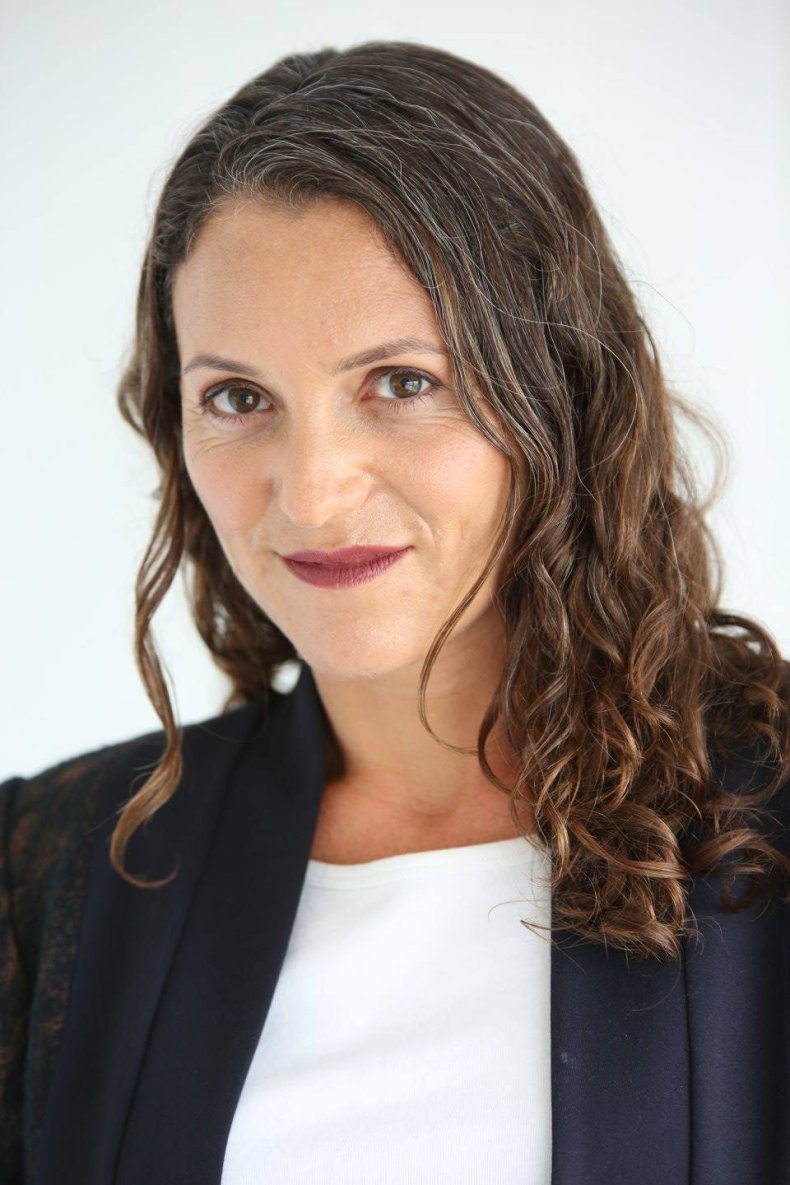 Simon sees the outcome as both an affirmation of her life's work and a commentary on the kind of practices employed by companies like CoreCivic, who are excluded from her portfolio recommendations.
"They are a business that's dedicated to harm," Simon told Newsweek. "I lead a business that's dedicated to social change, and investing in the companies and funds that are changing the world. That's how I spend my time, and that's who deserves my energy, not them."
It's also a vindication of the aggrieved parties.
Maria Solis and Tobias Garrido were ultimately released and reunited with their families after spending roughly six and 14 weeks in detention, respectively. Solis was on the verge of self-deporting to protect her baby before her release, while Garrido awaits a court hearing.
Both are grateful for the awareness campaigns that are put together largely by grassroots and non-profit organizations, and shored up by the efforts of organizations like the Candide Group, for helping them deal with a powerful system whose exploitation they say leaves them in fear.
"My family is still recovering from the horror of being separated," Izabel Solis told Newsweek. "It was bad enough for me to think the U.S. government treated us so poorly. It was even worse when I realized that a private company was actually making money off of our misery, too."
Owen told Newsweek CoreCivic is appealing the verdict, as it seeks "the opportunity to set the record straight" on its practices. As for Simon, she remains hopeful that her argument will prevail. She sees a need for a strengthening of anti-SLAPP (strategic lawsuit against public participation) measures to prevent large corporations from trying to intimidate those wronged from looking to expose their abusers.
Despite the formidable opposition she faces, Simon is determined to continue her efforts.
"Ultimately," Simon said, "the truth will set you free."