Prison Director Bans Officers From Wearing Protective Masks During Coronavirus Outbreak, Whistleblower Says
The director of prisons in Arizona has allegedly banned officers in the penal system from wearing protective masks during the COVID-19 pandemic outbreak, according to a report from a whistleblower within the system.
This includes personal protective materials brought from home by the prison workers.
The governor's office is reviewing a complaint from prison officer Lt. Mark Hasz, who claims on March 26 that the state's Corrections, Rehabilitation and Reentry Director, David Shinn, sent an email barring prison officials and officers from wearing personal protective equipment (PPE) that could maybe prevent the spread of COVID-19, otherwise known as the coronavirus.
"Understand that while the rest of the country is engaged in social distancing, [corrections] employees, as part of their job, must come into close personal contact with hundreds of inmates on a daily basis," Shinn wrote in a March 26 complaint obtained by the Arizona Republic. The email was also addressed to Arizona Gov. Doug Ducey and Department of Health Services Director Cara Christ.
Shinn went on to further state his reason for not allowing PPE while on work in the state's prison system, which does not include social distancing.
"Because of the nature of prisons (no social distancing whatsoever!), once the coronavirus enters the prison system, it will spread quickly, infecting inmates and staff throughout the state."
Hasz said he was "shocked" by the email, further stating that information from the email indicated that officers wearing masks would frighten the inmates, according to KNXV.
"The reasoning is ridiculous and Director Shinn's decision is putting the health of the staff, inmates and the general public at increased risk," Hasz said in the complaint. "I was shocked at the response. Director Shinn confirmed that he had given the order forbidding staff from bringing in and wearing their own PPE."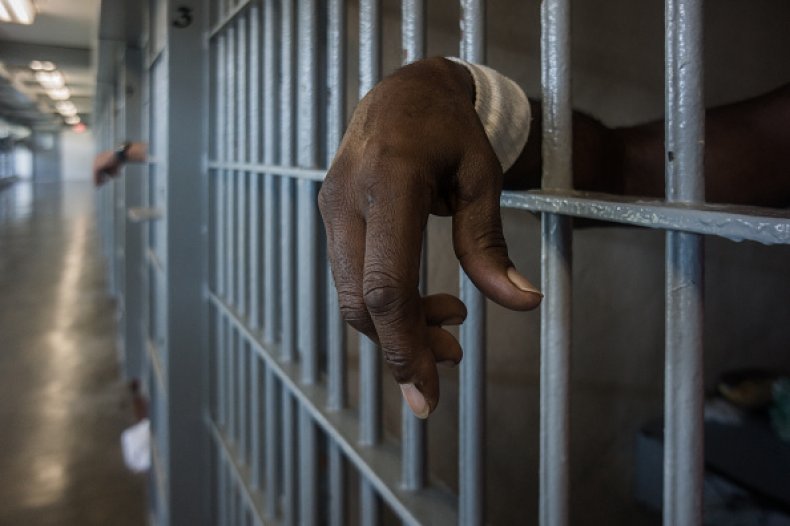 An officer from Phoenix's Alhambra intake unit said staff members were often times near prisoners in those quarantined cells, where sometimes up to 25 inmates would sit together in a rather small, single room for two weeks while awaiting transport from jail to prison.
"[The room] is 40 by 23 feet. They're all packed. It's uncomfortable for them, and it's uncomfortable for us," said the officer, who wanted to remain anonymous. "We have to work there. We have to feed them. We cannot wear masks... We're around them the whole eight hours. Some officers are working 16 hours."
"I just see everyone coughing, and you know a bunch of inmates in there. Just coughing. Some of them stated they were sick, and you know they had symptoms of the flu. They weren't feeling good, and they were packed back there," the officer added.
The prison system sent an email to KNXV, saying the CDC only requires masks and other PPE to be worn by patients and medical professionals treating them.
"According to the CDC, masks are only to be worn by patients with the virus, and medical professionals treating those patients," a spokesperson wrote. "The best advice by the CDC and [Arizona Department of Health Services] is to wash hands frequently and wipe down common areas."
The whistleblower complaint stunned Arizona Rep. Kirsten Engel.
"If that's true, that is shocking," Engel said. "That is a really high concern. That shows we just can't have confidence they are doing the right thing. And that is really scary."