A South Carolina correctional officer has been charged with allegedly smuggling pills into prison by concealing them inside Rice Krispies treats.
The South Carolina Department of Corrections said Thursday that 43-year-old Marcy T. Shaffer had been arrested and charged with misconduct in office, possession of narcotics with intent to distribute and furnishing prisoners with contraband. Authorities say that Shaffer admitted to the crime and was fired after her arrest.
"The charges against her involve attempting to smuggle the pills into the institution in a Rice Krispies treat," a press release from the department states. "The S.C. Department of Corrections reminds members of the public that after an arrest, the burden of proof is on the state to prove guilt beyond a reasonable doubt within a court of law."
The arrest warrant alleges that Shaffer was caught attempting to smuggle a small number of adulterated Rice Krispies Treats. The treats had been removed from their original packaging and placed in a Ziploc bag before Shaffer alleged attempted to bring them into her workplace, Camille Griffin Graham Correctional Institution, a medium-security women's prison in Columbia.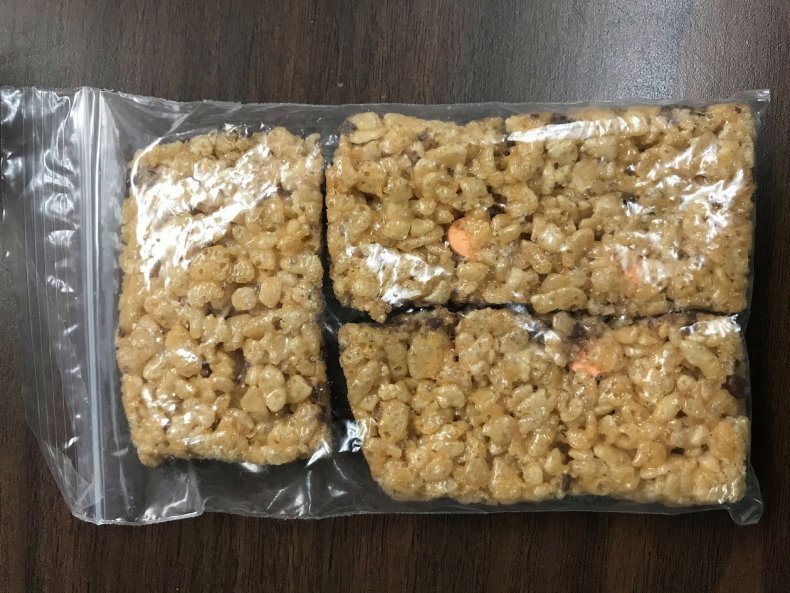 The sweet snacks included the added ingredient of six orange, oval-shaped pills that were concealed inside. Authorities also found two of the same pills inside a prescription bottle with bearing Shaffer's name and a label indicating it contained "Dextroamp-Amphetamin 30 mg"—presumed to be the Schedule II controlled substances Amphetamine and Dextroamphetamine.
Shaffer is facing charges that could potentially result in a combined sentence of 16 years behind bars. It is not clear whether she has retained a defense attorney.
"It is our standard practice to fire anyone charged with a crime," South Carolina Department of Corrections spokesperson Chrysti Shain said in a statement to Newsweek. "Our director believes officers should uphold high standards, and anyone charged with a crime is fired."
In May, Dana Fisher was charged with attempting to smuggle amphetamines into a South Carolina prison using Charms Blow Pops that had been laced with the drugs. The 39-year-old was allegedly caught after authorities at Ridgeland Correctional Institution noticed that the wrappers for the lollipops looked as if they had been altered with glue.
Fisher was handed the same charges that Shaffer is now facing. Shain told The Post and Courier that prison staff were allowed to bring candy into the facility for their own use but were forbidden from sharing it with inmates.
Shaffer's alleged scheme to smuggle drugs into prison using Rice Krispies Treats has been attempted before. In August of 2020, correctional officers in Rome, New York found dozens of strips of Suboxone hidden in commercial boxes of the treats mailed to Mohawk Correctional Facility, according to The Observer-Dispatch. Suboxone is a prescription medication that is commonly used to treat opioid addictions.
Update (7/2, 4:15 p.m.):This article has been updated to include a statement from South Carolina Department of Corrections spokesperson Chrysti Shain.