Tennessee Prison Guard Covered Security Camera While Fellow Officers Beat Mentally Ill Inmate 'Like A Piñata'
A Tennessee correctional officer has admitted covering up a prison cell security camera while colleagues repeatedly punched a mentally ill inmate in the body and face—striking him "like a piñata," in the words of the accused.
Carl Spurlin Jr., 42, is the latest of three officers with the Tennessee Department of Corrections to plead guilty to offences relating to the "egregious" assault that took place at the Northwest County Correctional Complex in Tiptonville, Tennessee, in February of this year.
He faces a maximum penalty of three years in prison for knowing of a federal felony, not reporting it and taking steps to conceal the crime. Meanwhile, the two other men involved—Tanner Penwell, 22, and Nathaniel Griffin, 29—both face up to 10 years in prison having previously pleaded guilty to "using unlawful force on an inmate."
"Correctional officers must abide by and adhere to the same laws they take an oath to uphold and enforce," U.S. Attorney D. Michael Dunavant for the Western District of Tennessee said in a statement.
"Instead of serving and protecting the public, this officer actively participated to conceal the use of physical force by other officers to violate the civil rights of an individual. As a result, he will now be held accountable, vividly illustrating that no one is above the law."
The victim in the case has only been identified by the initials "R.T."—an inmate in the prison's mental health unit who has been identified as a suicide risk. He was bleeding when officers entered his cell and he swung his bloody hand towards the officer nearest to him, flinging the blood towards them.
It was then that one of the officers, who is not one of the three to plead guilty and has so far only been identified by the initials "J.Y.," instructed Spurling to "violate the camera." When Spurlin made no move to do so, J.Y.—presumably a superior—repeated the command and Spurlin did as he was told.
J.Y. then proceeded to punch R.T. 20 to 30 times, striking him "like a piñata" according to Spurlin, before Penwell and Griffin joined in.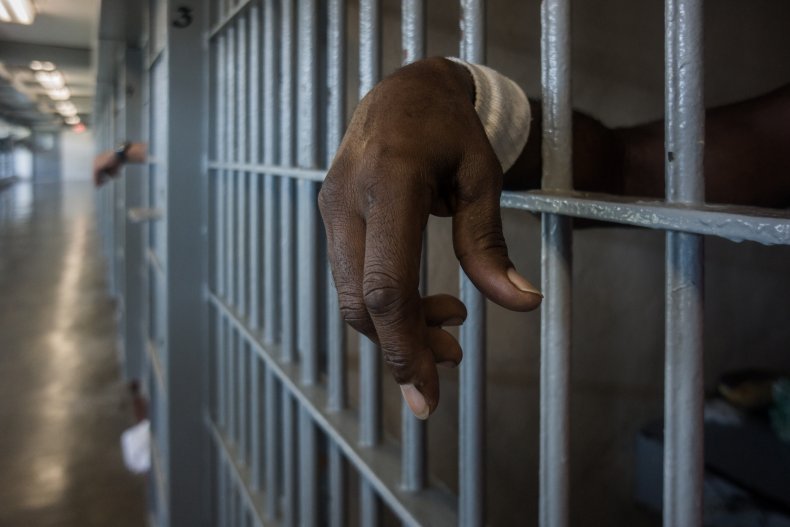 Following the assault, the inmate was left bleeding in his cell. Penwell, Griffin, J.Y. and a further corporal, previously identified as "T.M.," agreed to claim that the prisoner injured himself while on suicide watch.
Assistant Attorney General Eric Dreiband of the Civil Rights Division said in a statement: "The Department of Justice will not tolerate this egregious behavior. The Civil Rights Division will vigorously prosecute all those who have violated the civil rights of others."
Spurlin is set to be sentenced on January 15, 2020. Meanwhile, Griffin and Penwell are set to be sentenced on November 13 and 27 of this year respectively. It is not clear whether charges have been brought against the individuals identified as J.Y. and T.M.