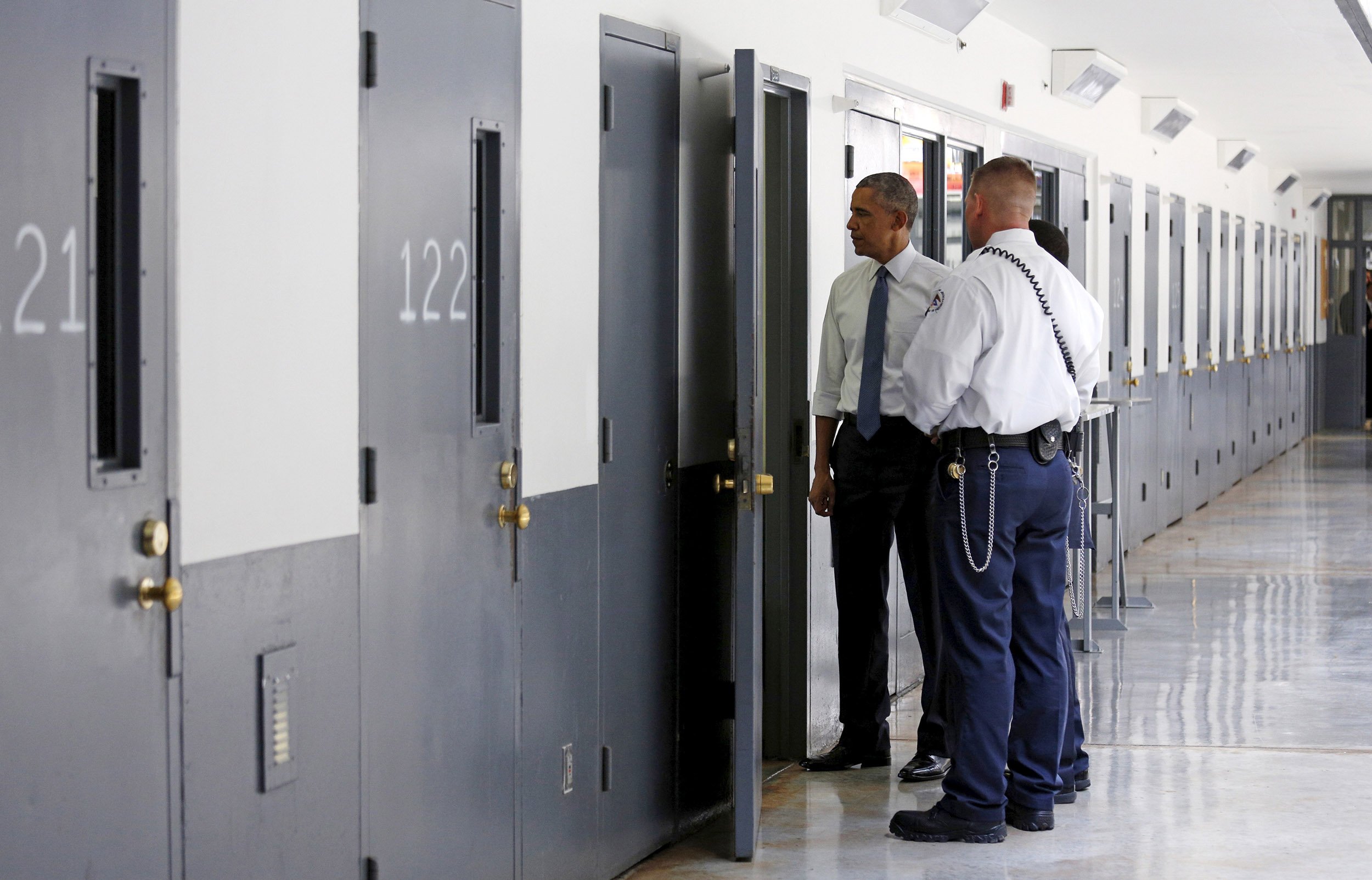 The U.S. prison population dropped by 1 percent in 2014 versus the previous year, to about 1.56 million people, according to new statistics.
"The estimated 1,561,500 prisoners at yearend 2014 represent the smallest total prison population since 2005, and reverses the 0.4 percent increase that occurred from 2012 to 2013," the Bureau of Justice Statistics says in its report, written by E. Ann Carson. It added: "The decrease observed in 2014 was the second largest decline in the number of prisoners in more than 35 years."
Nearly a third of the decline can be attributed to the federal prison population. The number of federal prisoners at the end of 2014 was 5,300 fewer than in 2013. By yearend 2014, there were 210,567 total federal prisoners. Meanwhile, there were 10,100 fewer state prisoners at the end of 2014 than a year earlier. As of December 31, 2014, there were 1,350,958 state inmates.
Despite the year-over-year declines, it's fair to say U.S. prisons remain packed, with 18 states and the Federal Bureau of Prisons (BOP) "operating at more than 100 percent of their maximum prison facility capacity at yearend 2014." Seven states—New Mexico, Montana, Oklahoma, Hawaii, Mississippi, Vermont and North Dakota—"housed at least 20 percent of their prison population in privately operated facilities," per the BJS.
The private prison population has swollen to 131,300 in 2014 from 69,000 in 1999. However, the private prison population was not at its peak in 2014.
Who's in Prison?
African-American males made up 37 percent of the sentenced male prison population, as "an estimated 516,900 black males were in state or federal prison on December 31, 2014, on sentences of more than one year," the BJS says. White and Hispanic males totaled 32 and 22 percent of the male population, respectively.
This racial breakdown differs dramatically for women. There were 53,100 white female prisoners in 2014—a number that is more than African-American (22,600) and Hispanic (17,800) women combined.
As far as how many prisoners are spending their golden years behind bars: 10 percent of sentenced prisoners were in the 55-and-older demographic. Only two percent were 65 and older.
The BJS report also features information on prisoners' offenses.
Most state prisoners—53 percent—were incarcerated for violent crime in 2013, according to the most recent BJS data, while 16 percent were there for drug charges.
On the federal level, 50 percent of prisoners were serving sentences for drug crimes. Only 7 percent were listed as violent offenders, the BJS says.
Marc Mauer, executive director of The Sentencing Project, a non-profit that advocates for changes in sentencing procedures, says the statistics are positive, but more work must be done to reduce the prison population.
"On the one hand, it's encouraging that we see at least a modest reduction in the overall prison population in these numbers," he says, "but I think the emphasis is very much on the word 'modest.'
"A 1 percent decline coming after nearly four decades of a record rise in the prison population—it only goes so far."