Prison Set on Fire in Attempted Jailbreak in Nigeria
A prison building was set on fire in Nigeria as inmates attempted to stage a jailbreak.
Ikoyi Prison in Lagos came under attack by prisoners on Thursday, with facilities set ablaze and the police and military called in to support prison staff.
Eyewitnesses saw smoke coming from the building, while according to a correspondent from Nigeria's Punch newspaper, gunshots were heard from inside the prison as the riot took place.
Videos posted to social media showed inmates in the outdoor area of the prison as security services entered the front of the building.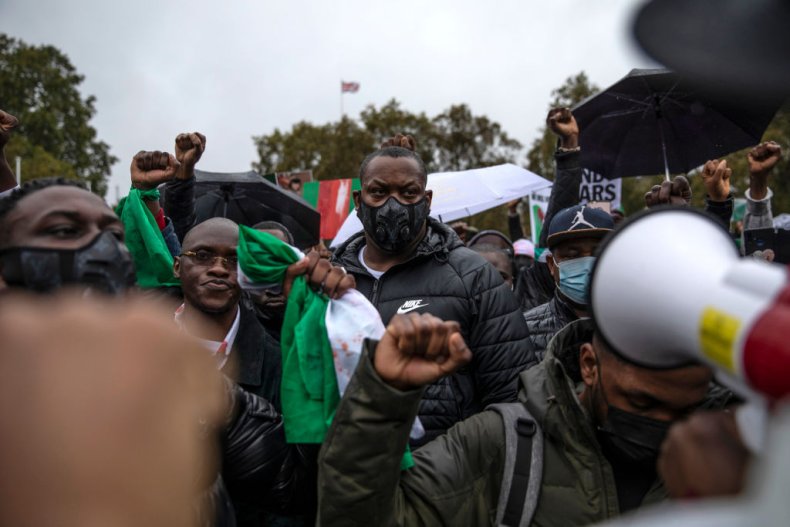 At the start of the attempted prison break, warnings were issued to those in the local area, telling them to stay somewhere secure—given the jail's proximity to residential and office buildings.
However, the situation is now believed to be under control.
"Ongoing Fire Incident at the Ikoyi Custodial Centre (prison) is under Control," Lagos-based journalist Gboyega Akosile tweeted at 1.30pm local time.
"Armed squad of the Nigeria Corrections, the Nigerian Security and Civil Defense Corps and officers of Federal Fire Service as well as @PoliceNG are on ground."
Today's attempted prison break comes less than a week after a large-scale prison break in Benin City, in the south of the country.
Itis believed as many as 200 inmates escaped after a crowd of people stormed the prison as part of the End SARS protests against police brutality.
Widespread protests in the country have taken following footage that appeared to show a man being attacked by the Special Anti Robbery Squad (SARS).
The squad has since been disbanded following the demonstrations, but protests have continued, with people calling for further reform. There have been at least 56 fatalities during clashes over the past fortnight, according to Amnesty International.
Amnesty has called for the killing of protesters by the military to be investigated, and has been monitoring the situation on the ground since protests began.
The country's minister of information and culture, Lai Mohammed, said on state television NTA in response to the protests: "We are no longer dealing with #EndSARS but a volatile situation that can lead to anarchy if government does not take some very firm steps to protect the lives and livelihood of innocent Nigerians".