Crosses, Skulls, Stars Most Popular Tattoos Among Florida Inmates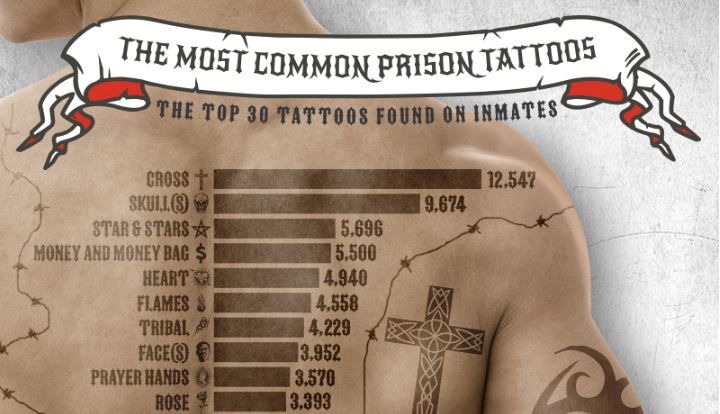 When Thomas Sigler was arrested last year for burning a cross outside the home of an interracial couple, the Florida Department of Corrections said his left arm was tattooed with the image of a cross and his right arm was inked with a skull and an angel. While it's likely unbeknownst to Sigler, they represented the most popular images Florida prisoners have marked on their skin.
Crosses are the most common prison tattoos in Florida, followed by skulls, stars, images of money and hearts, according to a new study by InHomeSafetyGuide. Flames, tribal tattoos, faces, praying hands and roses round out the top 10. The study also found interesting information about the most common placement of tattoos on prisoners, with the right and left arms being the most popular locations, at about 27 percent each, followed by the back and chest.
While very few prisoners had penis tattoos—just .06 percent—the most common images down there were hearts (five prisoners) and "your name" (also five). Other tattoos found on male prisoners' genitals included a smiley face, a spider and a rebel flag, the study found. And while tattoos of women were the 17th most popular overall, they were sixth among inmates imprisoned for sex crimes.
Also, about 580 inmates have tattoos of swastikas, according to The Palm Beach Post. A tattoo artist told the newspaper that he once had as a customer a Jewish ex-con who had joined an Aryan gang for protection while in prison and got a Nazi-affiliated tattoo to blend in. "I covered it up with an Asian mask. Japanese-style," Michael "Pooch" Pucciarelli, a tattoo artist and owner of Altered State Tattoo in Lake Worth, told the Post in January. "I do those a lot."
About three-quarters of the Florida prison population has at least one tattoo, according to an analysis done by The Economist, and 85 percent of prisoners under the age of 35 are tattooed.