Four Prisoners Beheaded After Gang Rival's Wife is Murdered: Police
At least four inmates in a jail in Guatemala have been beheaded during a riot, apparently triggered after a rival prisoner's wife was murdered, police said.
The violent disturbance took place at a penitentiary in Quetzaltenango—a city in Guatemala's western highlands—and resulted in at least seven prisoners killed.
Most of the deceased—members of the Mara Salvatrucha and Barrio 18 gangs—had their heads severed, the National Civil Police (PNC) said.
The prison, Granja Modelo de Rehabilitación Cantel, suffers from overcrowding and is said to house more than 2,000 inmates, four times the 500 it was designed to hold.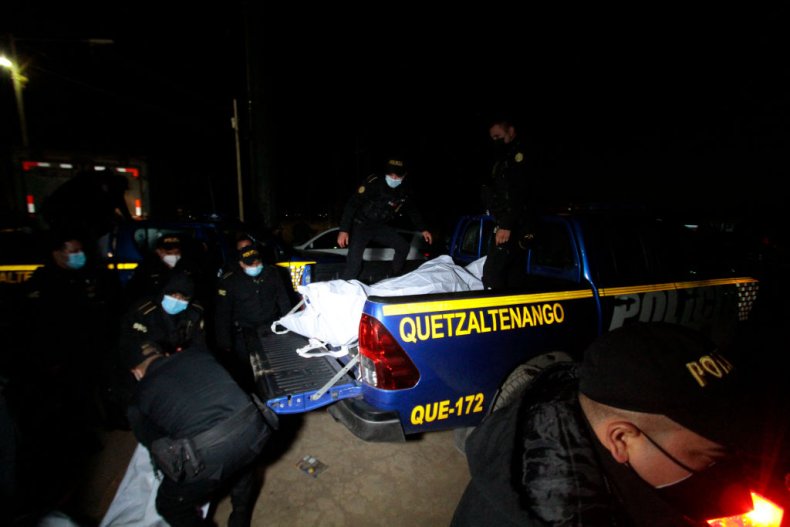 First responders were sent to the prison and reported that some of the inmates were found beheaded and dismembered.
The authority in charge of the jail did not respond to requests for comment from Guatemalan media.
However, the country's interior ministry confirmed in a statement on Twitter that at least seven people had died, and said it "regretted" what had taken place.
The statement added that the circumstances leading up to the killings were still being investigated.
National newspaper El Periodico reported the identities of some of the dead, including: Edvin Humberto Guerra Ipiña, known as el Piña, 41, who was imprisoned for murder and illegal carrying of a firearm; José Manuel Sosa Matul, known as el Cochita, 22; Melvin Ardani and José García Pastor.
A police source told the paper the grandson of a local drug trafficker allegedly ordered the execution of gang members in the prison in response to the murder of his wife.
She was reportedly murdered during a visit to the prison, when two men on a motorbike approached her and shot her dead amid an ongoing gang dispute over money.
Although the region remains largely safe, with many countries continuing to be popular with visiting U.S. citizens, gang violence continues to plague pockets of Central America, including communities in Guatemala, which has the 14th highest homicide rate in the world.
"I try to use the phrase 'non-state armed actors,' because that is a better description of the level of control they possess," Meghan López, regional vice president of Latin America at the International Rescue Committee, told Newsweek in March.
"For a Western audience, 'gangs' doesn't sound so bad," she said. "I used to live in Baltimore, where if you know where the gangs are, you don't go there. That's manageable. This is not a manageable situation."
Mara Salvatrucha, commonly known as MS-13, is a cross-border gang that originated in Los Angeles, while Barrio 18, often referred to as La 18 in Central America, also has Californian origins.