Private Arts Patrons Set Up Public Museums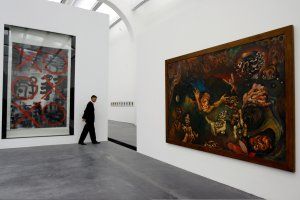 Though the art market showed promising signs of life during last fall's New York auctions, some notable public exhibition spaces—including the Los Angeles Museum of Contemporary Art and New York's Chelsea Arts Museum and American Folk Art Museum—appear in danger of going under, crippled by the continuing fallout from the global financial crisis. However, in a sign of the expanding role that private wealth plays in public life, well-off collectors are inaugurating their own exhibition spaces—often in countries where contemporary-art scenes are growing and government support of the arts remains paltry. Instead of depending on larger institutions, these modern-day Medicis are taking the lead in bringing art to the public.
The highest-profile private space to open in recent years is François Pinault's Palazzo Grassi in Venice. Formerly a Fiat exhibition center, the gallery opened in 2006 following a major renovation by Japanese architect Tadao Ando. A rotating cast of curators mixes works from Pinault's collection of more than 2,000 pieces, some by such famous names as Jeff Koons, Damien Hirst, and Cindy Sherman. But while Pinault's project, located in the city that hosts the world's most prestigious biennale, comes with a ready-made audience, other collectors have taken on the challenge of incubating an appreciation for contemporary art in regions where it isn't yet popular.
Maria Baibakova, who founded Moscow's Baibakov art projects toward the end of 2008, is a precocious example. After studying art history and contemporary art in New York and London, and completing internships at Sotheby's and London's Waddington Galleries, Baibakova, 25, turned her eye toward the burgeoning Russian contemporary-art scene. She was disappointed by what she found. "I think [the Russian] government ignores contemporary art, and the public is very hesitant," she says. "We're not taught art history in [Russian] schools, and if we are it's very classical and 19th century or socialist realist. Contemporary art is seen as elite and privileged." Baibakova's inspired solution: a series of temporary havens for contemporary art occupying dramatic spaces around the city. From 2008 to 2010, she staged high-profile shows—including exhibitions of Luc Tuymans and Paul Pfeiffer—in the Red October Chocolate Factory, a 100-plus-year-old heritage building. Last year she arranged a group show that included art-stars-in-the-making Andro Wekua and Cyprien Gaillard, co-curated with a Berlin culture magazine, in a 4,300-square-meter space on the Paveletskaya River.
Baibakova's mission is to place underexposed Russian talent alongside familiar names on the international art circuit. Yet she sees no need to be tied to a fixed address, preferring an itinerant approach that echoes the trend toward pop-up galleries that has swept New York. "A space inevitably forces you to fill it all the time, and if you don't have a permanent collection, you're more prone to compromising on the quality of content, or rushing into decisions or allocating funds in an inefficient way," she says. The shifting scenery keeps her projects vital and a fickle public engaged.
In India, arts patron Anupam Poddar has taken a similar hands-on role in sharing his collection with the public. The scion of a noted industrialist family, he has assembled, together with his mother, more than 5,000 pieces of Indian tribal, folk, and modernist art; contemporary pieces compose about 40 percent of the collection. In the fall of 2008, they inaugurated the Devi Art Foundation, a two-story exhibition space located inside one of their office buildings in New Delhi. "Once the collection had grown so large, we knew that it had to be opened up to the public," says Poddar. "[Also,] art in India tends to be a very elitist platform, so we wanted to invite people who might not engage with art to have access to the space."
As the first private museum for contemporary art in India, Devi serves as an institutional model for other arts patrons, and Poddar is hopeful that it will spark other similar projects. He acknowledges that potential patrons face obstacles like exorbitant real-estate prices and limited governmental support of arts initiatives, but he remains optimistic. "I don't think [the lack of exhibition space] is because people aren't interested in contemporary art," he says. "It has more to do with logistical issues, as well as philanthropic philosophy. Patrons of the previous generation had a slightly different mindset; they focused on education, health care, and religion, while our generation is slowly engaging with contemporary art, as well as design, architecture, and fashion."
But when it comes to emerging art scenes, no country has had a bigger global impact than China, which has drawn interest from major museums and collectors around the world. Among the smitten: Belgian collectors Guy and Myriam Ullens, who created an exhibition center in the Dashanzi district of Beijing to display their massive trove. The Ullens Center for Contemporary Art (UCCA), a 22,000-square-meter Bauhaus-style space in a former military-electronics complex, houses three exhibition halls, as well as an auditorium, restaurant, library, and bookstore. The not-for-profit model is a refreshing change from most private museums in China, which are often assets of corporations, like the Minsheng Bank's Art Museum. While proponents argue that this allows the museums to avoid depending on donors, critics insist that avant-garde exhibits tend to fall victim to a for-profit mentality. Given the philosophical divide between China's private art establishment and the prevalent Western model, it makes sense that foreigners rather than Chinese collectors are responsible for constructing a private museum of contemporary Chinese art.
Wealthy citizens will likely play an even larger role in subsidizing private contemporary-art exhibitions. In the West, public museums are constantly scrambling for funding, and governments in emerging markets consider contemporary art a luxury their economies cannot afford. So the task of nurturing the arts is falling on high-net-worth individuals who have a personal stake in advancing the sector. And if their collections happen to increase in value in the process, all the better.