A privately funded border wall built in Texas by Trump supporters appears to be on shaky ground after being pummeled by Hurricane Hanna over the weekend.
When Tommy Fisher, the CEO of Fisher Industries, first embarked on the project to build the self-described "Lamborghini" of walls, he had promised to transform U.S. border security by building his wall directly on the banks of the Rio Grande.
That ambition, however, could soon be his undoing, as new photos show parts of the ground below the border wall, which was built using funds raised through We Build the Wall, a private group whose advisory board is chaired by former White House adviser Steve Bannon, being heavily eroded by heavy rains and wind brought on by hurricane-turned-tropical storm Hanna.
In one of the photos shared with Newsweek by the nearby National Butterfly Center, which has launched a lawsuit over Fisher's border wall, the ground below the barrier appears to have been worn away.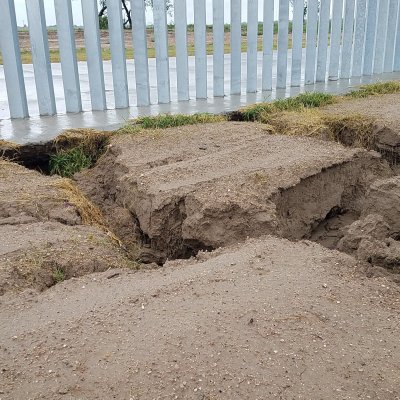 The photos of the erosion were captured on Monday after Hanna dropped approximately 16 inches of rain on the area. In the past, the area has seem similar levels of rainfall, according to the National Butterfly Center, including in June 2018 and 2019.
Commenting on a photo of the destruction posted to Twitter, American Immigration Council policy counsel Aaron Reichlin-Melnick said it looked like the border wall was at risk of falling into the Rio Grande.
"Looks like the private border wall built right up against the Rio Grande did not do well following the first major storm in the region," Reichlin-Melnick said. "Without regular (and expensive) maintenance, it sure looks like it's going to fall into the river."
This is not the first time that erosion at the border wall site has prompted concern, with even President Donald Trump criticizing the project funded by his supporters.
"I disagreed with doing this very small (tiny) section of wall, in a tricky area, by a private group which raised money by ads," Trump said in a tweet earlier this month.
"It was only done to make me look bad, and perhsps (sic) it now doesn't even work. Should have been built like rest of Wall, 500 plus miles," the president said.
At the time, Fisher, dismissed the concerns, telling The Associated Press he believed Trump had "just got some misinformation on this stuff."
The Fisher Industries CEO said he still had "complete respect" for Trump, despite the president's critical comments.
Prior to Trump's comments, Fisher Industries company attorney, Mark Courtois, also addressed concerns, telling The Texas Tribune that erosion is "a normal part of new construction projects like this and does not in any way compromise the fence or associated roadway."
It is unclear if that stance will have changed in the wake of further erosion caused by Hanna.
Newsweek has contacted Fisher Industries and the White House for comment.