In Private Meeting, Joe Biden Said Part of Education Problem in Black Communities is that 'Parents Can't Read or Write Themselves'
Democratic presidential candidate Joe Biden has repeatedly touted his support from black voters as a sign of his electability in the general election, but he reportedly caused frustration during a meeting last year when he said black "parents can't read."
Biden's remarks, which were first reported by The New York Times on Thursday, came during a private gathering with prominent black mayors from Georgia. Three people with direct knowledge of the meeting confirmed the account to the newspaper, noting that Biden had said that black communities face a problem because "parents can't read or write themselves." Many of the attendees were reportedly "shocked" and "frustrated" by the former vice president's comment.
When contacted,Biden's campaign referred Newsweek to the statement it had given to The Times. That statement suggested Biden was referring to his personal experience. "The Vice President regularly talks about how his father's experience has shaped the way he feels about and views the relationship between parents and their children's learning," the campaign said in the statement.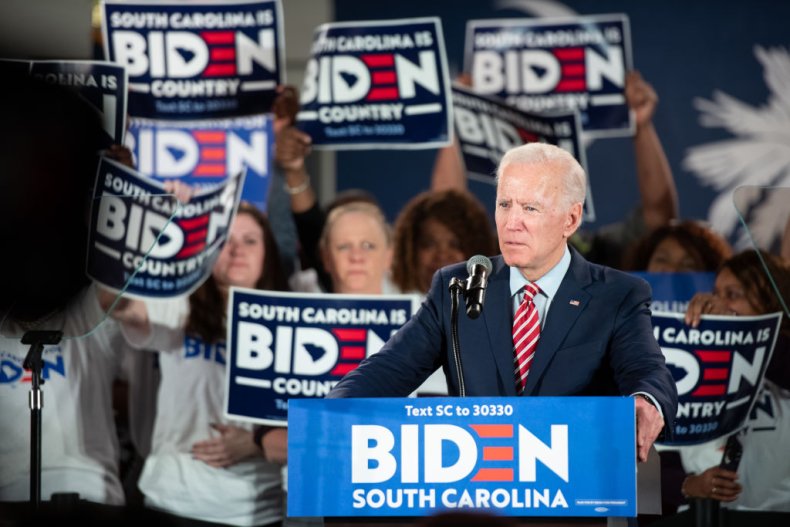 The revelation came as Biden has slipped in national polls and has performed well below expectations in the Iowa caucuses and the New Hampshire primary this month. Senator Bernie Sanders, who won the popular vote in Iowa and won overall in New Hampshire, has surged to frontrunner status in most national surveys. Meanwhile, Biden has suggested that his campaign will rally in the upcoming Nevada caucuses and South Carolina primary, which have significantly larger minority populations.
"Up to now, we haven't heard from the most committed constituency of the Democratic Party, the African-American community," Biden told supporters after his fifth-place finish in New Hampshire. He noted: "99.9 percent. That's the percentage of African-American voters that have not yet had a chance to vote in America."
But Biden's support from black Americans also appears to have dropped substantially following his failure in the Iowa caucuses. According to polling data by Morning Consult released on Tuesday, Biden's overall support from black voters has dropped to 35 percent, while Sanders' support rose from 17 percent before Iowa to 27 percent – an increase of 10 points.
A separate poll released this week by Monmouth University found that Sanders led all candidates with support from black, non-white Hispanic and Asian voters. The senator was backed by 28 percent of non-white voters, while Biden placed second at just 20 percent.
It's unclear where the candidates currently stand in the eyes of voters in Nevada and South Carolina, where Biden is banking on a surge of support in the upcoming contests. The most recent polls, which are several weeks old, from both states show Biden in the lead. But most national polls showed Biden as the frontrunner prior to Iowa and New Hampshire, and his nationwide support has declined significantly since the first two contests of the 2020 election cycle.
Pete Buttigieg, the former mayor of South Bend, Indiana, has emerged as the race's early more moderate frontrunner after his strong showing in Iowa and New Hampshire, and has consistently polled poorly with minority and black voters. The most recent Monmouth survey showed he only had support from 8 percent of non-white voters, while the Morning Consult data showed that Buttigieg was backed by just 4 percent of black voters.
This article has been updated with a statement from Biden's campaign.