Private Poll Surveillance Poses Bigger Threat Than Election Fraud: DOJ
The Department of Justice (DOJ) is arguing that groups watching ballot drop boxes in Arizona pose a greater threat to the election in the key swing state than outright voter fraud.
The DOJ on Monday filed a brief, signaling its support for voting rights organizations in a lawsuit that contends surveillance by so-called "ballot security forces" amounts to illegal voter intimidation. Concerns over voter fraud have persisted as former President Donald Trump continues to baselessly cast doubt on the 2020 election results. The DOJ is asking a judge to narrowly restrict poll watchers as Arizona voters cast ballots in multiple close races.
Advocacy group Protect Democracy last week filed a federal lawsuit on behalf of the League of Women Voters of Arizona, asking a judge to block a large-scale plan to watch and harass voters using ballot drop boxes. The lawsuit accuses Lions of Liberty and the Yavapai County Preparedness Team of sending their members dressed in tactical gear to film people using the drop boxes and potentially harangue them with charges of voter fraud.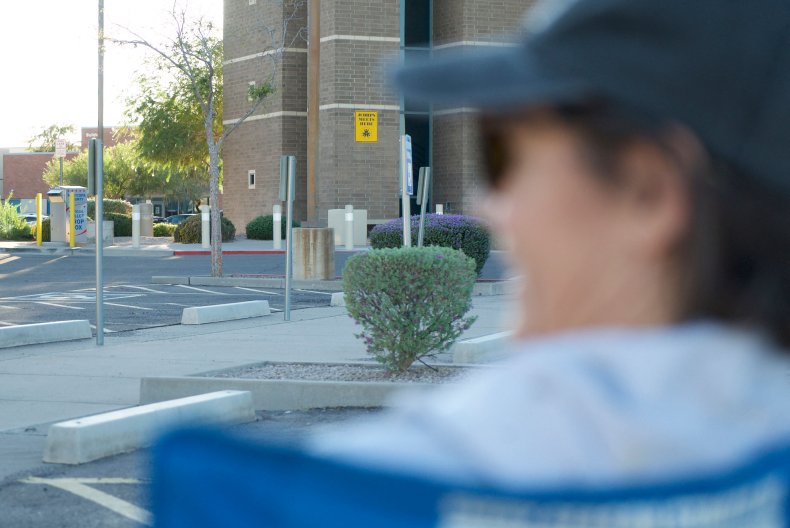 The lawsuit argues that both groups are motivated by "a thoroughly debunked conspiracy theory that so-called 'ballot mules' illegally 'stuffed' ballots in drop boxes during the 2020 election."
U.S. District Court Judge Michael Liburdi on Friday denied a motion to block the poll-watching campaign, saying that doing so would violate the First Amendment while also leaving the case open.
The DOJ asked Liburdi, a Trump appointee, to consider a narrower set of restrictions on poll-watchers that it argued wouldn't run afoul of the First Amendment. In the filing, the department cited a 2009 opinion by a federal judge in New Jersey who ordered restrictions on Republican-led "(private ballot) security initiatives," determining they "pose a far greater threat to the integrity of modern elections than in-person voter fraud."
"Such anti-fraud efforts may create disruptions to the voting process that have the effect of disenfranchising individuals whose eligibility is not in question," reads the opinion by District Court Judge Dickinson R. Debevoise.
Alexander Kolodin, attorney for Clean Elections USA, responded to the DOJ's filing in an emailed statement to Newsweek.
"How could it possibly be the case that groups working to make sure that Arizona law is followed pose a greater threat than the violation of those laws?" he said.
The DOJ filing also cited a 1994 letter from John Tanner, then-acting chief of the DOJ's voting rights section, to Alabama election officials, stating that plans by the Republican Party to film polling sites would intimidate voters and violate the Voting Rights Act.
Arizona's Democratic Secretary of State Katie Hobbs, who is running for governor, last week raised alarms about the presence of "armed vigilantes" at ballot boxes in Maricopa County. Hobbs is in a tight race with Republican Kari Lake, who has echoed Trump's debunked claims that the 2020 election was marred by widespread fraud.
Polls also show Democratic Senator Mark Kelly is in a tight race against Republican challenger Blake Masters.
Jim Arroyo, spokesman for Yavapai County Preparedness Team, told Newsweek in an interview Tuesday evening that members of his group did not display weapons or photograph people while watching ballot drop boxes.
Arizona law allows individuals to drop off ballots for family members, people they are providing care to and other household members. Arroyo said those in his group (he didn't know how many, describing the effort as informal) were watching out for people stuffing large stacks of ballots into drop boxes.
Arroyo said his group didn't see any irregularities and didn't expect there to be any in the county north of the Phoenix area that went overwhelmingly for Trump in 2020. He said his group began its surveillance of ballot drop boxes in a show of support for other similar efforts in the state, particularly in heavily populated Maricopa County.
The Yavapai team ceased its activities last week in response to the lawsuit and hasn't resumed them, said Arroyo, even though Liburdi on Monday released the group and the Lions of Liberty from the lawsuit, at least for the time being.
At the moment, the Yavapai team doesn't have legal counsel and is even more reluctant to resume its activities now that the DOJ has taken interest, said Arroyo. He said he feels like his group is being intimidated.
"This is all political at this point," said Arroyo of the DOJ's involvement. "They're flexing their muscle, and they're sending a message to the people that are out there that are trying to make sure there's a good clean, fair election for everybody. They don't want that. So we're we're going to stand down and watch how this plays out."
Newsweek has reached out to the Lions of Liberty for comment.
Update 11/01/22, 4:45 p.m. ET: This story has been updated with comment from Alexander Kolodin, attorney for Clean Elections USA.
Update 11/01/22, 10:10 p.m. ET: This story has been updated with comment from Jim Arroyo, spokesman for Yavapai County Preparedness Team.