A lot has changed for Priyanka Chopra since her last big Hindi cinema role in 2016. The 37-year-old star has successfully crossed over from Bollywood to Hollywood with a starring role in ABC's Quantico and movies like Baywatch, and is one-half of the world's most famous celebrity couples with husband Nick Jonas.
Now, Chopra is returning to her Bollywood roots in the Hindi-language film The Sky is Pink, a compelling biographical drama about real-life teenage motivational speaker Aisha Chaudhary, who gained fame for speaking movingly about suffering from pulmonary fibrosis.
"I was on Quantico for three seasons and it took 11 months in a year to shoot, I had no time to do any features, so that's why I couldn't do a full-fledged feature role," Chopra tells Newsweek of her return to Bollywood. "As soon as [Quantico] was done ... this year I took on three feature roles, so I'm really excited to be back in work and excited to be back in Hindi cinema. Everything that I know I've learned [in Hindi cinema] and it's my first love."
The Sky is Pink—released globally Friday—follows the 25-year love story between Aisha's parents, Aditi (played by Chopra) and Niren Chaudhury (Farhan Akhtar), as told through Aisha's eyes.
Aisha's story so moved Chopra that not only did she agree to star in the film, she produced it through her Purple Pebble Pictures production company.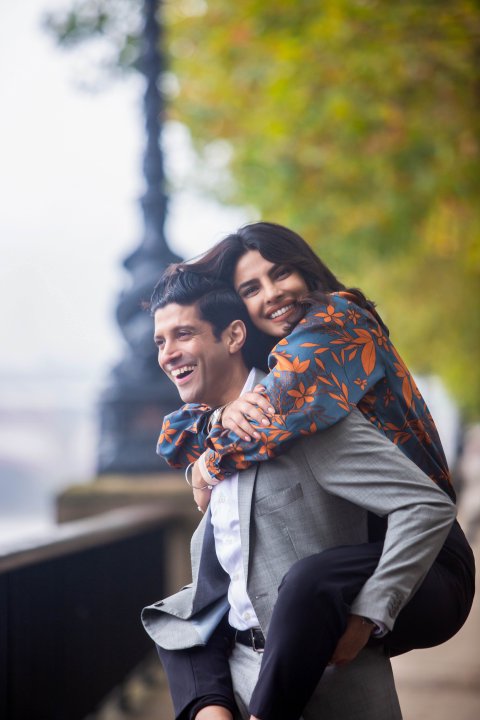 "It's a very special, small movie," says Chopra. "The fact it's based on a real-life family really inspired me. They're not superheroes or super athletes or famous. They are a normal family who has thrived under extraordinary circumstances."
"They remind me so much of my family—my father made everything an adventure, my mom always supported me and put me before herself," Chopra adds.
"In the cynical world that we live today, we need to see movies that make you remember that there's hope, laughter and happiness—the zest of life is something we need to be grateful for."
The 25-year love story at the center of The Sky is Pink is all the more stirring to Chopra's fans given her own fairytale—if whirlwind—romance with Nick Jonas, 27. The couple began dating, got engaged and had a lavish wedding in India all in the span of seven months last year.
Chopra was deep in production on The Sky is Pink while planning the couple's wedding and was still shooting as little as four days before she wed Jonas in December. "All the last-minute prep, the heavy lifting, for the wedding, Nick did. He came down early and he did all the prep with my mom. He said that I'd committed to the movie and I should focus on that and he didn't want me to be distracted," says Chopra. "It's wonderful to have a partner like that."
Chopra and Jonas' big east-meets-west wedding at Umaid Bhawan Palace in Jodhpur, Rajasthan, has also inspired one of her next projects: A wedding-themed romantic comedy co-starring and written by Mindy Kaling that they will produce together. The Universal Pictures movie is described by Variety as being in the same vein as Crazy Rich Asians and My Big Fat Greek Wedding.
Chopra says that the movie is "based [on and] inspired from my wedding" and hopes that it helps bridge the gap between Hollywood and Bollywood and give more opportunities to other actors from diverse backgrounds.
"I love cross-cultural exchanges. It's going to have an all-South Asian star cast, which I haven't seen in a Hollywood movie for a very, very long time," says Chopra. "It's my quest to be able to create opportunities as a producer if I can."
The Sky is Pink is released on Friday.