Pro Baseball Players Still Getting Paid During Coronavirus Shutdown, Some at $4,775 per Day
Baseball in America got suspended indefinitely during the coronavirus pandemic. That does not mean baseball players from both the minor and major leagues aren't still getting paid.
While many people in America have lost jobs, or had their hours and pay reduced because of coronavirus, a minor league player whos contract is between $46,000 to $91,799 will receive $275 per day during the shutdown, according to the Associated Press.
In a 30-day period, that equals $8,250 for one month—not bad for those on the lowest pay scale. Some Major League Baseball (MLB) veterans will make $4,775 per day, or roughly $143,000 per month while in shutdown mode. Though it may be meager pay for some of the players who have salaries beyond $20 million, it's still a substantial amount of money compared to the "essential workers" battling coronavirus conditions as the pandemic gets worse by the day.
Though many baseball players will also see a cut in pay, the reduced salary is still more than lots of Americans bring home each month.
The AP obtained the numbers from MLB and the players association, which negotiated terms on how to maintain operations during the work stoppage.
Terms of the agreement state that baseball teams will collectively pay $173 million in work stoppage salaries in a period from March 26 - May 24, or an earlier date if baseball starts back before May 24.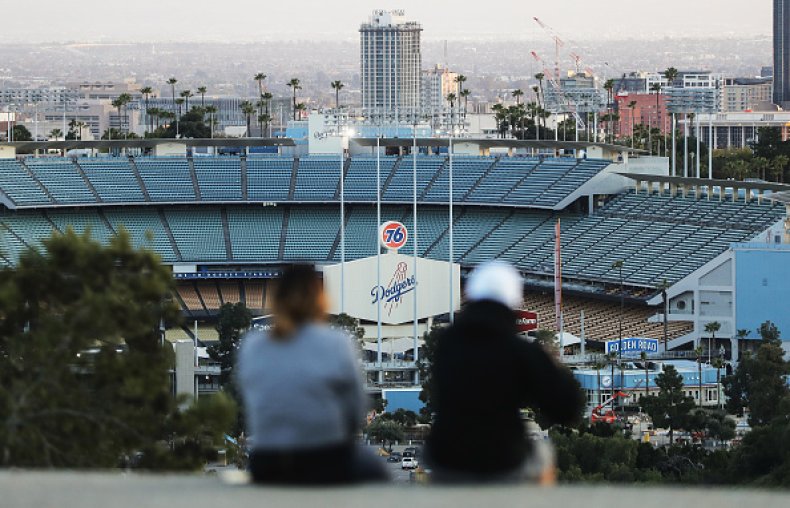 On March 12, baseball announced it would cancel its final two weeks of spring training, and then delay the first two weeks of the season, which was to begin on March 26.
There are four levels of pay structure during the shutdown, with $275 per day on the low end and $4,775 on the high end. Minor league players who have contracts worth $91,800 to $149,999 will receive $500 per day, and players making $150,000 or more on their contract will receive $1,000 per day, which is $30,000 per month.
The $4,775-per-day amount is for veteran players with large single contracts. They were given a chance to opt out, but none of them did, so they could simplify and streamline the process, per the players' association on Tuesday.
On March 11, the NBA announced it would suspend its season indefinitely after a player from the Utah Jazz tested positive for COVID-19, better known as coronavirus. The next day, MLB and the NHL announced the indefinite suspensions of their respective seasons. Later that day, the NCAA said it was canceling the men's and women's basketball tournaments altogether, and that all spring championships were canceled—including baseball, softball and lacrosse.
Since then, the 2020 Tokyo Summer Olympics have been postponed one year to 2021, the Boston Marathon and Kentucky Derby have been postponed until the Fall, as have the Masters and the French Open.
The coronavirus was first detected in Wuhan, China during late 2019, and by March 31, more than 854,000 people worldwide have tested positive for the virus, and there have been more than 42,000 deaths around the globe.
In the United States, there have been more than 185,000 cases—the most by any country. The U.S. has more than 3,770 deaths so far.
President Donald Trump said Sunday he expects the number of cases and deaths in America to peak by April 12, and that the social distancing guidelines have been extended to April 30. Trump also said he expects a "full recovery" by June 1.