Pro Football Rarity Could Happen When Baltimore Ravens, Tennessee Titans Play Saturday in Divisional Playoff
There are currently nine Heisman Trophy winners on NFL rosters, and five of them will suit up in one game this weekend. If all of them see the playing time, it might be something that happens only once in history.
This will be the first time five Heisman winners will dress out in the same game during the Super Bowl era, and all five could see the field during the game.
The Baltimore Ravens have three Heisman Trophy winners and the Tennessee Titans have two. The teams will play at 8:15 p.m. ET Saturday night at M&T Bank Stadium in Baltimore.
The five players are (College and Year to win Heisman):
Baltimore—RB Mark Ingram (Alabama, 2009)
Baltimore—QB Robert Griffin III (Baylor, 2011)
Baltimore—QB Lamar Jackson (Louisville, 2016)
Tennessee—QB Marcus Mariota (Oregon, 2014)
Tennessee—RB Derrick Henry (Alabama, 2015)
"Five? I didn't even think about that," Jackson said in USA Today. "It's going to be incredible."
At least three of the former Heisman winners will see the field as they are vital to their team's chances of winning Saturday in order to advance to the AFC Championship game the following weekend.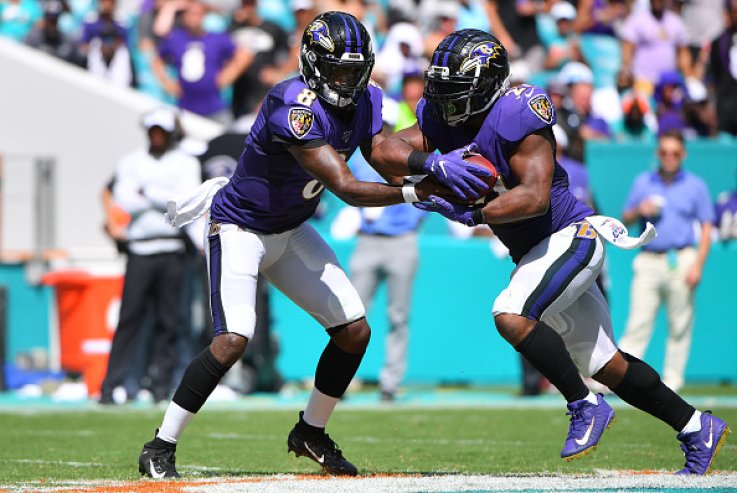 For Baltimore, Lamar Jackson and Mark Ingram are starters for a Ravens team that has the ability to run wild from various formations. Jackson also picks up gobs of yards by scrambling if pass protection breaks down. Griffin has played this season, even lining up in the backfield on occasion with his two fellow Heisman winners.
For Tennessee, running back Derrick Henry is the workhorse, and he proved his worth by running for 184 yards in a wild-card road win last Saturday night at the New England Patriots. Henry was also the NFL's leading rusher in 2019. Mariota was benched early in the season in favor of Ryan Tannehill, who quarterbacked the Titans to a late-season push to grab the final wild card spot. Mariota has played the role of Lamar Jackson this week during Titans practice, but he's just one play away from getting into the game for Tennessee on Saturday.
Heisman Trophy winners since 2000
2000 — Chris Weinke, Florida State (not in the league)
2001 — Eric Crouch, Nebraska (not in the league)
2002 — Carson Palmer, USC (not in the league)
2003 — Jason White, Oklahoma (not in the league)
2004 — Matt Leinart, USC (not in the league)
2005 — *Reggie Bush, USC (not in the league)
2006 — Troy Smith, Ohio State (not in the league)
2007 — Tim Tebow, Florida (not in the league)
2008 — Sam Bradford, Oklahoma (NFL free agent)
2009 — Mark Ingram, Alabama (Ravens - Plays Saturday)
2010 — Cam Newton, Auburn (Panthers - did not make playoffs)
2011 — Robert Griffin III, Baylor (Ravens - Plays Saturday)
2012 — Johnny Manziel, Texas A&M (not in the league)
2013 — Jameis WInston, Florida State (Buccaneers - did not make playoffs)
2014 — Marcus Mariota, Oregon (Titans - Plays Saturday)
2015 — Derrick Henry, Alabama (Titans - Plays Saturday)
2016 — Lamar Jackson, Louisville (Ravens - Plays Saturday)
2017 — Baker Mayfield, Oklahoma (Browns - did not make playoffs)
2018 — Kyler Murray, Oklahoma (Cardinals - did not make playoffs)
2019 — Joe Burrow, LSU (LSU plays Clemson Monday for national title)
* Heisman Trophy vacated
Pro Football Rarity Could Happen When Baltimore Ravens, Tennessee Titans Play Saturday in Divisional Playoff | Sports