Pro Footballers Steve Weatherford, Sidney Rice to Donate Their Brains to Science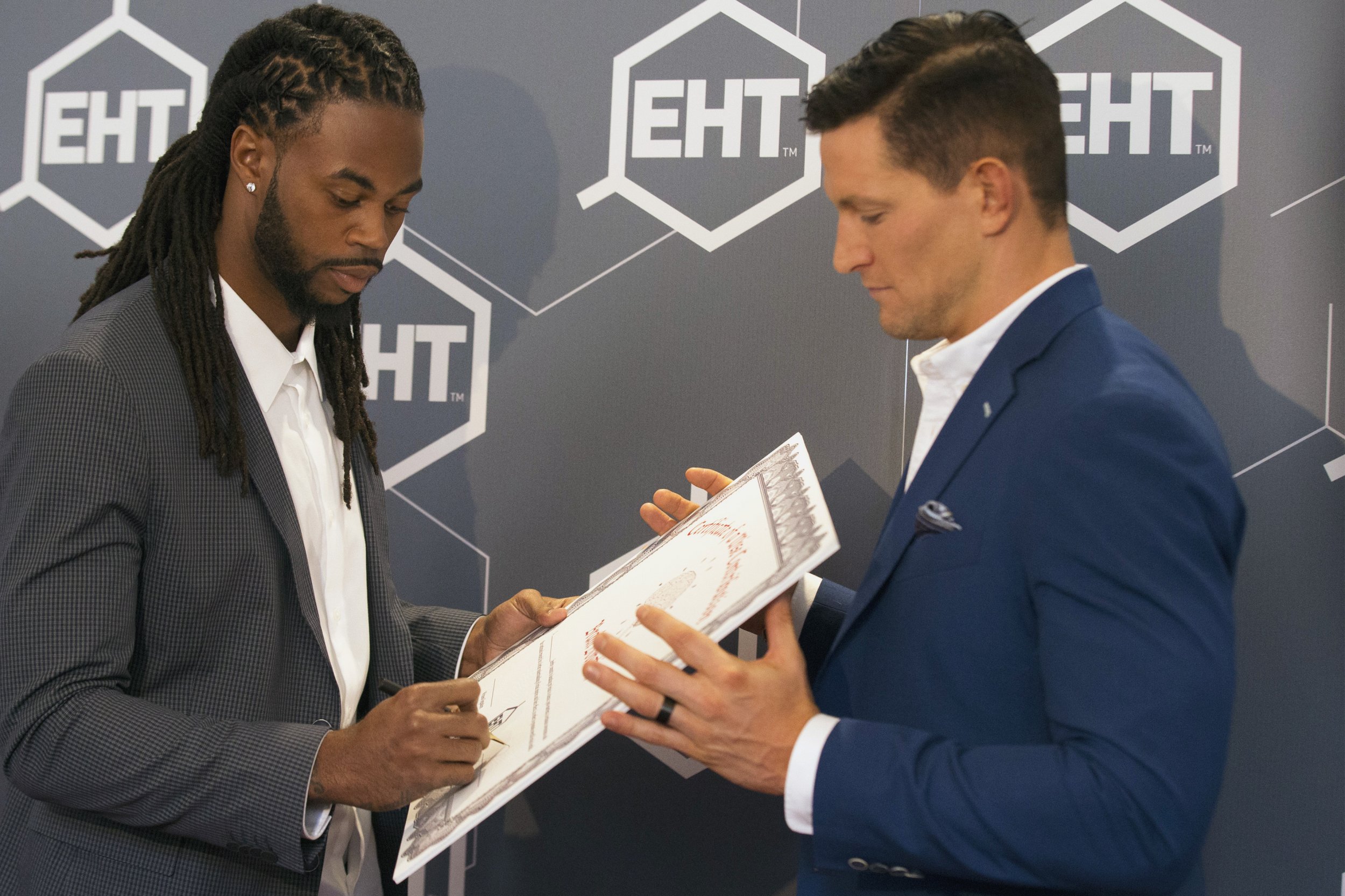 Updated | Two National Football League players, including one who played in this year's Super Bowl, say they are donating their brains to medical research when they die. Steve Weatherford, a punter for the New York Giants, and Sidney Rice, who recently retired as a wide receiver for the Seattle Seahawks, made the announcement Tuesday on Fox and Friends.
"It's a violent game and we've known that for a very long time," Weatherford, 32, tells Newsweek. He says he decided to donate after seeing how head trauma had affected his friends, including Junior Seau, a former NFL player whose suicide in 2012 has been linked to a history of head trauma. "He would go into these deep, dark depressions for two months," Weatherford says. "I'm a little embarassed and sad that as a friend, I didn't recognize those symptoms."
Weatherford says he has only had about two sports-related concussions, so he hopes researchers will be able to compare his brain to those from players who have endured more head trauma. "I just see there's a real need for it and I'm hoping that the fact that I'm doing this will inspire other teammates, other people in the NFL, or just people in general to be a little bit more cognizant about taking care of their brain," he says.
Rice, 28, said on Fox and Friends that he has had about 10 concussions in his life, starting when he was 8. "That's the first time I had ever seen stars aside from the cartoon shows," he said.
"This is absolutely terrific," says Susan Connors, president and CEO of the Brain Injury Association of America, which has declared March as Brain Injury Awareness Month. "When two high-profile athletes step up...I'm grateful to them."
"It's a great gesture," says Chris Nowinski, co-founder and executive director of the Sports Legacy Institute, a nonprofit devoted to sports concussions policy and research. "It's athletes really committing to a solution."
Referring to Weatherford, Nowinski adds, "It's rare to get somebody to sign up while they're still playing, because of concerns about being perceived as a concussion case. It's easier as a punter to make that commitment without people questioning whether you should be retiring from the concussions."
Nowinski says that a few hundred retired football players, including Matt Birk of the Baltimore Ravens, have signed up to donate their brains to Boston University's VA-BU-SLI Brain Bank in Bedford, Massachusetts. The bank currently has the brains of over 200 deceased athletes, he says. (Weatherford says he has not yet selected a brain bank for the donation.)
"Our main goal is to be able to understand the underlying science of chronic traumatic encephalopathy, or CTE, which is a neurodegenerative disease found in people with a history of repetitive brain trauma," says Robert Stern, a professor at the Boston University School of Medicine and director of clinical research at the school's CTE Center, which uses specimens from the VA-BU-SLI Brain Bank.
"We have indeed found CTE in 76 out of 79 former professional football players whose brains have been studied," he says. "What it means is there is a link between the types of hits that some football players experience and the development of this brain disease later in life."
Concern over the long-term effects of football concussions has grown in recent years. Last year, the NFL reached a settlement with some 4,500 retired players who claimed that the league had not properly warned them about the risk of brain injury. A court must still approve the settlement.
Correction: This article originally incorrectly stated that former Seattle Seahawks wide receiver Sidney Rice was on this year's winning Super Bowl team. The Seahawks participated in the Super Bowl, but lost to the New England Patriots. Because of an editing error, this article also originally incorrectly referred to Robert Stern's school as the Brown University School of Medicine. It is the Boston University School of Medicine.