Pro-Gun Groups Sue Michigan For Banning Open-Carry Firearms at Voting Locations
Several Michigan sheriffs have vocally refused to enforce a ban on firearms at polling places announced earlier this month by Secretary of State Jocelyn Benson. Several gun groups are also suing Benson, saying that she overstepped her authority by bypassing the state legislature to create an unconstitutional law.
On October 16, Michigan Secretary of State Jocelyn Benson sent a directive to local clerks throughout the state informing them that openly-carried firearms aren't allowed within 100 feet of polling places on Election Day.
The directive, which was intended to prevent voter intimidation and disturbances at polling places, doesn't apply to in-person early voting locations. It still allows concealed guns at polling places that aren't designated as "gun-free zones," such as schools and churches, according to the Iosco County News-Herald. The directive also encourages police and elections officials to use "education and deterrence" over arrests.
Three groups—Michigan Open Carry, Michigan Gun Owners and the Michigan Coalition for Responsible Gun Owners—have filed two lawsuits against Benson, Attorney General Dana Nessel and Michigan State Police director Colonel Joseph Gasper.
"If you want to pass a law in Michigan, there's a procedure by which the state can do that," Dean Greenblatt, attorney for Michigan Open Carry told WMNU-FM. "The Legislature passes a bill, and then it goes to the governor for signature, but we don't have rule-by-edict in Michigan."
The gun rights groups say that Benson's directive violates the Second Amendment rights of gun owners who are within their legal right to carry firearms, adding that open-carriers shouldn't have to choose between their right to bear arms and their right to vote.
However, Michigan state law gives Benson supervisory control over elections, including the right to issue such directives for polling places, according to MLive.com. The state also has a separate law forbidding people from participating in voter intimidation.
"As the state's chief election officer, the secretary has a duty and responsibility to protect that right and to provide much-needed clarity to voters and election workers on the existing state and federal laws that prohibit voter intimidation, harassment and coercion," Benson's spokesperson Tracy Wimmer said in a statement issued on Friday.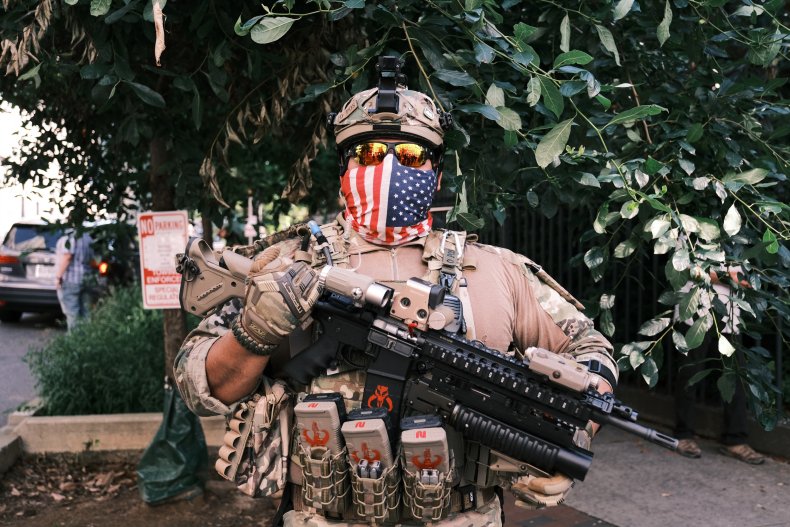 Benzie County Sheriff Ted Schendel said he wouldn't enforce the ban, telling the Traverse City Record Eagle, "It's illegal. [Benson] doesn't have the authority to make laws." He said he worries that more people will carry firearms at the polls now just to contest her "illegal order."
Traverse City Police Chief Jeffrey O'Brien, Grand Traverse County Sheriff Tom Bensley and Livingston County Sheriff Mike Murphy have all said they have no intention of enforcing the directive either, though they pledge to respond to reports of any disturbances or voter intimidation on Election Day.
Robert Stevenson, director of the Michigan Association of Chiefs of Police, has told chiefs to consult their local prosecutors for guidance on whether or not to enforce the ban.
Until the courts decide, Nessel has said Michigan State Police troopers will enforce the ban at any locations where local police refuse to.
Newsweek contacted Benson's office for comment.