Pro-Israel NYU Students File Civil Rights Complaint for 'Extreme Anti-Semitism' on Campus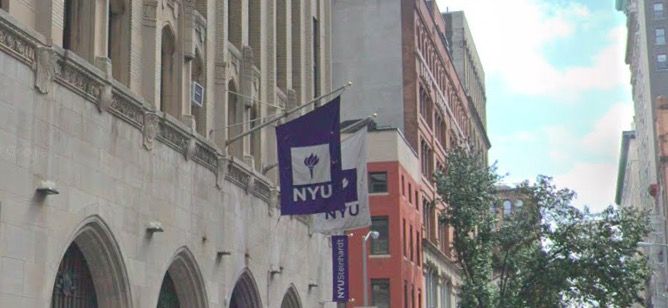 Pro-Israel students at New York University (NYU) filed a civil rights complaint alleging the school failed to act properly in addressing the activities of the NYU Students for Justice in Palestine (SJP) that gave rise to "extreme anti-Semitism" at the school.
The complaint's filing comes amid growing concerns about the rise of anti-Israel and anti-Semitic sentiments, not only on college campuses but throughout the United States. An FBI report found hate crimes against Jewish people rose by almost 40 percent in 2018. Neal Sher, a former Nazi war crimes prosecution officer for the Department of Justice, who is representing the NYU students, told Newsweek "there's no question" the anti-Israel stance at colleges is rising.
"They try to claim, 'We're not against Israel, we're not against Jewish students, we're simply opposed to certain policies the Israeli government is embarking on,'" Sher said. "There reaches a certain point where things go past the limit. Denying Israel's right to exist crosses over to anti-Semitism."
The complaint was filed with the Department of Education's Office of Civil Rights on April 22. Jewish Journal reported it claimed NYU violated Title VI of the Civil Rights Act by failing to properly handle SJP's actions. However, the school rebuked the accusations, saying the complaint "denied the real record."
"Anti-Semitism is real; it should be fought," NYU spokesperson John Beckman told Newsweek. "But tarring NYU as tolerant of anti-Semitism is wrong and unfair. NYU has a long record of being welcoming and supportive of its Jewish community, and that is not ever going to change."
Beckman added that NYU is one of the few universities that has its own academic facility in Israel and rejected calls to close the Tel Aviv site.
Sher told Newsweek the complaint isn't a legal action and its goal is to prompt an investigation into the university's response.
"The bottom line is, a university has to ensure that minorities, and Jews being included in minorities, be protected from hostile environments," Sher said.
The complaint highlighted multiple instances that it claimed SJP acted in a way that fostered "extreme anti-Semitism," including the university's decision to give SJP the President's Service Award. The award recognizes students who have made "significant contributions" to the university. Newsweek reached out to SJP but did not receive a response in time for publication.
"When students first arrive at NYU I tell them my hope is that they, through their involvement in campus life, will make this university a better place for future generations of students," an email from the university to SJP said. "You have answered this challenge and your success is evident!"
Realize Israel, a pro-Israel student group, responded to the announcement of the award to SJP with a post on their Facebook page, saying the group was "outraged" by the university's decision to applaud an organization that makes "pro-Israel students feel unwelcome and unsafe on campus." By presenting the award to SJP, Realize Israel contended the university declared "violence and discrimination" against NYU community members "represents the ethos of our university."
Sher described the award as the "straw that broke the camel's back" and noted that alumni were "flabbergasted" by the university's decision.
Beckman said that had the decision been up to NYU President Andrew Hamilton, the award would not have gone to SJP. During a town hall in April 2018, Hamilton told students he opposed the Boycott, Divest and Sanctions movement and the university wouldn't boycott academics in Israel.
The complaint, as reported by Jewish Journal, also cited an incident that occurred during a Yom Ha'atzmaut (Israel Independence Day) rave in April 2018. During the event, an SJP member took the microphone from a Jewish student singing "Hatikvah," that national anthem of Israel, injuring the student in the process, and shouted "Free Palestine."
"We're not going to let them stand by and support Zionism," SJP President Khalid Abu Dawas told Washington Square News, NYU's independent student newspaper. "Our point is to make being Zionists uncomfortable on the NYU campus. They shouldn't be comfortable because the ideology of Zionism is antithetical to Palestinian liberation and Palestinian sovereignty at its core."
Beckman noted that the protesters involved in that incident were "promptly" arrested and referred to the university for discipline.
"This is not something that can be resolved by simply sitting down and talking," Sher said of the anti-Israel sentiments. "We believe the government has to take action."