LGBTQ artwork created by a student in an elementary school was taken down after an administrator allegedly compared the art to hanging a Nazi flag in the classroom.
The student's drawing featured rainbow colors and the words "Gay Is OK," written under an umbrella.
Parents at Oglethorpe Avenue Elementary School in Athens, Georgia, said a teacher was showcasing students' artwork when administrators asked for the piece to be removed claiming a parent had complained about it.
When the teacher questioned the decision, parents claimed an administrator compared the picture to hanging a Nazi flag in the classroom, according to WXIA.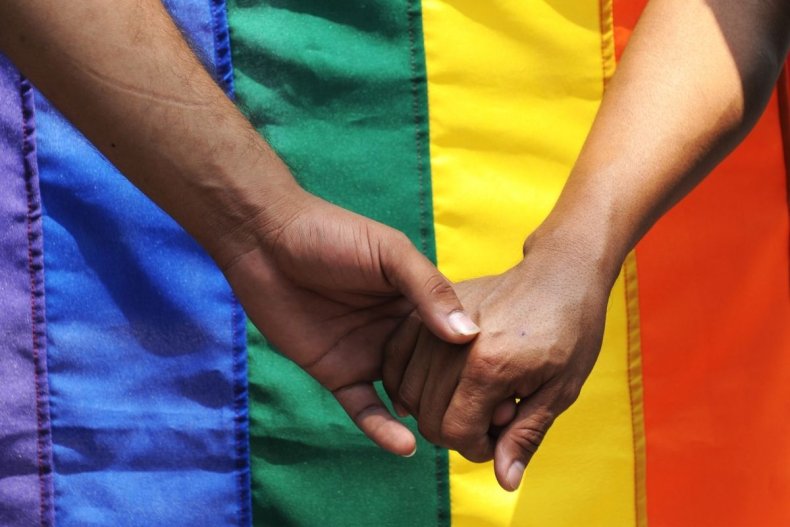 Parents say this isn't the first time the school has made discriminatory actions.
"There are ongoing complaints about this current administration has been discriminatory against women, being discriminatory against LGBTQ people, being discriminatory against English language learners or emerging bilinguals, emerging multilingual and Spanish speakers," said parent and University of Georgia professor Jemelleh Coes to WXIA. "So we have seen a pattern of inequity at our school and we have been asking for support at this point for years."
"We've been part of this school community for four years," added Gee Campbell, a transmasculine and nonbinary parent. "My experiences with the teachers in regards to my transitioning have always been positive and respectful. My daughter is in this classroom, and my immediate thought was 'What message does this give my daughter about her family?'"
The Clarke County School District released a statement on Wednesday addressing the comments made.
I write this letter to acknowledge a situation at Oglethorpe Avenue Elementary that has caused a great deal of anger and frustration in our community.
It has been alleged that a piece of student artwork was compared to Nazi symbolism. We have investigated the situation and are working to address the issues with all parties involved. To be clear, we condemn this comparison and discrimination in all its forms.
The Clarke County School District embraces diversity and inclusion for all students and staff. We stand with our LGBTQIA+ community and are dedicated to proving our commitment to diversity and inclusion.
Since the incident was reported, Athens Pride, a pro-LGBTQ nonprofit, posted on their social media accounts spreading awareness of the situation.
The organization reposted the student's pictures with encouraging words.
"It is beautiful, a reminder to each of us in this time of great divide that there is hope, that love abounds, that acceptance is paramount– and all from the eyes of a child: "Gay is okay," Athens Pride wrote on Facebook.
According to the Human Rights Campaign 2018 LGBTQ Youth Report, 26 percent of youth surveyed say they always feel safe in their school classrooms. Only 5 percent say all of their teachers and school staff are supportive of LGBTQ people.