An organizer at a pro-life event in Toronto was roundhouse kicked by a male counter-protester after she approached him about defacing several signs at the anti-abortion silent street protest.
Marie-Claire Bissonnette said she and thousands of other pro-life men, women and children stood on 200 Toronto street corners Sunday to peacefully protest while holding anti-abortion signs. Cell phone video recorded by Bissonnette shows an unidentified man arguing with her over a hypothetical teen abortion after she asked him to stop marking on people's signs. After she tells the man a 16-year-old who was raped should "keep her child" the man winds up and roundhouse kicks her in the shoulder, sending her phone flying away.
Update: Several Canadian news outlets report the man in the video, identified as Jordan Hunt, had his employment terminated by the hairdresser salon Noble Studio 101 in Toronto Wednesday. The studio's Instagram posted a message Wednesday night acknowledging the incident: "It has been brought to our attention that Jordan has been caught on camera assaulting an innocent bystander at a pro life rally. We don't condone his actions and he has been let go. We believe that everyone has a right to an opinion and the right to voice their opinion without fear of physical violence."
The video of her receiving the kick has gone viral online, receiving hundreds of thousands of views across YouTube, Facebook and WorldstarHipHop.
Bissonnette writes on Life Site News that she only approached the twenty-something man who later assaulted her after he "vandalized" several pro-life protesters' shirts and signs. The man was using markers to allegedly cross out and deface signs with phrases such as, "Abortion Hurts Women" and "Abortion Kills Children." Several other picket signs urged women to seek adoption rather than abortion and others showed telephone numbers for local pregnancy help centers in Toronto.
The video recorded by Bissonnette shows the assault occurring at the corner of Bloor and Keele streets, where she can be heard telling him that his defacing of protesters' shirts is "destruction of private property."
The man then offers her a hypothetical abortion situation: "If somebody gets raped by somebody and they're like 'I'm a 16-year-old and I can't have this baby.' Think you should keep it?" he asks, holding a thumbs-up and a thumbs-down.
"It's a baby," Bissonnette responds. "Someone is raped and she gave birth, then she decided to kill her three-year-old child."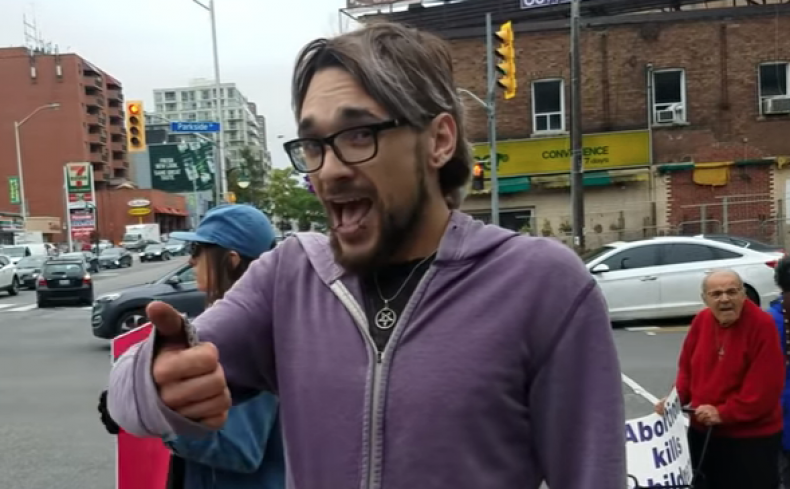 As she says this, the man positions his body in a power stance before pausing dramatically and kicking her above the waist. The camera shows the phone tumbling away as she screams out for others to call police. "I meant to kick your phone," the man says. Bissonnette said he then grabbed a ribbon off her chest and took off running.
According to Bissonnette's Life Site account, police were reluctant to help her after she explained what happened, telling her she'd have to take him to court if she filed a complaint. "What do you want us to do about it," she claims the officers told her. The man remains unidentified.