'Pro-Life' Group Endorses Youngkin After He Says Abortion Ban in Virginia Is 'Appropriate'
The Susan B. Anthony List (SBA List) on Friday announced it is endorsing Republican Glenn Youngkin in his bid to become the new governor of Virginia.
Voters will decide on November 2 who will succeed Ralph Northam, the Democrat currently leading the state. Youngkin is running against Democrat Terry McAuliffe, who served as the state's governor between 2014 and 2018.
Abortion rights has emerged as an issue of concern in upcoming political races in the wake of a new abortion law in Texas that went into effect earlier this month. Texas' law bans abortions at the time fetal cardiac activity can be detected, which usually occurs about six weeks after conception.
Youngkin was asked about the Texas law during a Thursday gubernatorial debate held at the Appalachian School of Law in Grundy. Youngkin said he would not have signed the Texas bill into law but did not respond to specific questions about a fetal "heartbeat" bill that included exceptions for rape, incest and when the pregnant woman's life is at risk. Youngkin told USA Today Washington Bureau Chief Susan Page, the debate moderator, that in addition to being "pro-life," he supports having those three exceptions in place for abortion legislation.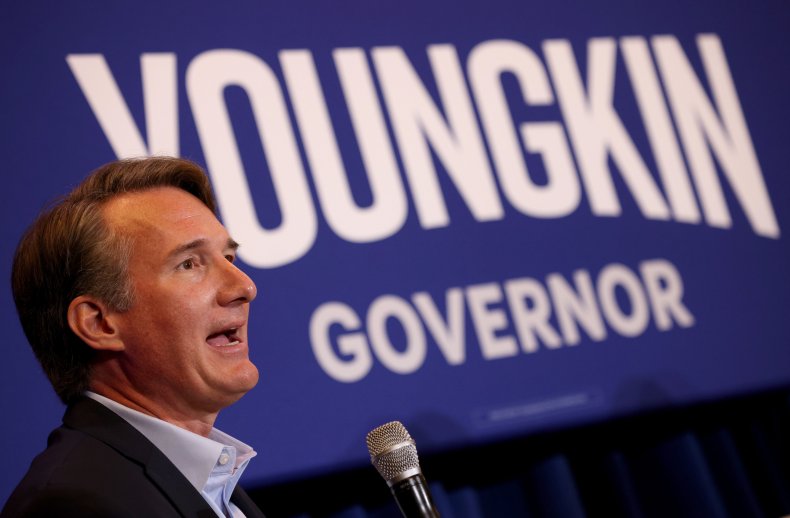 "We can sit down and write legislation together," Youngkin said when Page pressed him on the topic. "What I have said is that I do believe that a pain threshold bill, legislation, would be appropriate."
Following the Thursday debate, the SBA List issued a press release announcing its Candidate Fund PAC's endorsement of Youngkin. The organization, a national nonprofit, says its mission is "to end abortion by electing national leaders and advocating for laws that save lives, with a special calling to promote pro-life women leaders." The Susan B. Anthony House and Museum, which is dedicated to the women's rights activist, has distanced itself from the SBA List in the past. The museum said the SBA List contributes to "misrepresenting" Anthony in abortion-related discussions, which one Anthony expert said was "of no interest" to her.
The SBA List shared within its announcement a letter from Youngkin addressed to "pro-life leaders and activists" that the SBA List said identified his "pro-life policy commitments," including his support for pain threshold legislation.
"As the next Governor of Virginia, I will proudly stand up for the unborn and their mothers," Youngkin wrote in his letter. "I believe life begins at conception. My views are formed not only by my faith, but by science as well."
He added: "Instead of working to expand late-term abortion in Virginia, I'll proudly advocate to limit abortions when the unborn child can feel pain"
A statement from SBA List's president, Marjorie Dannenfelser, contrasted Youngkin with McAuliffe, whom Dannenfelser alleged was a "longtime pro-abortion extremist" who would, if chosen to become the next governor of Virginia, "double down on the egregious legacy of Ralph Northam and then some."
"We thank Glenn Youngkin for calling out Democrats' extremism, highlighting the stark contrast between his policy agenda and McAuliffe's, and committing to be a champion for unborn children and their mothers as well as taxpayers in the Commonwealth," Dannenfelser said.
There are about six weeks remaining until Virginians go to the polls to choose their next governor. Recent polling has indicated the race between McAuliffe and Youngkin is close, with one Emerson College poll conducted in mid-September finding the former governor holding a narrow lead over his Republican competitor and polls conducted in August reflecting a similarly close match-up.
Newsweek reached out to Youngkin's campaign for comment and will update this article with any response.