Just hours after the announcement of a long-hoped-for cease-fire in the conflict between Israelis and Palestinians on the Gaza strip Thursday, multiple fights broke out between pro-Israeli and pro-Palestinian protesters in midtown Manhattan.
The NYPD's Office of the Deputy Commissioner confirmed to Newsweek that "there have been multiple arrests around midtown Manhattan," also specifying the area "in the vicinity of Times Square," but would not give an exact number.
Protesters showed up in Times Square shortly after the peace deal announcement, where tensions soon escalated. Protesters from both sides fought with each other and with police, throwing water bottles and more at each other, at law enforcement and over road barriers, trying to block the traffic.
CBS NewsNation correspondent Tom Negovan reporting from Times Square called the situation "volatile" and "escalating" with protesters from both sides "throwing water bottles and other items" being hurled around "including profanity."
"The NYPD saw it coming," Negovan said, "[they] converged on Times Square very quickly after the first protesters...And you're starting to see the result," he said. Protests began peacefully, but eventually, the two groups were separated by gates as the tensions escalated.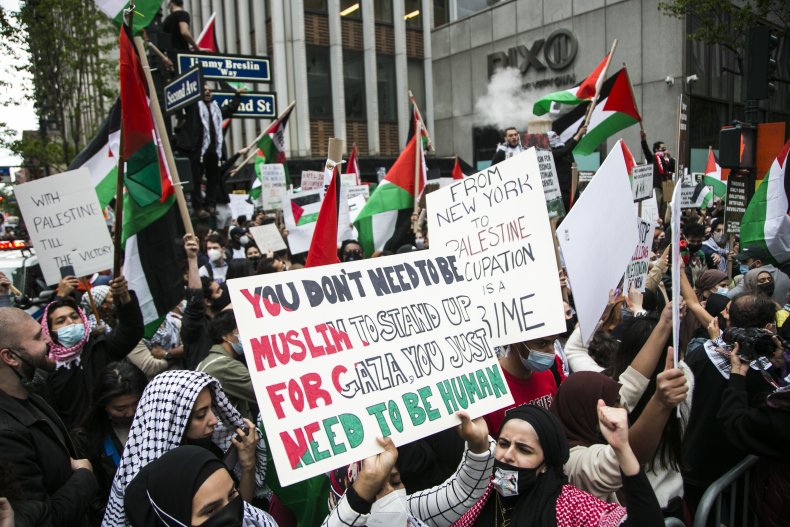 Footage of the protests shows police engagement including kettling, pushing back crowds, handcuffing and making arrests.
"We're seeing arrests made before our eyes," Negovan continued. "In the last few minutes just before you came to us, this time projectiles were being lobbed earlier, something... tear gas and an incendiary device was set off here, and of course no one has goggles or gas masks or anything at this point," Negovan said.
Several protesters and independent journalists took to Twitter to share on-the-ground footage of the protests in and around Times Square.
Twitter user @ScooterCasterNY shared video of protesters marked with pro-Israeli and pro-Palestinian garb fighting with the caption "Brawl broken out in Times Square between Pro-Israel and Pro-Palestine protesters #HappeningNow"
Twitter user @LeeroyPress shared video with the caption, "#BREAKING Pro Palestinian activists arrested by #NYPD officers. Filmed and owned by leeroy Johnson #thursdayvibes #NYC #PALESTINE."
Several Twitter accounts posted footage of what appeared to be a firework going off on 47th street in the Diamond District in midtown near Times Square, but it was not clear who or which side set off the device.
The cease-fire came into effect at 2 a.m. Friday in Gaza, which was roughly 7 p.m. ET Thursday. The agreement for temporary peace comes after 11 days of fighting where 12 Israelis and at least 227 Palestinians were killed.
This is a developing story and will be updated with more information as it becomes available.