Pro-Putin TV Presenter Vladimir Solovyov's Villa Set on Fire
The villa of Russian TV presenter Vladimir Solovyov on Lake Como in Italy was set on fire in the early hours of Wednesday, according to local media.
Firefighters rushed to the scene and extinguished the blaze but the identity of those responsible is still unknown. Italian news agency AGI was the first to break the news, reporting that the villa was undergoing renovation and that the fire started within the property.
Local newspaper La Regione said that tires were used to start the fire. Carabinieri are now investigating the incident, which police believe was the result of arson.
The villa in Loveno Sopra Maneggio is one of three properties owned by Solovyev in Italy that were seized by authorities after sanctions were imposed on the TV host for his proximity to Russian President Vladimir Putin.
Solovyev, 58, is considered one of the main supporters of Putin on Russian TV. He owns two properties on Lake Como worth a combined $8.7 million, not too far from George Clooney's villa by the lake.
When he learned about the sanctions that prevent him visiting his properties in Italy, Solovyev expressed fury on his show The Evening With Vladimir Solovyov.
"I was told that Europe is a citadel of rights, that everything is permitted, that's what they said…I know from personal experience about the so-called 'sacred property rights,' he said.
"With every transaction I was bringing paperwork demonstrating my official salary, income, I did it all. I bought it, paid crazy amount of taxes, I did everything.
"And suddenly someone makes a decision that this journalist is now on the list of sanctions…right away it affects your real estate," Solovyev said.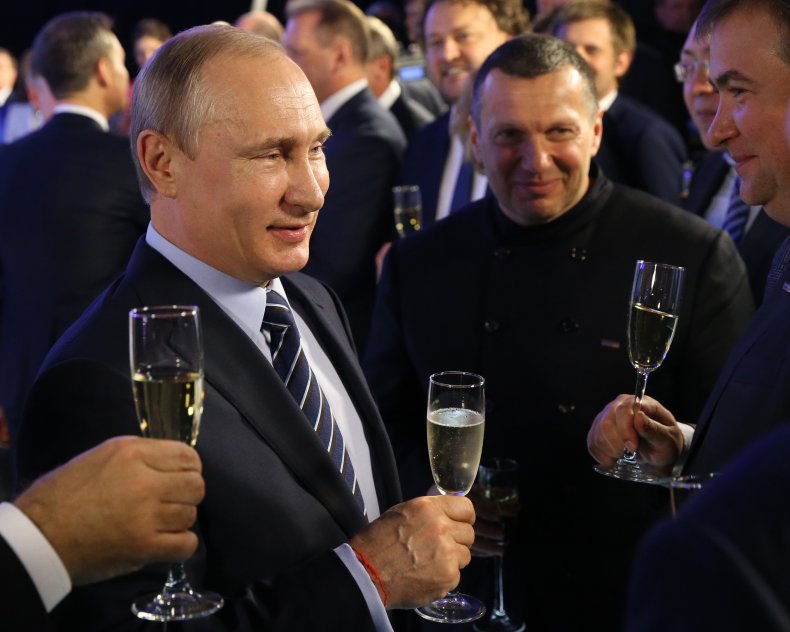 Solovyov has long been loyal to Putin and his international military campaigns.
In 2014, the TV presented hosted talk shows on Russia 1 during the Crimean referendum deciding whether the peninsula would join Russia where Kremlin supporters praised Putin and condemned the Western support to Kyiv.
Since the beginning of the war in Ukraine, Solovyov has repeated the same statements about the "special military operation" in Ukraine shared by the Kremlin.
Belarusian news outlet NEXTA shared on Twitter that Solovyov has recently said that "the massacre of Bucha is the work of British specialists because the words 'Bucha' and 'butcher' sound similar."
This story has been updated.