Pro-Russia Troops Blast Ukrainian Targets With Howitzers in Battle for Avdiivka
Pro-Russia troops of Donetsk were seen on video reportedly attacking Ukrainian targets near Avdiivka with tanks, rocket systems, and huge howitzers.
The People's Militia (NM) of the so-called Donetsk People's Republic (DPR) said they claimed territory in the advancement of Avdiivka in the eastern Ukrainian Donetsk region.
The militia said in a statement Friday: "Servicemen of the People's Militia of the DPR suppressed Ukrainian nationalists in the Avdiivka area."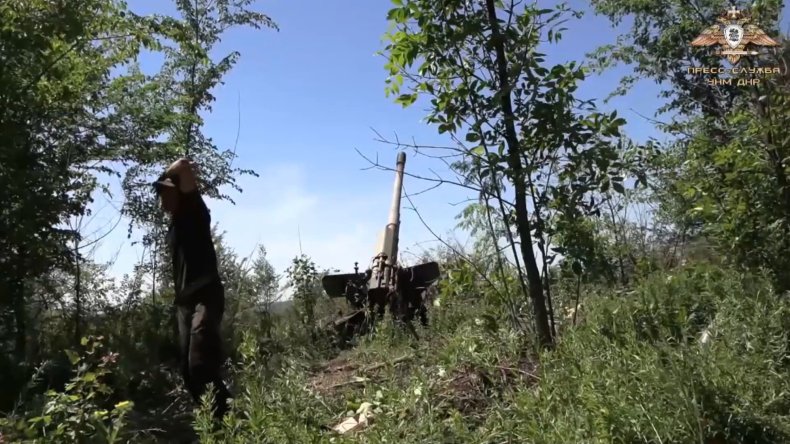 "Servicemen of the People's Militia continue successful operations to liberate their territories. Artillery and tank units of the NM DNR suppressed firing points, the accumulation of enemy equipment and personnel with all possible types of weapons."
The militia said: "Over the past day, the enemy fired over 400 shells and explosives from artillery systems with a caliber of 155, 152 and 122 mm, Grad multiple launch rocket systems, tanks, and 120-mm mortars.
"The areas of 16 settlements of the Republic were attacked. As a result of the shelling, one civilian was killed and 7 were injured. Meanwhile, 36 residential buildings, five vehicles and nine civilian infrastructure facilities were damaged.
"Materials on the death and injury of civilians, as well as the destruction of civilian infrastructure, will be transferred to the General Prosecutor's Office of the DPR for inclusion in criminal cases initiated against the command of the Armed Forces of Ukraine.
"Joint actions of the military personnel of the Donetsk People's Republic and the Armed Forces of the Russian Federation destroyed one BM-21 'Grad' MLRS, two tanks, three BTR-2s, two ammunition delivery vehicles, one Ukrainian UAV command post, and over 70 personnel."
In other news, an aide to Ukrainian President Volodymyr Zelensky said that Ukraine is losing up to 200 troops a day.
Also, Russian President Vladimir Putin said that the West will not be able to wean itself off from Russian oil and gas for years. U.S. officials have now also admitted that Russian profits on energy might even be higher than they were before the war started.
And Zelensky has requested that a corridor be set up so that the country may export grain currently stuck in Ukrainian ports.
The European Parliament also adopted a resolution recommending that the European Union grant Ukraine the status of candidate country for EU membership. Some 438 MEPs voted in favor of the resolution, with 65 voting against and 94 abstaining.
Zenger News contacted Russian and Ukrainian officials for comment but had not received a reply at the time of writing.
This story was provided to Newsweek by Zenger News.