Pro-Slavery Monuments Don't Preserve History. They Preserve Racism | Opinion
Monuments paying homage to white men who defended slavery and participated in the Atlantic slave trade are coming down around the world. The global protests against systemic racism and police brutality sparked by the murder of George Floyd in Minneapolis have led to these symbols of white power being banished from the public square.
In the United States, protesters and city workers have already removed statues in Alabama, Florida, Georgia, Kentucky, North Carolina, South Carolina, Tennessee, Virginia and other states, and this is only the beginning. Anti-racist demonstrators in Richmond, Virginia, for example, are currently fighting to take down a huge equestrian statue representing pro-slavery General Robert E. Lee, who was commander of the Confederate States Army. And roughly 700 Confederate monuments in the country remain.
Across the Atlantic, Black Lives Matter demonstrators toppled a statue of Edward Colston in June that was unveiled in the late 19th century in Bristol, England. Colston belonged to a rich family of merchants who made great profits trading in enslaved people and investing in sugarcane plantations in the West Indies. A few days later, the city of London removed a statue to the slave merchant, planter and slave owner Robert Milligan that had stood since 1813 where the West India Dock was located.
Yet the growing movement against pro-slavery symbols, which is also underway in Australia, Belgium, Brazil, France, New Zealand, Portugal and beyond, is still meeting resistance. In the United States, two false arguments are common. Both claim Confederate and other racist monuments preserve history when, in fact, what they preserve is racism.
First of all, no, getting rid of Confederate monuments does not erase history. Their creation was not intended to tell a truthful history of the Lost Cause of the Confederacy in the first place—or to provide accurate information about the Civil War.
Of course, each monument has its own story. But most Confederate monuments were erected during the Jim Crow era, when Black people were terrorized by lynchings and other racist violence, did not have the right to vote and could not even share many public facilities with white people. White people used symbols of the Confederacy to promote a fairy tale of the South where everybody lived happily under slavery.
For those who want to learn about the history of the Civil War and the Confederacy, U.S. archives have plenty of documents to offer. American historians publish dozens of books about the Civil War every year. We can also learn about the history of this tragic period by reading slave narratives, correspondences, journals and newspapers of that time. And we can visit museums.
The second argument right-wing politicians and activists use often arrives in the form of a question: Well, what's next? Slavery has existed everywhere since antiquity. Will people take down the pyramids of Egypt and the Acropolis of Athens in Greece because they were constructed thanks to slave labor?
This comparison is extremely misleading. Yes, there was slavery in Egypt and Greece, but enslaved people were a very small part of the population, and Black Africans were also a small minority of those enslaved. However, according to the 1860 U.S. census, nearly 4 million African Americans were held as slaves before the Civil War, out of the 4.4 million Black people living in the country.
Let's get the record straight: In Egypt and Greece, Black Africans or any other group of people whose ancestors were slaves were individuals captured during wars or sold into slavery as judicial punishment. Most came from the European continent, not from Africa. Black Africans were not discriminated against because of their skin color or other physical features.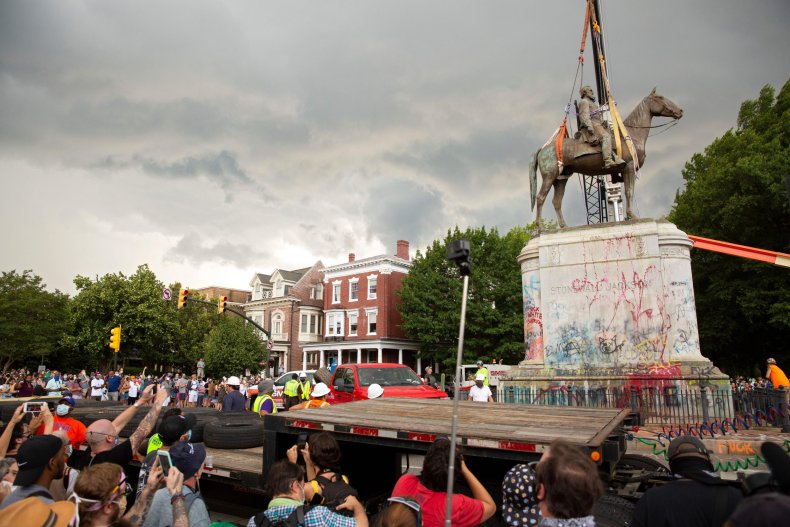 Protesters are taking down and demanding the removal of pro-slavery monuments associated with chattel slavery in the Americas and present-day anti-Black racism across the globe. They are not asking to demolish buildings constructed by enslaved people, and they are not attacking sites where enslaved people worked or were held in bondage.
In America today, racist and white nationalist groups are using Confederate and other pro-slavery monuments and symbols to promote the concept of a white state that excludes Black and other people of color. That racism and exclusionary bias is ingrained in nearly every U.S. institution, from banks to schools to government agencies to law enforcement.
The war on Confederate and other pro-slavery monuments is therefore not a war on history. It is a war on the systemic racism that prevails in most nations today. This war will not stop until nations come to terms with both the chattel slavery of their past and racism of their present.
Ana Lucia Araujo is a historian and professor at the historically Black Howard University in Washington, D.C. She is a member of the International Scientific Committee of the UNESCO Slave Route Project. Her next book, Slavery in the Age of Memory: Engaging the Past, will be out in October 2020.
The views expressed in this article are the author's own.