Capitol Rioter Ronnie Presley Arrested After ID-ing Himself in Video: 'I Got You In This Building'
Ronnie Presley, a 42-year-old insurrectionist who allegedly filmed himself inside the Capitol during the January 6 insurrection, has been arrested by the FBI. In one of his videos, he allegedly stated his full name. The information helped lead to his arrest.
In court documents, legal authorities alleged that Presley had posted videos of himself during the riots on social media and YouTube. In one video, he allegedly identified himself as "Ronnie Presley of Tennessee," according to the legal news website Law & Crime. At another point, he allegedly told viewers, "I'm the guy who got you in this building. Don't take my word for it. Watch the video."
Images included with court documents showed snapshots taken by Getty photojournalists that allegedly showed Presley participating in the riots.
In one image, Presley appears to grab a Capitol police officer's riot shield while other insurrectionists try to enter the federal building. In another, Presley seemingly sits on a bench inside the Capitol, wearing a dark grey zip-up hoodie and blue jeans while listening to his phone.
The FBI located a Facebook page for a person named Ronnie B. Presley. Its profile pic appeared to match Presley's face in the aforementioned images. FBI agents also located his Tennessee driver's license. It seemingly matched the other images as well, The Tennessean reported.
Federal authorities confirmed Presley's identity by showing the images to two people who knew him, Law & Crime added.
FBI agents arrested Presley last Friday. He has since been charged with violent entry on Capitol grounds, obstruction of law enforcement during civil disorder, knowingly entering or remaining in a restricted area without lawful authority as well as disorderly conduct.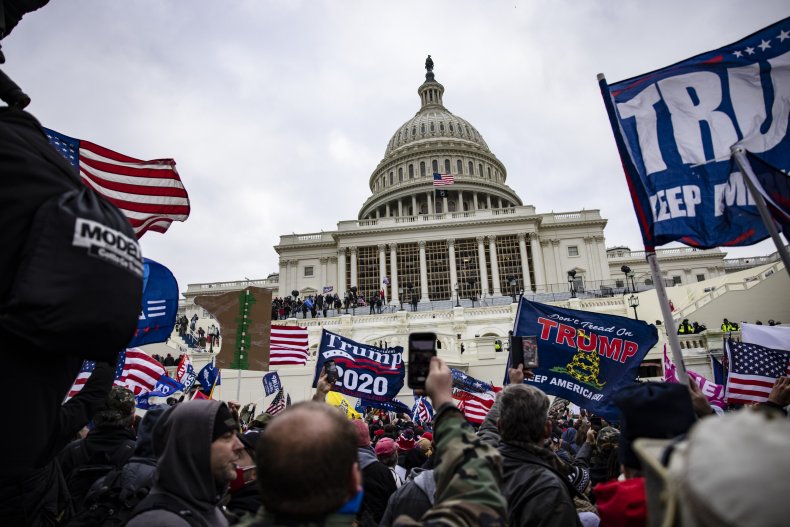 Federal public defender Dumaka Shabazz will represent Presley at a detention hearing this coming Friday morning. The hearing will determine whether Presely will be eligible for bail, given monitored release or extradited to D.C. to face charges there. Shabazz was assigned to Presley's case and may not represent him beyond Friday's hearing, Shabazz told Newsweek.
Presley is just the most recent example of a Capitol rioter apprehended by authorities because of their own social media posts.
Earlier this month, William Robert Norwood III was reported to authorities by his own sibling due to text messages in a group chat. Norwood allegedly bragged to family members in a group chat that he disguised himself as an Antifa protester and assaulted a police officer during the riots.
Gracyn Dawn Courtright was arrested in January after sharing since-deleted Instagram and Twitter video posts that allegedly showed her participating in the insurrection. In her posts, Courtright allegedly stated that she couldn't "wait to tell my grandkids I was here," adding, "Infamy is just as good as fame. Either way, I end up more known."