Pro-Trump Group to Challenge 364K Voter Registrations in Georgia Ahead of Runoff Election
Conservative political group True the Vote announced plans on Friday to preemptively file more than 360,000 electoral challenges in Georgia before the state's special elections are expected to occur in January.
Georgia's run-off elections have garnered nationwide attention. If the Democrats who are running for office—Jon Ossoff and Reverend Raphael Warnock—obtain victory over Republicans Kelly Loeffler and David Perdue, then Democrats would be equally represented in the U.S. Senate. However, Democrats would have a distinct advantage over Republicans in the case of a tie, as Democrat Vice President-elect Kamala Harris would be the one voting to break the deadlock.
Some observers, including President Donald Trump, have baselessly alleged that Georgia's processes during the November election were unfairly manipulated by Democrats. According to True the Vote founder and President Catherine Engelbrecht, the challenges could help validate the results of the January election by ensuring "the sanctity of every legal vote."
"Filing the challenges preemptively, before absentee ballots are opened, will help ensure only legal, eligible votes are counted in Georgia's January 5 runoff elections," Engelbrecht said in a Friday statement.
Georgia law allows individuals to challenge the validity of any voter in a Georgia county if there is probable cause that the person being challenged does not meet the requirements for voting legally. True the Vote plans on filing 364,541 elector challenges across all 159 Georgia counties.
"It is our hope that this historic challenge marks the beginning of the great awakening of American voters to serve our democracy by getting involved in the process," Engelbrecht said.
Georgia Secretary of State Brad Raffensperger has defended the validity of his state's elections. Results of November's presidential election were counted 3 times with each count finding President-elect Joe Biden the winner.
"I know there are people that are convinced the election was fraught with problems," Raffensperger said in a December briefing, "but the evidence, the actual evidence, the facts tell us a different story."
Newsweek reached out to Raffensperger's office for comment.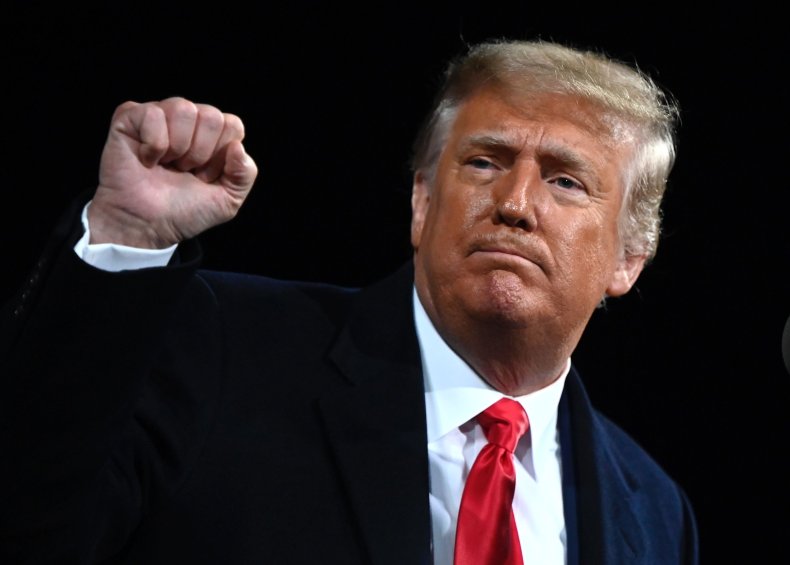 Underlining the importance of the Senate race in Georgia, Trump campaigned on behalf of Loeffler and Perdue in December.
"We must re-elect Kelly and David," Trump said at the event in Valdosta, Georgia. "We can't let it happen to two of the greatest and most respected people in Washington."
Loeffler has described Warnock, her opponent in the Senate race, as a "radical." During an appearance on Sean Hannity's Fox News program on Wednesday, Loeffler alleged that Warnock was an adherent to Marxist philosophies.
"If we don't vote," Loeffler said, "we could see the election of America's first Marxist senator in the country, right here in Georgia."
Warnock has dismissed Loeffler's allegations, telling CNN in November that he "can't allow himself to be distracted by Kelly Loeffler."
Ossoff is expected to face the incumbent Perdue in the January election. Perdue has declined to debate Ossoff in the weeks leading up to the run-off. Ossoff showed up to a scheduled debate in December which Perdue did not attend.
"Your senator is refusing to answer questions and debate his opponent because he believes he shouldn't have to," Ossoff said, sharing the stage with an empty lectern. "He believes this Senate seat belongs to him. This Senate seat belongs to the people."
Correction (12/19/2020, 6:15 p.m.): An earlier version of this article stated that Ossoff had not run for public office before. He previously ran and lost in a 2017 special election for Georgia's Sixth District against Republican Rep. Karen Handel. Newsweek regrets the error.