Pro-Trump Lawyer Calls Mike Pence a 'Wolf in Sheep's Clothing' Only Focused on 2024
Attorney Lin Wood, who has helped President Donald Trump's legal team file lawsuits challenging the results of the 2020 presidential election, posted on Parler Wednesday that he had no faith in Vice President Mike Pence.
As part of his duties as president of the Senate, Pence is expected to preside over the Congressional certification of electoral votes in January. President-elect Joe Biden won the Electoral College in the November election and is widely expected to be confirmed as the next president.
Trump has encouraged GOP lawmakers to contest the electoral vote in order to overturn the election results. Some Republicans have pressured Pence to reject electoral votes from states where voting fraud allegedly took place. Wood expressed his distrust in Pence in a message that Twitter feed Parlertakes reposted with the caption, "Lin Wood continuing his attack on everyone in the world."
"Tough way to start day, but TRUTH is TRUTH," Wood posted. "I do NOT trust VP Mike Pence. He is wolf in sheep's clothing. Pence is only focused on himself & 2024. He does not support President Trump. Let Pence hear your voices & read your words. If he does not support Trump, his career is over. Warn him."
Wood has served as legal counsel in several high-profile cases, representing clients such as teenage Kenosha shooter Kyle Rittenhouse and Mark and Patricia McCloskey, who were indicted in October for unlawful use of a weapon and tampering with evidence. The McCloskeys gained a measure of notoriety after waving weapons at a Black Lives Matter demonstration in their neighborhood that threatened to encroach on their property.
Newsweek reached out to Pence's office for comment.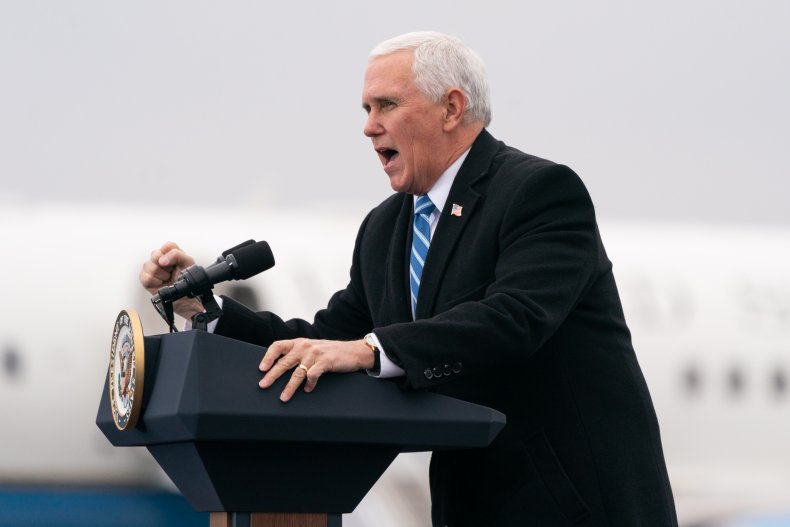 Trump has baselessly claimed that voter fraud perpetrated by Democrats allowed Biden to win the election. Multiple pieces of litigation alleging election manipulation have been filed by Trump's legal team, but a majority of those lawsuits have been dismissed. With Inauguration Day rapidly approaching, Trump has yet to concede the election to Biden.
Since all 50 states have already certified their electoral votes, Pence's authority to overturn the results are minimal. However, Texas Republican Representative Louie Gohmert filed a lawsuit against Pence on Monday, seeking to prevent Pence from declaring Biden the winner of the Electoral College.
Gohmert's lawsuit alleges that Pence has "exclusive authority and sole discretion to open and permit the counting of the electoral votes for a given state." According to the lawsuit, Pence's declaration of Biden as the next president would be "unconstitutional."
"Five states are sending two sets of electors and [Pence] has to be able to determine which ones are based on fraud and which ones were not based on fraud," Gohmert said in a Wednesday interview with KLTV. "So that's what we're seeking, a declaration that he can do just that."
According to the lawsuit, Gohmert's attorneys attempted to "resolve the underlying legal issues by agreement" with Pence before the litigation was filed. Those attempts were "not successful."