Pro-Trump Lawyer Calls for Republican Georgia Governor to Be Locked Up
Pro-Trump lawyer L. Lin Wood said he wanted Georgia Governor Brian Kemp to be locked up on Wednesday night as he told a rally of locals to circle the Republican state leader's home and blare their horns until he came outside.
Appearing beside the former Trump campaign lawyer Sidney Powell, and not speaking for the president's re-election campaign in an official capacity, Wood made baseless claims about mass voter fraud in Georgia as he urged Governor Kemp to call a meeting of the state legislature.
The attorney also called on the Republican state leader to resign his post as he whipped up the rally crowd against Kemp and GOP incumbents fight two key Senate runoff elections at the start of next year.
Speaking at the Wednesday rally, Wood said: "I want you to go to the Governor's mansion. I want you to circle it. I want you to blow yours horns until Brian Kemp comes out and orders a special session of the Georgia legislature."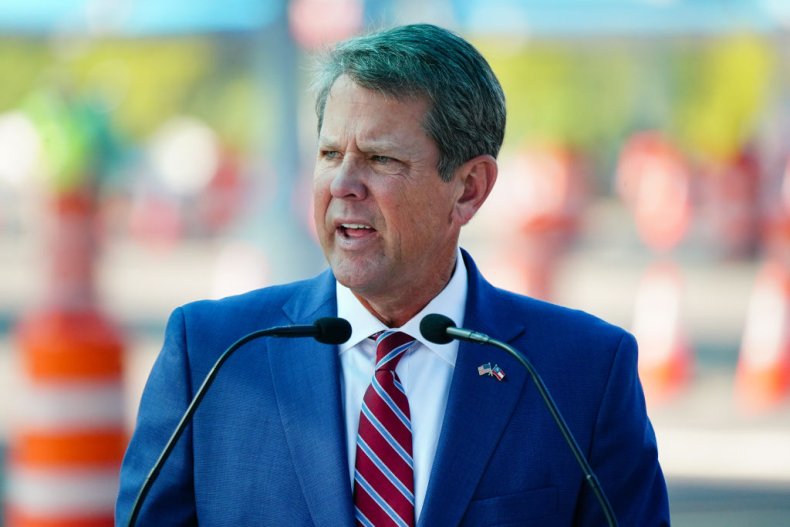 After repeating that he wanted the Georgia legislature to meet, the lawyer wearing a MAGA hat later added: "We want to fix the mess that he created and then he can resign. And then as far as I'm concerned, lock him up."
The rally crowd then met his call for Gov. Kemp to be arrested with chants of "lock him up" as Wood paced around the lectern.
Newsweek has contacted Governor Brian Kemp's office for comment. This article will be updated with any response.
Elsewhere in his rally speech, Wood said that the Republican Senators Kelly Loeffler and David Perdue would not have "earned" the votes of rallygoers if they did not join him in calling for a special meeting of the Georgia legislature.
"They have not earned your vote. Don't you give it to them," Wood told the crowd. "Why would you go back and vote in another rigged election for god's sake? Fix it. You've got to fix it before we'll do it again."
At the "stop the steal" event, Powell, the ex-Trump campaign lawyer, also urged Georgians to boycott the coming Senate runoff elections. The contests slated for January 5 next year will decide whether Republicans or Democrats control the Senate, and could have a crucial impact on President-elect Joe Biden's first two years in the White House.
The New York Times reported on Monday that Republicans feared party in-fighting in Georgia could hamper the chances of GOP incumbents Loeffler and Perdue holding onto their seats ahead of Biden's inauguration.