Controversial attorney Lin Wood criticized Mitch McConnell on Twitter Wednesday afternoon, following the Senate majority leader's public remarks confirming his opposition to lawmakers' electoral vote challenge.
Wood is a vocal supporter of Donald Trump, a known QAnon conspiracy theorist and one of the lawyers representing Kyle Rittenhouse, who is accused of shooting three people in Kenosha, Wisconsin, last August. He frequently publicizes right-wing political opinions on social media and backs Trump's unsubstantiated claims that voter fraud altered results of the general election. Referencing McConnell's break with Trump on the election, and Republican officials who believe the president's election loss was illegitimate, Wood called the senator a "traitor" and "communist sympathizer" in a recent tweet.
"Lock him up," the attorney wrote, reiterating a chant often used by Trump supporters during rallies in the 2016 and 2020 campaigns. Originally used against former presidential candidate Hillary Clinton, the chant was later directed toward a number of high-profile Democrats whose ideologies clashed with Trump's, such as Michigan Governor Gretchen Whitmer.
Some congressional lawmakers have aligned themselves with the sitting president's fraud allegations in the aftermath of November's contest, and a group of senators and U.S. House representatives planned to oppose Joe Biden's Electoral College victory on Wednesday. The challenge came weeks after electoral votes were officially cast and tallied in the president-elect's favor, and it took place on the day Congress was set to certify those results.
McConnell, Kentucky's long-standing Republican senator, positioned himself against the electoral vote opposition in a speech delivered on the Senate floor Wednesday. Echoing rationales from numerous judges, lawmakers and political leaders, McConnell pointed out that evidence does not exist to justify allegations of skewed election outcomes and that an electoral vote dispute is therefore unwarranted. The senator also noted that challenging the certification could establish a dangerous precedent, allowing for opposition to the results of future elections.
"Every election we know features some illegality and irregularity, and of course that's unacceptable...but, my colleagues, nothing before us proves illegality anywhere near the massive scale, the massive scale that would have tipped the entire election. Nor can public doubt alone justify a radical break when the doubt itself was incited without any evidence," McConnell said.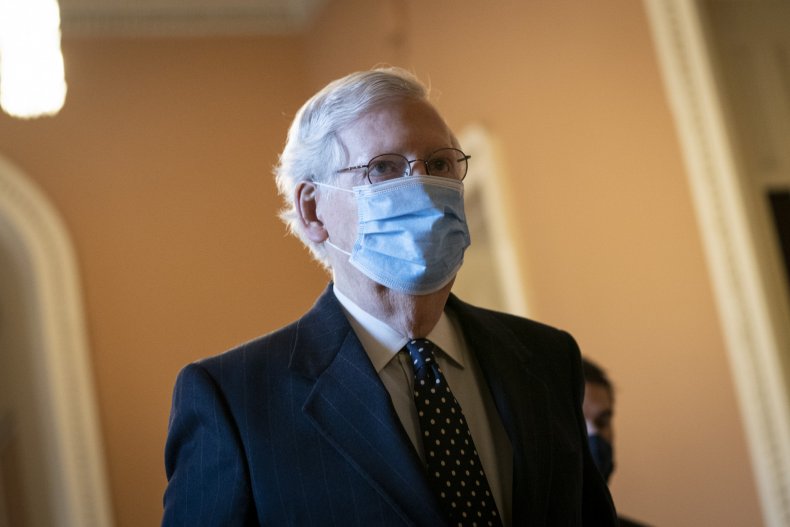 "The Electoral College margin is almost identical to what it was in 2016," he continued. "If this election were overturned by mere allegations from the losing side, our democracy would enter a death spiral. We would never see the whole nation accept an election again. Every four years would be a scramble for power at any cost."
Concluding his remarks, the senator said his vote in the Electoral College debate would reflect the public's presidential choice and "defend our system of government as we know it."
Newsweek reached out to McConnell's office for further comment but did not receive a reply in time for publication.