Pro-Trump Official Accused of Tampering to Run for Secretary of State
Tina Peters, a pro-Trump election official facing allegations of election tampering, announced Monday that she is running for secretary of state in Colorado.
Peters, who serves as the Mesa County clerk, has been under investigation since January for a security breach of elections equipment during the 2020 election. Peters is accused of letting a person who is not an employee access a Mesa County building that contained election equipment. Photos of said equipment later appeared on far-right websites, leading to a lawsuit that caused a judge to remove Peters from overseeing county elections.
Peters appeared on Steve Bannon's podcast on Monday, where she announced her run for secretary of state against incumbent Democrat Jenna Griswold. If elected, Peters would be tasked with managing elections across the state.
"Colorado needs a secretary of state who will put people over political theater, and prioritize them over politics. Colorado deserves a secretary of state who will stand up to the Biden administration that wants to run our country into the ground with nationalized elections. And Steve, that's why today I'm running for Colorado secretary of state," she said on the podcast.
The announcement comes less than one week after Peters was arrested for allegedly resisting attempts by law enforcement officers to confiscate her iPad. She allegedly recorded part of a court hearing involving her former chief deputy Belinda Kinsley, who was suspended last year for alleged workplace conduct. The case is separate from the accusations of election tampering.
A grand jury accepted the election security case against Peters last month. After the photos of voting machines showed up online, Griswold sued to have both Peters and Kinsley removed from their election overseeing duties.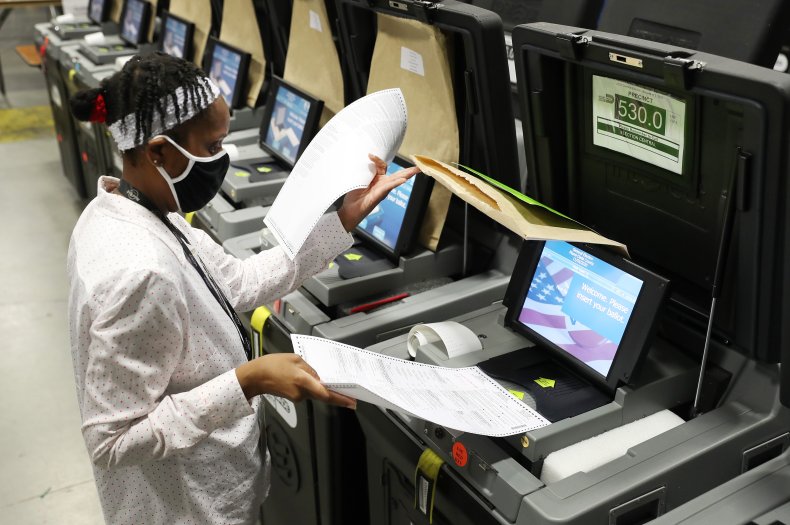 Peters has said that the 2020 election was stolen due to widespread fraud, a claim frequently repeated by Trump supporters. However, no substantial evidence has been presented to support these claims.
In Mesa County, home to Grand Junction, Trump easily won by 28 points, while losing the state by nearly 14. Given Colorado's Democratic lean, Griswold is favored for reelection in November, but Republicans still hope to contest elections in the once-competitive state, taking advantage of President Joe Biden's struggling approval rating.
In January, Peters rejected an offer from Giswold's office that would have let her resume election duties under supervision if she "completely repudiate, retract and disavow" previous statements she made about elections and voting machines.
In a statement to The Daily Sentinel, Peters said: "Please name one time in the history of the world in which the side demanding you 'repudiate' your beliefs, especially beliefs for transparency, in exchange for return of your rights, have been the good guys."
She is also facing an investigation after allegedly accepting a flight on MyPillow CEO Mike Lindell's private plane to attend a symposium he hosted in August 2021. Like Peters, Lindell has also claimed the election was stolen.