Pro-Trump Pastor Slams GOP for Rittenhouse Sympathy Amid Buffalo Shooting
Republican reactions to the Buffalo mass shooting on Saturday have drawn harsh criticism from an unlikely source: a notably pro-Trump religious leader.
Dr. Darrell Scott, an Ohio pastor and one of the earliest Evangelical Christian leaders to back former President Donald Trump's 2016 campaign, released a statement Monday on Twitter, slamming what he called a lack of sympathy by GOP lawmakers for the victims of the Buffalo shooting, and saying that Kyle Rittenhouse and Nicholas Sandman received more sympathy from the right than those victims.
"The lack of expressions of sympathy for 10 dead AMERICAN victims of a mass shooting by the 'Leaders' of the Right is bad," Scott wrote on Twitter. "They expressed more sympathy for Kyle Rittenhouse, who killed 3 people, and Nicolas Sandmann, who got stared at, than for the 10 dead innocents in Buffalo."
Scott co-founded the New Spirit Revival Center in Cleveland and later served as an advisor for Trump's 2016 presidential campaign. Following Trump's election, he was selected to be a part of his executive transition team. Scott made numerous appearances at Trump rallies before and after the election, and later co-founded the National Diversity Coalition for Trump with Michael Cohen.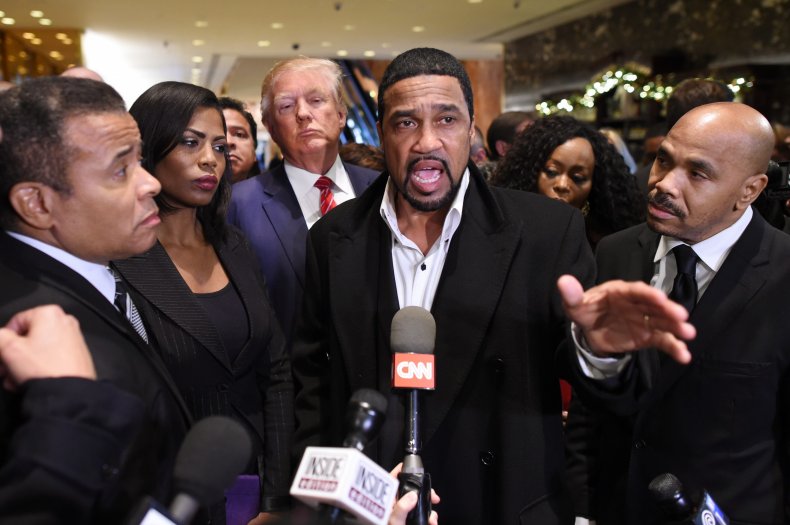 Payton S. Gendron, 18, allegedly killed 10 people at a Tops supermarket in Buffalo after traveling more than 200 miles from his home in Conklin, New York. Gendron, who posted a white supremacist manifesto online prior to the shooting that included references to the racist "Great Replacement" conspiracy theory, is believed by authorities to have chosen the Buffalo supermarket because it was located in an area with a high percentage of Black residents. Ultimately, 11 of his 13 alleged victims were Black.
Local law enforcement officials have stated that Gendron planned an even larger rampage than the one he was able to carry out.
"It appeared that his plans were to drive out of here and continue driving down Jefferson Avenue looking to shoot more Black people as he could and possibly go to another store location," Buffalo Police Commissioner Joseph Gramaglia told Good Morning America on Monday.
Some lawmakers on the far-right fringes of the Republican party have alleged the shooting was a false flag operation. Wendy Rogers, a Trump-backed Arizona state senator, said of the shooting that "fed boy summer has started in Buffalo," echoing far-right conspiracy theories claiming that FBI agents commit acts of violence to make conservatives look bad.
Newsweek reached out to Republican party officials for comment.