Pro-Trump Rioter Shows Envelope He Says He Took From 'B****' Nancy Pelosi's Office
When rioters supporting President Donald Trump entered the U.S. Capitol building on Wednesday, one member of the mob made his way into Democrat House Speaker Nancy Pelosi's office and procured an official government envelope.
Rioters, some of them armed, swarmed the Capitol as members of Congress were certifying President-elect Joe Biden's victory in the Electoral College. Trump had encouraged the mob to "walk down Pennsylvania Avenue" to the Capitol building during a Wednesday rally. Police at the Capitol were initially outnumbered by the mob, allowing some rioters to enter the building.
While some Congress members were either evacuated or sheltering in place, Richard "Bigo" Barnett of Arkansas found himself inside Pelosi's office. New York Times reporter Matthew Rosenberg posted a video of the conversation he had with Barnett on Twitter.
Warning: the following video contains language some readers may find offensive. Reader discretion is advised.
"I didn't steal it," Barnett said. "I bled on it. They were f*ckin' macing me and I couldn't f*ckin' see and so I figure, 'Well, I'm in her office, I got blood in her office.' I put a quarter on her desk, even though she ain't f*ckin' worth it, and I left her a note on her desk that says, 'Nancy, Bigo was here, you bitch.'"
Barnett said that he was forced into Pelosi's office by other rioters.
"I'll probably be telling them this is what happened all the way to the D.C. jail," Barnett said.
Newsweek reached out to Pelosi's office for comment.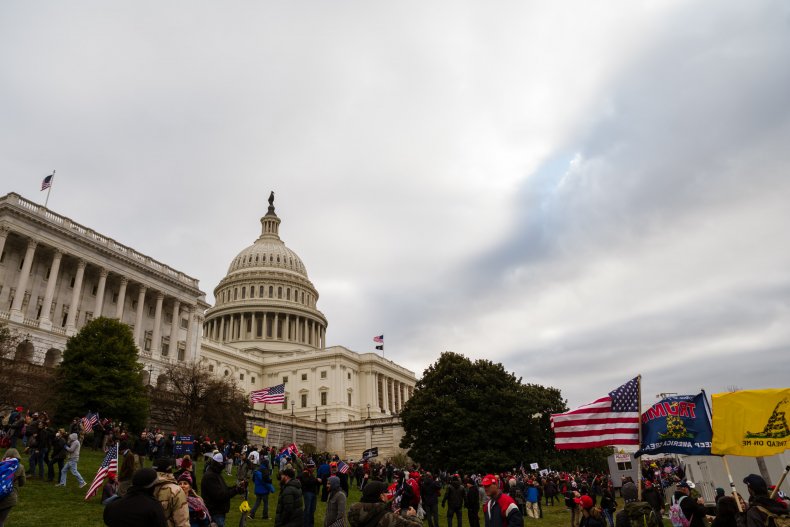 Although the purpose of the riots was to prevent Biden's confirmation as president, Pelosi indicated in a statement Wednesday that the Congressional count of electoral votes would continue.
"We always knew this responsibility would take us into the night," Pelosi wrote. "The night may still be long but we are hopeful for a shorter agenda, but our purpose will be accomplished."
At the Wednesday rally of his supporters, Trump referred to his loss as an "egregious assault on our democracy."
"We're going walk down to the Capitol, and we're going to cheer on our brave senators, and congressmen and women," Trump told the crowd. "We're probably not going to be cheering so much for some of them because you'll never take back our country with weakness. You have to show strength, and you have to be strong."
Biden directed the responsibility for the riots towards Trump in Wednesday remarks. "You've heard me say before in different contexts, the words of a President matter, no matter how good or bad that President is," Biden said. "At their best, the words of a President can inspire. At their worst, they can incite violence."
"This God-awful display today is bringing it home to every Republican and Democrat and Independent in the nation that we must step up," Biden added.