Pro-Trump Senate Candidate Josh Mandel Says Now Is the 'Time for Fighters,' Not 'Civility'
Ohio Senate candidate Josh Mandel dismissed calls for civility while appearing on a right-wing show Monday during a discussion about some Republicans supporting the $1.2 trillion infrastructure bill, saying that "now is the time for fighters."
During the interview on Real America's Voice, Mandel criticized "squishy establishment Republicans" who have worked across the aisle with Democrats to pass a bipartisan infrastructure plan that includes funding for roads and bridges, high-speed internet, rail and transit, drinking water upgrades and other priorities meant to shore up the nation's crumbling infrastructure.
"Now is not the time for bipartisanship. Now is not the time for civility. Now is the time for fighters," he said.
He pledged to "fight" what he describes as "reckless spending." Retiring Senator Rob Portman—considered to be one of the more moderate GOP Senators—was one of 19 Republicans who voted in favor of the bill in August, joining every Democrat.
Mandel has used the line throughout his campaign. In August, while speaking to Spectrum News, he said that in Washington D.C., "the time for civility is over" and that the GOP should move in the direction of "fighters" like Ohio Rep. Jim Jordan.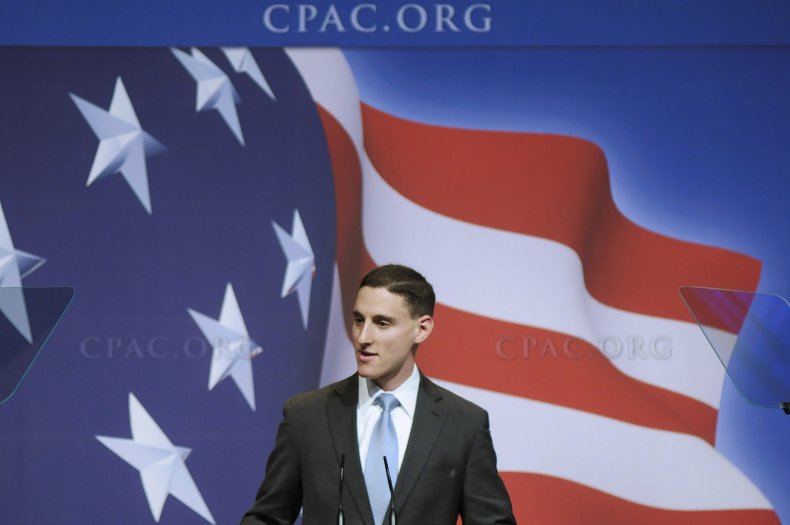 Mandel, who previously served as the state treasurer, is running in the Republican primary for U.S. Senate. Several other big-name Republicans have also entered the race in the red-trending midwest state, including author J.D. Vance and former Ohio Republican Party Chair Jane Timken—both of whom Mandel has previously attacked for not being sufficiently pro-Trump. Polls have shown Mandel with a lead in the primary.
On the Democratic side, Congressman Tim Ryan is considered to be the frontrunner. He has previously criticized Mandel's rhetoric, tweeting earlier in September, "Stop with the calls to violence. Stop putting Ohioans at risk. We all see right through it — that's why you're going to lose. Again."
Polls show that Mandel has a narrow over Ryan, but the race has the potential to become more competitive, experts forecast. The Cook Political Report considers the race to "lean republican," meaning it is competitive, but the GOP has an advantage.
Mandel has been no stranger to making controversial remarks on the campaign trail. Earlier in September, he received backlash from Jewish groups after comparing vaccine mandates to the Gestapo—the Nazi police that arrested Jewish people during the Holocaust.
In response to the criticism, Mandel said, he won't apologize and will keep fighting to "defend the Judeo-Christian bedrock of America."
Other Republicans have also used similar rhetoric in recent weeks. Trump-ally Mike Collins kicked off his campaign for a U.S. House seat in Georgia on Thursday, saying "The time for civility and the time for compromise is over."
Newsweek reached out to Mandel's campaign for comment Saturday, but had not heard back by publication. This story will be updated with any response.