Pro-Trump Sheriff Calls on Wisconsin DA to Charge Election Commissioners With Fraud
The pro-Trump sheriff in Wisconsin that announced "proof of state-wide" voter fraud late last month is now calling on the state's district attorney to charge the majority of the election commissioners involved.
Racine County Sheriff Christopher Schmaling accused the Wisconsin Elections Commission (WEC) of breaking the state's election laws on October 28 by barring poll workers from helping nursing home residents vote in 2020 during the pandemic.
"Election statute was in fact not just broken, but shattered by members of the Wisconsin Elections Commission," Schmaling said during the press conference.
He previously called on state Attorney General Josh Kaul to investigate the allegations but had not yet recommended charges.
But Kaul said on Monday that his office had not been informed of similar allegations anywhere else in the state and no charges had been filed in Racine County in connection to the alleged crimes.
Schmaling urged Kaul to investigate again on Wednesday to "conduct a statewide investigation into the illegal directives issued by the Wisconsin Election Commission." Kaul's failure to investigate then led Schmaling to forward the recommendation for charges to the Racine County District Attorney's Office for their review, the sheriff said in a press release.
He asked that five of the six commissioners be charged with two felonies including misconduct in public office and election fraud as well as misdemeanor crimes connected to receiving ballots and soliciting assistance during an election.
"The reasons for the recommended charges were clearly explained during the October 28, 2021, news conference and in the supporting documentation," the release said.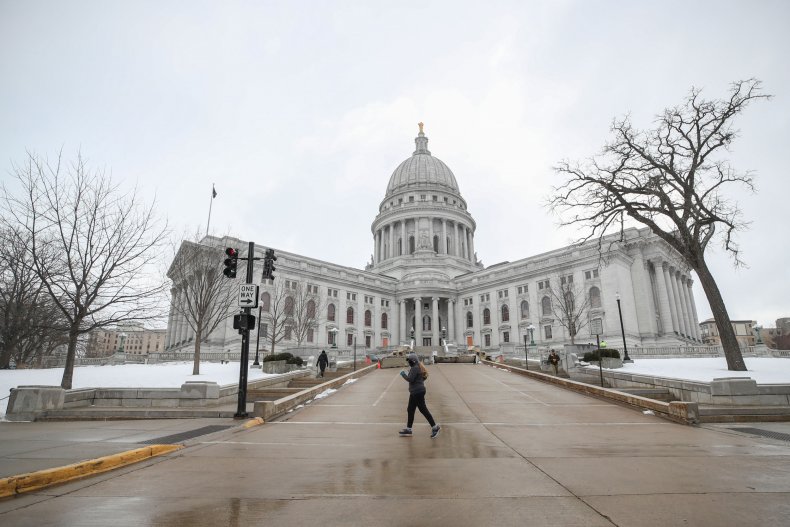 The Racine County Sheriff's Office did not recommend charges against Bob Spindell, a Republican member of the commission, because he voted against a rule that sought to halt a state law that sends special voting deputies into care facilities before the election.
The WEC—a bipartisan board of equal numbers Democrat and Republican—was considering limiting poll workers in the facilities because visitors had already been restricted during the pandemic. The commission passed the rule 5-1.
Schmaling alleged that eight different families of residents at Ridgewood Care Center told investigators their relatives were "victimized" by the voting system. He said that one resident was deemed incompetent to vote by a court although the others had not. Ballots were cast for the residents regardless.
However, members of the WEC denied any wrongdoing and called the allegations politically motivated. They provided absentee ballots in addition to other resources for staff on how to assist.
"A family member's concern—that does not disqualify an otherwise qualified elector from voting. It's only through a court proceeding that someone's right to vote can be removed," said Wisconsin Elections Commission Administrator Meagan Wolfe.
The Racine County District Attorney confirmed to Wisconsin media that the case is under investigation. When asked if charges are possible or how long it would take, she replied that she wasn't sure because it just came in this morning.
Wisconsin Democratic Governor Tony Evers said that if a crime occurred, charges should be issued but there's no reason to assume any voting problem occurred.
"It's my understanding they broke no laws," Evers said of commissioners on Tuesday.
Schmaling, who's served as Racine County sheriff since January 2011, was the keynote speaker at a GOP event co-hosted by Women for Trump last September. During the event, he spoke of the "vital role" law enforcement plays and the need for citizens to support it.
He also made headlines in May 2020 for announcing the RCSO would defy Evers' coronavirus stay-at-home orders, and said the "overreaching measures taken by state government will have dire lifetime consequences."
Newsweek reached out to Racine County District Attorney Patricia J. Hanson for comment.