Pro-Trump Sheriff in Wisconsin Plans to Show 'Proof of State-Wide' Election Fraud
A pro-Trump sheriff in Wisconsin announced plans to provide "proof of state-wide election law violations" following unfounded rumors that began circulating during the 2020 presidential election that fraud took place in the state.
The Racine County Sheriff's Office (RCSO) wrote on Facebook on Wednesday that they planned to unveil the evidence during a news conference the following day.
"Members of the media and the press are invited to attend a news conference where Sheriff Christopher Schmaling will unveil the results of an extensive investigation with implications throughout Racine County and Wisconsin," the post said.
It continued that Schmaling and the lead investigator will answer questions following the presentation.
Racine County Sheriff's Sergeant Michael Luell told Newsweek in an email that the presentation will cover "several elections in 2020 including the November Presidential election," but little information is otherwise available.
Officials connected to the local government seemed surprised to learn RCSO was investigating.
Shannon Powell, the spokesman for the city and Mayor Cory Mason's chief of staff, told Racine-based newspaper The Journal Times that the city clerk, who coordinates elections, responded "I have no idea what you're talking about" when asked about the sheriff's announcement.
The Wisconsin Elections Commission (WEC) was also unable to provide any information to the Racine newspaper regarding the sheriff's inquiry.
"We don't have any information to provide at this point, but check back following tomorrow's press conference once we learn more," spokesperson Riley Vetterkind said in an email statement.
WEC has regularly dispelled myths of voter and fraud in the state including claims that Wisconsin counted more votes than registered voters during the 2020 race.
Many of the claims began after former President Donald Trump maintained an early lead in the battleground state, but was defeated after Joe Biden earned a narrow victory once non-in-person votes were counted.
Trump promoted a similar theory when he tweeted that his lead in key states "started to magically disappear as surprise ballot dumps were counted."
Wisconsin finished a recount and a Republican-demanded audit that confirmed President Biden's win over Trump by more than 20,000 votes. The former president vowed to challenge the results in court before the numbers were even finalized.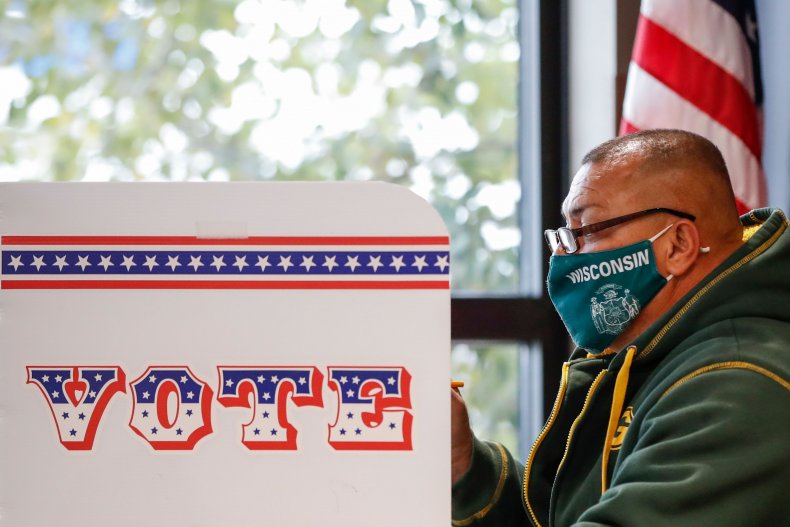 Schmaling, who's served as Racine County sheriff since January 2011, was the keynote speaker at a GOP event co-hosted by Women for Trump last September.
During his speech, the sheriff discussed the "vital role" of law enforcement during a summer of civil unrest and events that took place in the city of Kenosha—just 10 miles away. Schmaling also emphasized the importance of transparency and accountability for police and said there's a need for citizens to support law enforcement.
The sheriff made headlines in May 2020 when he announced his department would defy Democratic Governor Tony Evers' coronavirus stay-at-home orders, and said the "overreaching measures taken by state government will have dire lifetime consequences."
Schmaling's press conference will begin at 11 a.m. Thursday, streamed from the department's Facebook page.
Newsweek reached out to the Wisconsin Democrat Party for comment.