Pro-Trump YouTubers Diamond and Silk 'Build Their Brand' With a Hand From the Trump Administration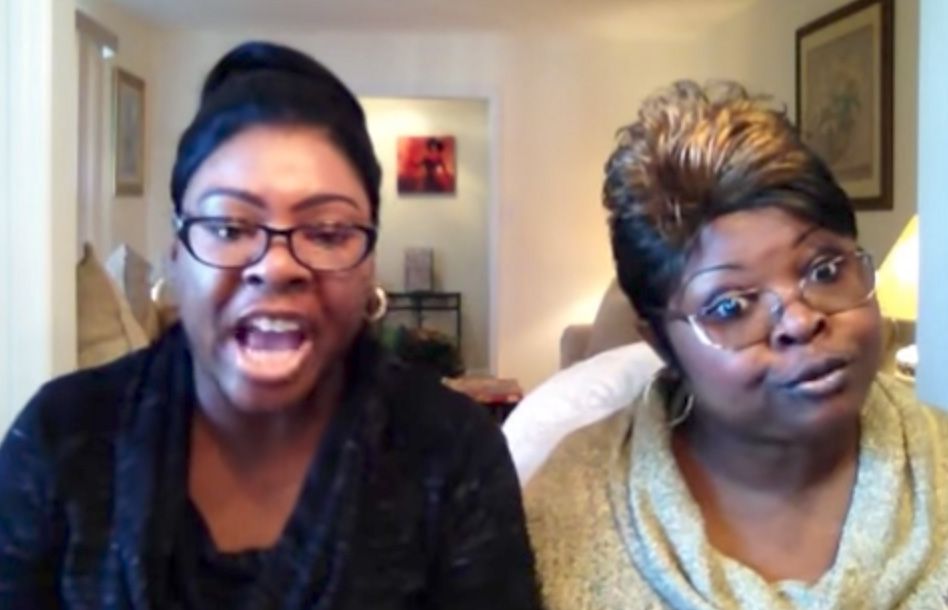 Pro-Trump YouTube personalities Diamond and Silk were at the U.S. Department of Commerce early this week getting advice on how to bring their opinions about President Donald Trump to an even larger audience of Americans.
On Monday, the Department of Commerce tweeted out that the duo who campaigned for Trump during the 2016 election were meeting with its Minority Business Development Agency (MBDA) "to discuss how to grow their business and build their brand."
The tweet was spotted by Gizmodo Monday but was deleted by early Tuesday morning, the publication reports.
With the help of President Donald Trump, Lynnette "Diamond" Hardaway and Rochelle "Silk" Richardson—sisters who describe themselves as "President Trump's most Outspoken and Loyal Supporters"—have become fixtures on Conservative pro-Trump media outlets.
"I think it's really sad. I think our president is about to be railroaded," Hardaway said during the duo's appearance on Fox & Friends in early August to discuss developments in the Russia investigation. The probe is looking at whether the Trump campaign worked with Russia to interfere in the 2016 election.
"He's is about to be railroaded," Hardaway repeated. "Listen, we all know it was no Russia, Russia, Russia. How about pushing jobs, jobs, jobs." She said that saying Trump won because his campaign colluded with Russia is "a slap in the American people's face."
Related: Mar-a-Lago fundraiser: Cleveland clinic vows to go ahead despite anti-Trump backlash
The day after their meeting at the Department of Commerce, the two appeared on Fox News pundit Sean Hannity's radio show. They have also been doing a segment called "Final Word" for the past two week on the Fox show Hannity.
Hardaway and Richardson run a pro-Trump YouTube channel that has more than 88,000 subscribers. They also run a political blog that promotes President Trump and sells Trump pins at $15.95 a pop.
"It wasn't clear that we'd received permission to post this tweet," a Department of Commerce spokesperson told Newsweek in a statement. "Out of an abundance of caution, we took it down. Diamond and Silk were here to talk about minority business development. They reached out to the acting national director of MBDA, who they had met previously, to discuss how best to help the minority business community."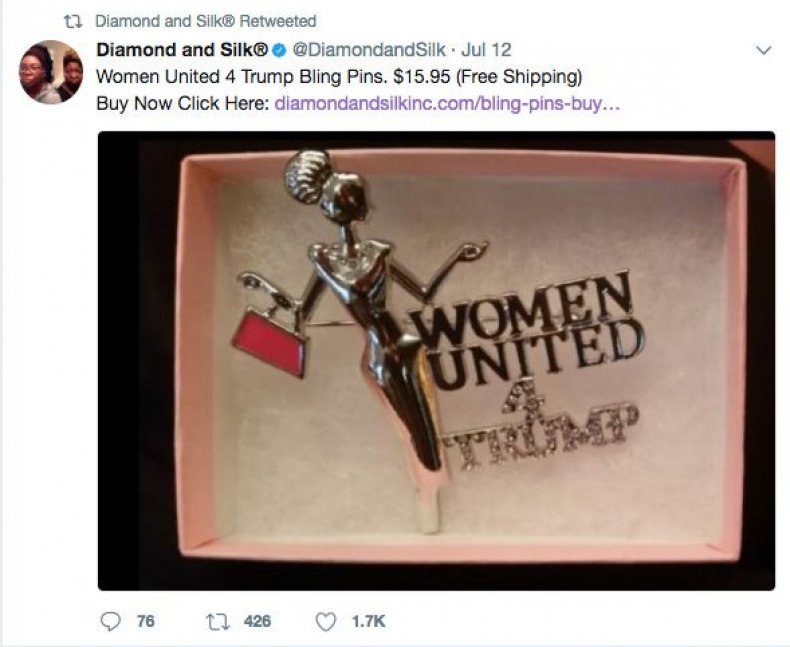 The department did not answer questions about what helping the YouTubers "grow their business and build their brand" entailed.
According to Gizmodo, Hardaway and Richardson met with Chris Garcia, whom President Trump appointed to head the MBDA following his work on the Trump campaign.
During the 2016 campaign Hardaway and Richardson appeared at Trump campaign events to stump for the president. Federal Election Commission records show that they were paid $1,274.94 by the Trump campaign in November 2016.
They campaigned for Trump in Iowa, Mississippi and South Carolina. It's not clear whether they received payment for those events.
During a campaign event in Iowa in early 2016, Trump introduced the women as two people who have "become very famous and very rich." When asked later by Politico what Trump meant, Diamond said, "Ask Donald."