Pro-White Farmer Group Praises Trump Comments, Says South Africa Heading Down a "Disastrous Road"
One of the most influential pro-white farmer lobbying groups in South Africa has welcomed President Donald Trump's inflammatory intervention on the contentious issue of farm murders in the country.
AfriForum—which calls itself a civil rights organization but has been branded a white nationalist group by critics—said the country's land expropriation policy was sending South Africa down a "disastrous road."
On Thursday, Trump took to Twitter to decry the "land and farm seizures and expropriations and the large scale killing of farmers" occuring in South Africa, citing a Fox News segment by Tucker Carlson as his source. Trump added that he had asked Secretary of State Mike Pompeo to study the issue.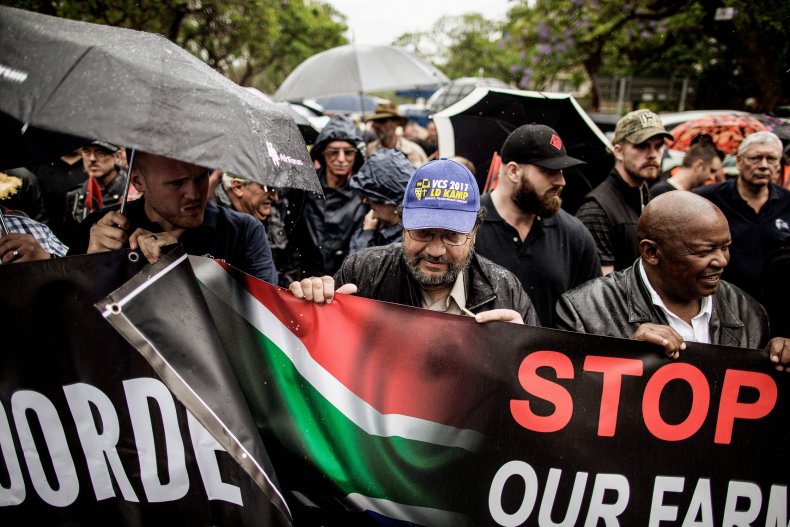 Trump faced widespread criticism for oversimplifying the matter and for parroting what has become a major far-right talking point, especially among white nationalist groups in Anglophone nations. The South African government said it "totally rejects this narrow perception which only seeks to divide our nation and reminds us of our colonial past."
AfriForum lauded its own lobbying efforts in bringing the situation to the president's attention.The organization said Trump's announcement came just three months after it sent a delegation to the USA to inform Carlson, the prominent right-wing American think tank Cato Institute, and "several other institutions and politicians" about the situation.
AfriForum CEO Kallie Kriel expressed his gratitude to every person in the U.S. that took a stand against the government's land expropriation plans and "farm murder crisis in South Africa." Kriel said AfriForum would continue to solicit international support to fight President Cyril Ramaphosa, who has vowed to maintain efforts to rebalance land ownership rates in South Africa.
Seventy-two percent of land in South Africa is held by white farmers who make up just 8 percent of the population. The statistics are a potent reminder of the racial inequality that persists between the country's white and black citizens nearly 25 years after the end of apartheid.
Current South African law allows for land expropriation with compensation, but at the beginning of August, President Cyril Ramaphosa announced he would push for constitutional reform to allow for the expropriation of land without compensation.
On Thursday, Ramaphosa warned, "We must move away from this fear psychosis that has been going around, particularly those that have been spreading lies and rumours," specifically citing AfriForum's overseas activities.
Kriel suggested that all South Africans should be grateful to Trump for his comments. He said the current situations in Venezuela and Zimbabwe showed that land seizures and weak property rights meant the economy becomes worse for everyone. Thus far, the government has made no suggestion that it intends to copy policies from either country.
The issue feeds into a wider white nationalist conspiracy about "white genocide," which calls for whites to fight back against the loss of traditional power roles. As such, the South African case has gained attention with a burgeoning far-right wave in the U.S., Europe and Anglophone countries such as Australia.
Extremist groups have used AfriForum's research and media to promote the false notion of "white genocide." Indeed, Trump's comments drew praise from various white nationalist figures, including former Ku Klux Klan Grand Wizard David Duke and white supremacist leader Richard Spencer.
According to AgriSA, a collective of hundreds of agricultural groups across the country, the murder rate of white farmers is at a 20-year low, at 47 for 2017-18. The number of attacks rose from 478 in 2015-16 to 561 in 2017-18, but they were less deadly. Murders hit a high of 152 in 1998, with between 80 and 100 killed each year from 2003 to 2011, and 60 each year up to 2016.
AfriForum maintained that the murder rate of white farmers was significantly higher than for the general population, and said the situation requires special attention.