Probable NFL #1 Pick Jameis Winston Has Startling New Version of His Publix Theft Story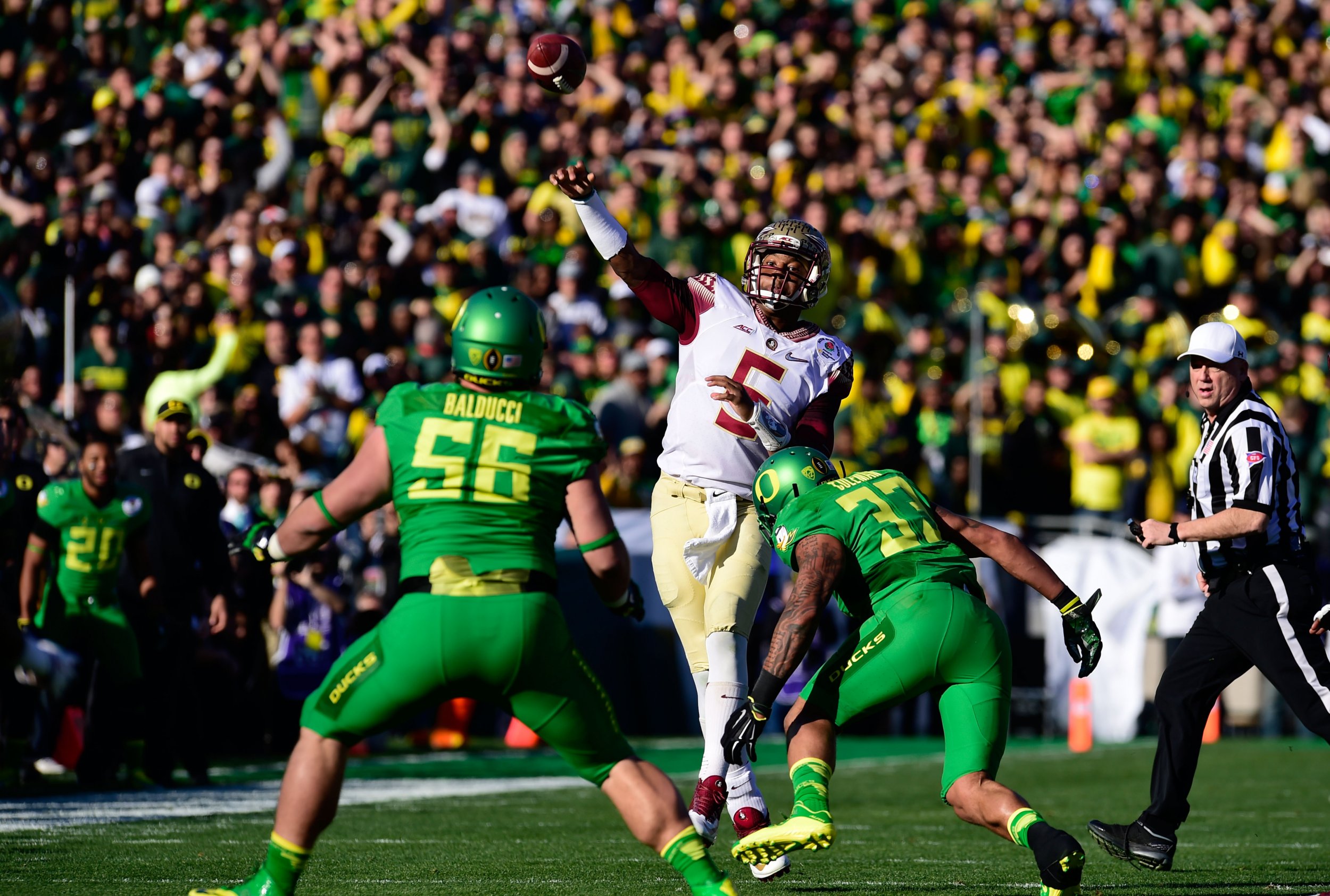 It is the most riveting interrogation scene on cable television since Rust Cohle admonished a pair of cops to "start asking the right...questions" on True Detective. Jameis Winston, the potential No. 1 overall selection in the NFL draft on April 30, recently revealed on camera that his much-publicized crab legs theft of a year ago was actually an inside job.
On an episode of ESPN's Draft Academy that first aired Tuesday night, first-year Michigan head coach Jim Harbaugh and his quarterbacks coach, Jedd Fisch, sit in a brightly lit meeting room. Across from them sits the former Florida State quarterback. "Snow crabs, stone crabs...or whatever it might have been," says Fisch. "I wouldn't leave it out [if prospective employers ask about off-field issues]. Whatever that whole theft thing was at Publix, that's like the elephant in the room."
Winston's 2014 misdemeanor arrest for shoplifting $32 worth of Alaskan king crab legs from a Tallahassee, Florida, Publix supermarket is actually more like the marmoset in the room. The elephant in the room for the 2013 Heisman Trophy winner is a rape allegation, for which he was never formally charged, and a related pending civil suit. Still, let's play along with Fisch's premise for the moment.
"You know, if you don't wanna...'I screwed up, I fucked up, I've learned from it,'" counsels Harbaugh, a former quarterback at Michigan who spent the previous four years as head coach of the San Francisco 49ers, "be serious as a heart attack."
"Yeah, how am I supposed to handle it if I just got 'em for free?" asks Winston.
Harbaugh sits up. "You got 'em for free from somebody?" he says. "So what happened?"
And then a rictus of confusion spreads across Harbaugh's face. "Explain that to me," he says. "You got 'em for free? Explain that to me."
Winston, who at the time of the misdemeanor theft signed a statement in which he called the petty theft "a moment of youthful ignorance," told Harbaugh that someone at Publix had hooked him up. "We met a dude who works at Publix who told us, 'Any time you come in here, I got you.'"
That the most celebrated athlete in a college town was being offered, and was accepting, entitlements, is barely newsworthy. However, Winston's confession, which Florida State's compliance department has since determined to be "an isolated incident," is illuminating for a plethora of reasons. To wit:
—Winston appears not to believe that taking merchandise without paying for it is wrong, as long as it's an inside job.
—It's curious that Winston never expounded on these details while he was a student-athlete at Florida State, despite the public rebuke, the 20 hours of community service he performed, and the three-game suspension (albeit from the baseball team, for which he also played) he received at the time. Then again, if Winston had, the NCAA may have come around snooping about "improper benefits," and sanctions may have been imposed;
—It's even more curious that Winston took the fall solo for this at the time. Why? Was he doing the Publix worker a solid, or was he protecting his pipeline for future freebies? Or was he apprised by someone, in or outside of Florida State's athletic department, that there would be worse NCAA ramifications for accepting free goods than there would be for petty theft?
—Finally, did Winston understand that the information he shared with Harbaugh and Fisch was going to be nationally televised? That he just resurrected a misadventure that was seemingly behind him, and churned the waters anew with questions about his sense of being above the law? As with an incident last October, when Winston was suspended one game (originally, it was to be one-half) for barking profanities atop a cafeteria table as a joke, he seems oblivious to the aftershocks of his actions. Recall that after that incident, he took the field for that nationally televised prime-time contest versus Clemson in full uniform, before being ordered by coach Jimbo Fisher to change back into street clothes.
Does any of this matter, though? It's too late for the NCAA to suspend Winston. And, in terms of gridiron talent, the 6-foot-4, 230-pound passer is probably no worse than the second overall pick in the draft. His decision making off the field continues to beg for maturity, or at least a sense of self-awareness, but Jameis Winston is an outstanding quarterback. Soon he'll be able to afford all the shellfish he can eat and accept freebies without fear of reprisal.