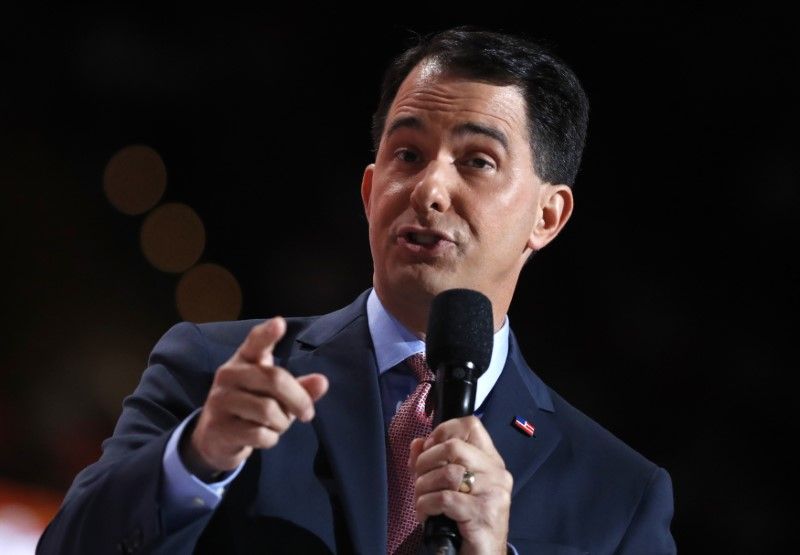 The U.S. Supreme Court on Monday let stand Wisconsin's top court's decision to halt a special prosecutor's investigation into possible unlawful coordination between Republican Governor Scott Walker's campaign and conservative advocacy groups.
The justices declined a prosecution appeal of the Wisconsin Supreme Court's July 2015 decision to end the probe into whether conservative groups and Walker's campaign to survive a recall vote in 2012 had violated campaign finance laws.
Walker, who last year mounted an unsuccessful bid for his party's 2016 presidential nomination, won re-election in November 2014 for a second four-year term as Wisconsin's governor.
The investigation led by special prosecutor Francis Schmitz focused on possible coordination between Walker's campaign and conservative groups, including the Wisconsin Club for Growth in 2011 and 2012.
A federal judge in May 2014 initially stopped the probe after the Wisconsin Club for Growth filed a lawsuit accusing investigators of sidelining the group from political activities and violating its rights to under the U.S. Constitution to free speech, association and equal protection under the law. A federal appeals court later said the investigation could continue. But in a parallel case in state court, Wisconsin's high court ultimately stopped it.
In October 2015, Walker signed a new state law that prohibits prosecutors from using the Wisconsin's secret investigation statute, a measure that had been used to convict four of his aides and investigate his campaign, to probe political crimes.
Walker was first elected governor in 2010.
In June 2012, he became the first state governor in U.S. history to survive a recall election. The investigation was launched two months later and also looked at recall elections in 2011 involving other candidates.
Walker's steps to curb the power of labor unions, which generally align themselves with Democrats, helped trigger the recall election. In 2011, Walker signed a law that limited collective bargaining rights for state workers. Walker then prevailed in the union-backed 2012 recall election.